News
Xiaomi says the Xiaomi 13 does better than Apple's iPhone 14 in heat management during gaming
After months of rumors and reports and the postponement of the launch event of the Xiaomi 13 series, these flagships were finally officially introduced yesterday. Like most of Apple's competitors, these phones did not have much to say compared to the latest iPhone generation. Of course, the Chinese brand has claimed that the Xiaomi 13 series has surpassed Apple in terms of temperature control while playing games.
Before introducing the new series of flagship phones, Xiaomi targeted Apple's A16 Bionic chip in its advertising attacks. By releasing a teaser, the company claimed that the graphics performance of the Snapdragon 8 Gen 2 system-on-chip, which is used in both Xiaomi 13 models, has improved by 42% compared to its previous generation, and it surpasses Apple's A16 in this regard. written by WccftechWhile no exact statistics have been announced for this claim, the results of comparing the current flagships of Xiaomi and Apple show that the Chinese brand has performed better in heat management than the technology giant from Cupertino.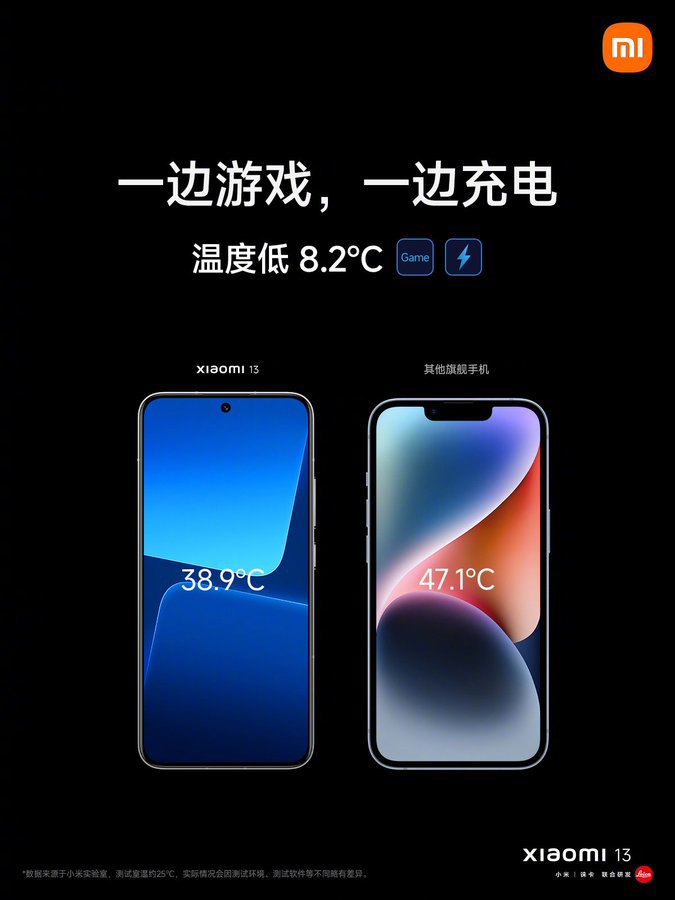 Related article:
Alvin He shared an image on his Twitter account and announced that the Xiaomi 13 series can run up to 8.2 degrees Celsius cooler than the iPhone 14 when playing games, which is probably due to the use of a vapor chamber cooling system. In comparison, this year Apple used graphite plates to reduce the temperature of the iPhone 14 instead of the aforementioned system. Another thing to note is that this comparison was made in an environment with a temperature of 25 degrees Celsius.
Xiaomi mentions that if the ambient temperature decreases or increases, there will probably be differences in the results obtained from the performance of the cooling system of the Xiaomi 13 series; So even if you have an iPhone 14 and a Xiaomi 13 and compare them in terms of thermal management while playing games, you will probably get different results than Xiaomi claims. Snapdragon 8 Gen 2, like A16 Bionic, is produced with TSMC's four-nanometer lithography; A process that allows chips to deliver better performance while consuming less power. Meanwhile, if Samsung had mass-produced Qualcomm's flagship chip, we would probably have seen completely different results in its performance in terms of thermal management.
Maybe Apple did not use vapor chamber cooling in all iPhone 14 models this year due to the limitation of internal space or with the aim of reducing weight. We hope that this company will try to use the mentioned solution in its iPhone 15 series. We'll certainly get a better idea of ​​the Xiaomi 13's performance by putting the Snapdragon 8 Gen 2 under pressure in future benchmarks.
Source link