News
World cup; In the scorching heat of Qatar, how did technology reach the workers?
The unofficial symbol of the team responsible for the construction projects related to the 2022 World Cup is a faceless male mannequin known as Morph. Morph is wearing a balaclava mask over his face and neck, work boots and a very bright orange dress. Featuring a collar, cuffs and a blue belt, the unusual morph outfit is Doha's latest weapon in Qatar's ongoing battle with the heat.
In a city where summer temperatures typically reach over 48°C with 70% humidity, staying cool is a significant advantage. As temperatures around the world rise due to climate change, clothing designed to protect workers working on construction projects for the 2022 World Cup in Qatar is likely to be used by other workers in other parts of the world. The design of these advanced clothes is the result of the arrival of the 2022 World Cup; A sports event that many critics considered irrational.
The 2022 FIFA World Cup has been on the sidelines for years
Since 2010, when FIFA awarded the 2022 World Cup to Qatar, human rights organizations and the news media have focused on the plight of the two million migrant workers living in Qatar.
The workers in Qatar often come from South and Southeast Asia and Africa, and they have to work in one of the most unfavorable climates on the planet to build skyscrapers, roads, stadiums, and subway lines. These workers had little protective equipment; For this reason, they were severely damaged.
International media and labor rights organizations announced the names of hundreds of injured or killed migrant workers every year. Many of these fortunate returning workers were injured or sent to their deaths due to excessive heat at construction sites in various projects across Qatar.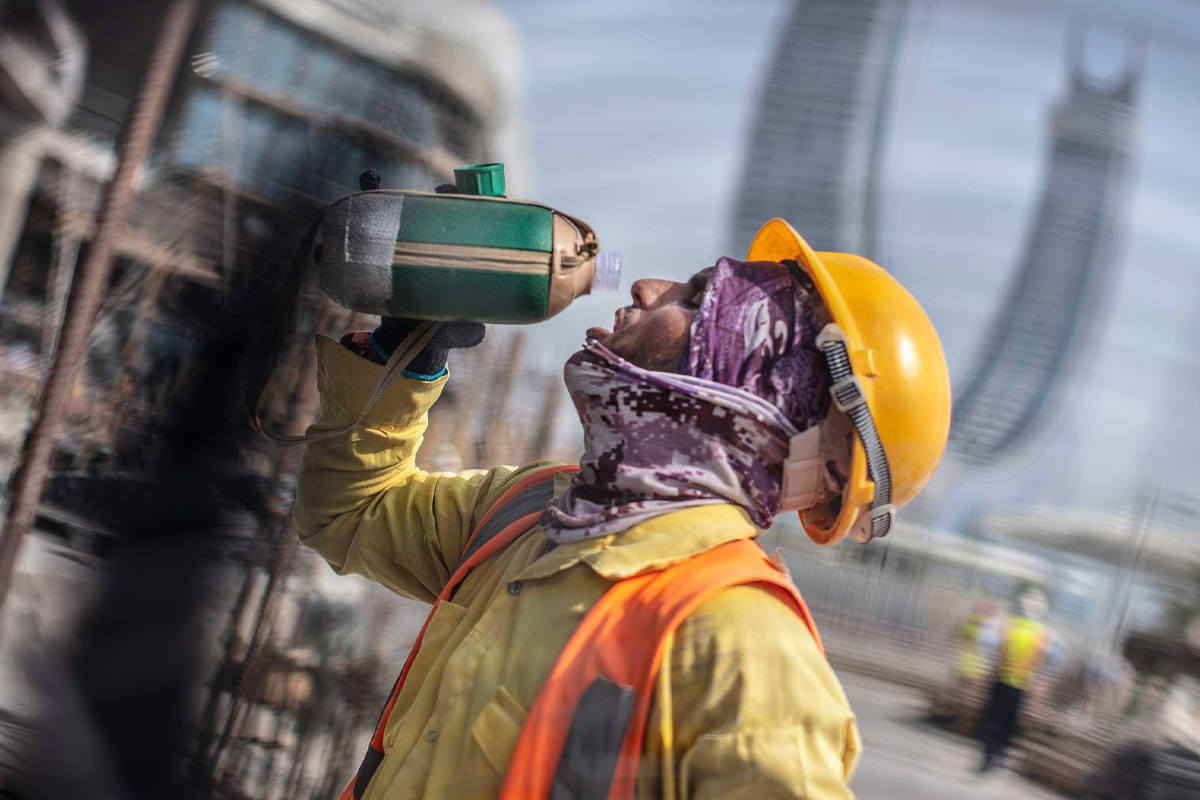 According to the magazine timeOn the one hand, the media had put Qatar's Ministry of Labor in the spotlight, and on the other, FIFA's push to ban all outdoor construction work during the hottest part of the day during the summer increased worker protection.
The Supreme Committee of Delivery and Legacy, the body responsible for planning and organizing the World Cup in Qatar, brought the situation into a new phase. The committee issued a call for the latest technological innovations aimed at keeping workers cool. At the same time, the Qatari authorities were in a hurry to complete the construction process of the stadiums in the hottest time of the year.
Qatar says only three workers have died on World Cup construction projects
The International Labor Organization and Qatar's High Committee for Delivery and Heritage have said in their official statements that only three workers lost their lives in the construction process of the 2022 World Cup stadiums. Meanwhile, dozens of workers in Qatar die every year while working on private construction sites that are not closely monitored.
A new study, the results of which have been published in the scientific journal Communications Earth & Environment, predicts that deadly heat waves will become a common natural phenomenon in many parts of the world by 2050. With this happening, workers who are engaged in construction in open spaces will be more at risk.
As one of the hot countries in the world, Qatar knows to a great extent what the excruciating heat waves are like. This issue has made Qatar a perfect laboratory for testing solutions related to dealing with heat.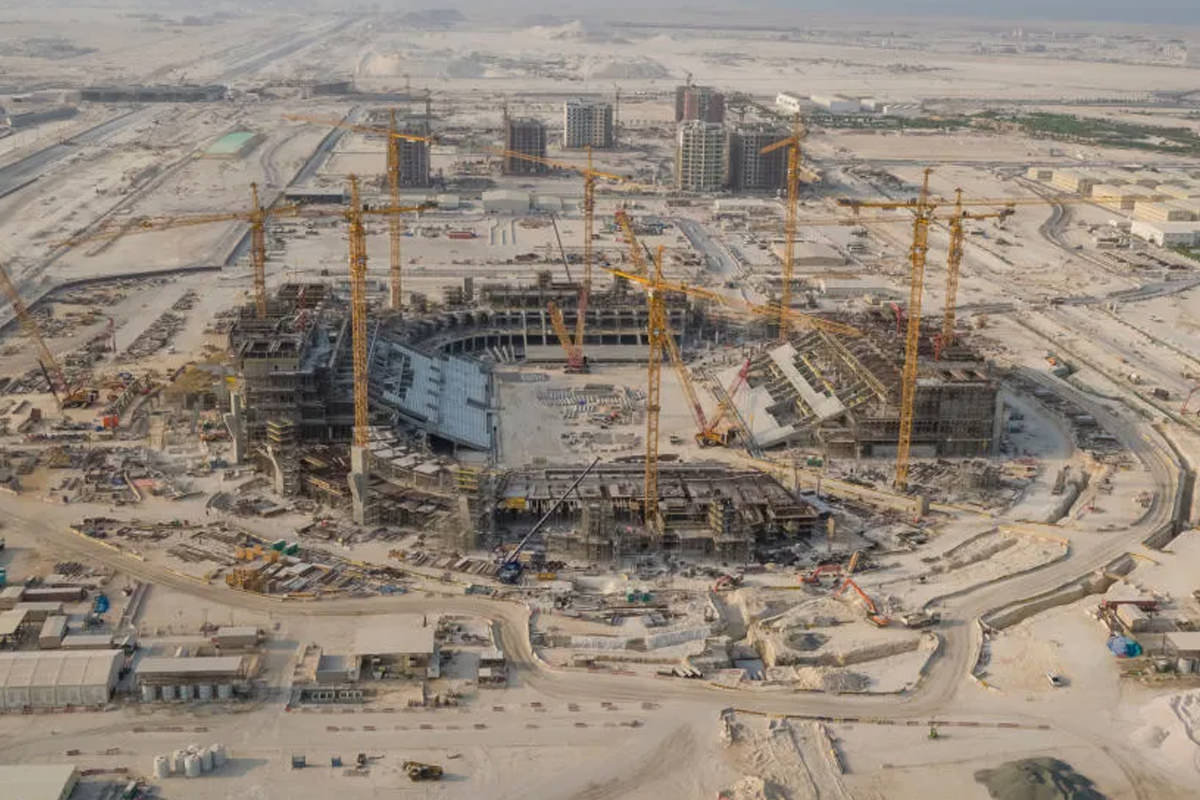 Mahmoud Qutb, Executive Director of Workers' Welfare and Labor Rights Unit at Qatar's Supreme Committee for Delivery and Heritage, says that none of the foreign cooling products were the answer to the country's extreme heat. Cooling vests filled with ice packs were too heavy, tech-oriented fabrics designed for the California heat didn't perform well in the high humidity, and advanced sports equipment wasn't sturdy enough to be used on construction sites.
Qutb says: "We realized that we have to provide an innovative solution; A solution that can adapt to the difficult construction in Qatar." In 2017, Mahmoud Qutb requested cooperation from Techniche, a British company active in the field of cooling clothing, to develop a new cooling solution specifically designed for Qatar's conditions. Techniche, in collaboration with researchers from Hamad Bin Khalifa University in Qatar, produced a special suit that consisted of different parts and allowed workers to use different cooling systems based on their needs.
Using StayQool clothing reduced workers' body temperature by 6 to 8 degrees Celsius
The main part of the dress is a light orange mesh cloth for better visibility and recognition, which is made of materials with the ability to change phase. These materials can absorb heat and keep it away from the body. NASA first used this style of design to keep astronauts cool.
The carefully designed cuffs, collar, pocket and crotch lining can be filled with water to cool the parts of the body where the blood has the least possible distance to the skin surface. The blue parts of the morph suit are exactly the strategic places to cool the body.
Techniche has produced four generations of this advanced garment called StayQool, each of which is more optimal than the previous generation. 55,000 hands of this suit were distributed among workers on construction projects for the World Cup in Qatar, and preliminary research showed that the use of this suit caused the temperature of the workers' skin to drop by 6-8 degrees Celsius.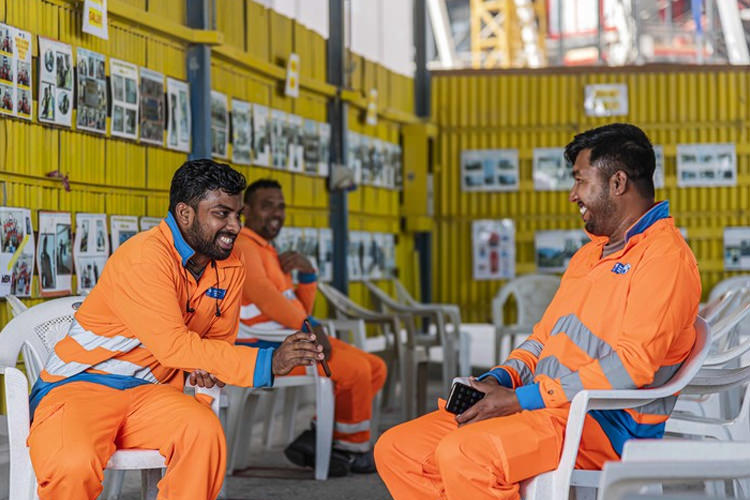 James RussellTechniche's Europe, Middle East and Australia CEO says StayQool is primarily designed to help workers feel more comfortable in extreme temperatures. According to Russell, this outfit was not designed to increase working hours. To avoid heat stress in environments with very high temperatures, workers still need to rest regularly and drink water often and keep themselves in the shade as much as possible.
Outdoor workers in Qatar, regardless of the clothing they are wearing, are required to cover up as soon as the temperature drops below Wet bubble temperature index (32.1°C) put down their tools and stop working. This index combines heat, humidity and solar radiation to better evaluate their effects on the human body. Qatari workers can only continue working when the temperature drops below the wet bulb temperature index; Of course, provided that the ban on daily work in summer has not been applied.
Foreign workers will also receive StayQool clothing in the future
Tamim Lot Al Abid"StayQool clothing is not a miracle cure," says Lucille Stadium project manager, host of the World Cup finals. Rather, it is considered a tool for convenience. If you are a carpenter or an electrician and you are bothered by the heat while working, having such clothes will help you to continue working for a few minutes longer. He wears StayQool clothing every time he visits construction sites: "These clothes really make a difference."
Related articles:
Workers outside of Qatar will not be able to access Morph clothing anytime soon. This dress still needs to be modified to make its performance more optimal and better. The ultimate goal of StayQool is to have a garment that can monitor heart rate, body temperature, and oxygen levels with dedicated sensors. Thanks to these capabilities, workers can be transferred to medical centers before they experience heat stress and reduce the resulting risks.
Currently, Qatar has made some pre-production samples of the new dress and said that a model of StayQool will arrive next summer with a variety of sensors. After experiencing unprecedented heat in the recent summer, request from the company Techniche for the production of cooling clothing has greatly increased. James Russell says: "Companies with very large workforces want a solution to deal with heat stress. "Cooling clothes are going to be a very big industry very soon."
Source link