News
Why did Rubica get a warning from Google's security shield?
Rubika, which has been the most frequent name in technology news in recent weeks and has been called an alternative to Instagram in the recent comments of officials and news of some publications and news agencies, on Friday (November 6th) made news again with a new event: the Rubika application by Sper Google Play Protect was identified as a dangerous application and blocked.
When installing this application from internal stores, Android users are faced with a warning from Google Security Shield, which states that Rubica has access to personal data such as text messages, photos, recorded sounds, and call history of the user's device.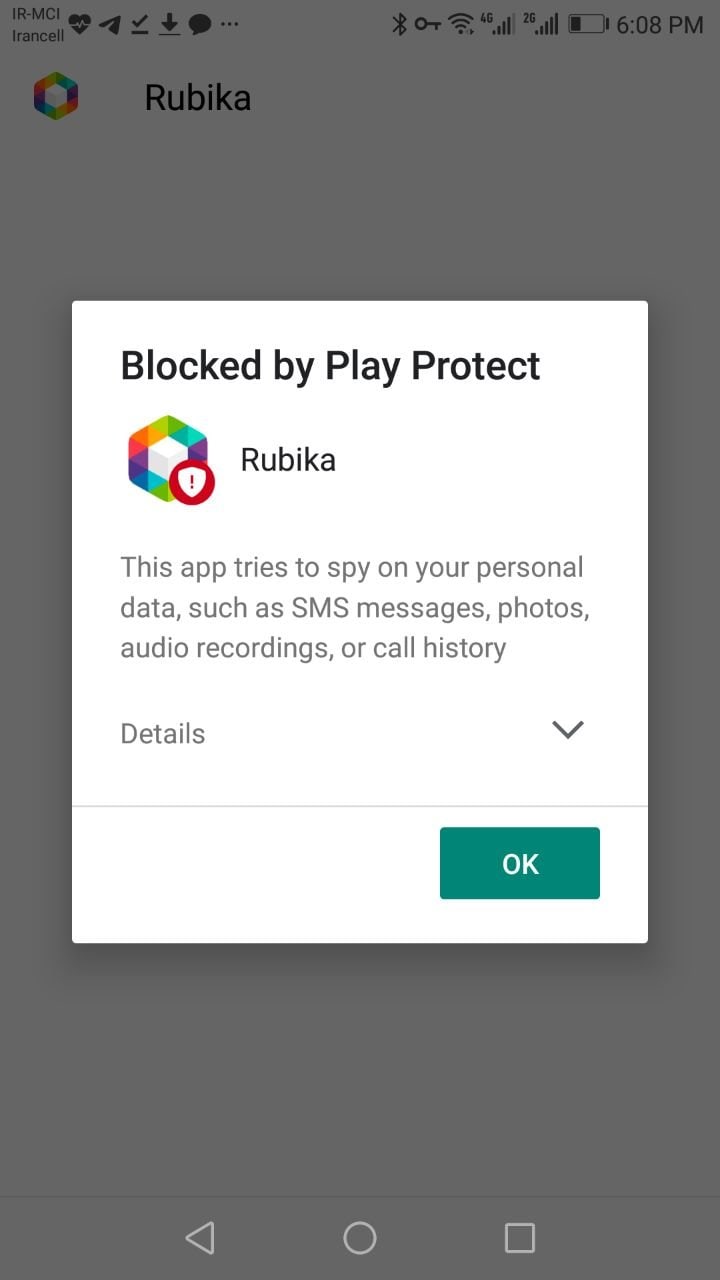 Following this incident, many Google services, including Play Store and Google Map, were filtered and unavailable to users with Iranian IP addresses, and other services were also disrupted. After the warning from Google's security shield, Rubica posted a tweet on its Twitter page and wrote to Google Play:
Dear Google Play, as you are aware, Rubica has not had a new update recently and has not changed the level of access of the app to the phone. In the access layer, there is no different request than before, so please provide us with the documents you declared for the safety shield warning.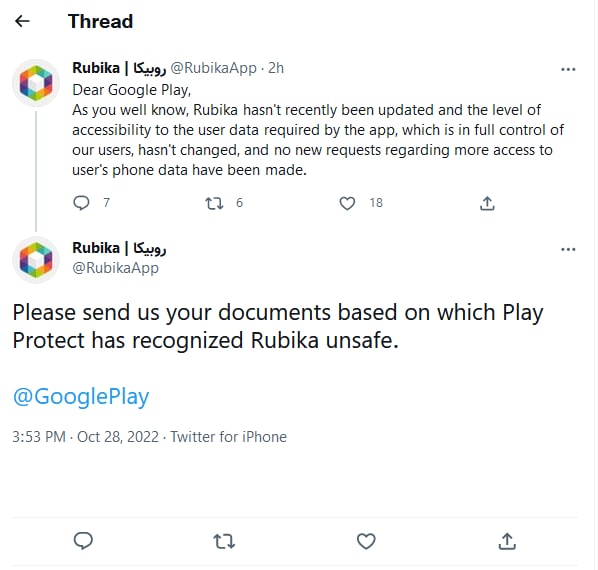 According to Zomit's follow-up with First Mobile and Rubica's public relations, Google Play has not yet responded to Rubica and has not provided the requested documentation.
Yesterday, Rubika reacted to the issue of Google's warning to the users of this application by publishing a statement and attributed this issue to political motives and wrote:
Considering the wide popularity of Rubika users, which is witnessed by the daily sending of more than 500 million unique messages by nearly 35 million active users in the last month out of nearly 50 million active installations, the possibility of political motives in this action is further strengthened. will be An attack that was recently carried out by Apple under the pretext of US sanctions against Iran.
In the continuation of its statement, Rubika called this action of international platforms incorrect and wrote: "We do not support the imposition of restrictions for political and security reasons on users' access to international services, but we also consider the efforts of international platforms to impose restrictions on Iranian users contrary to their claims."
Despite the security warning raised for this Iranian application, Rubika has denied any security problem and in explaining its opposition to the created restriction, it has written as follows: "This happened while Rubika has not released a new update recently and its previous accesses as well. It has not changed and these accesses are completely conventional and similar to other messengers and social networks.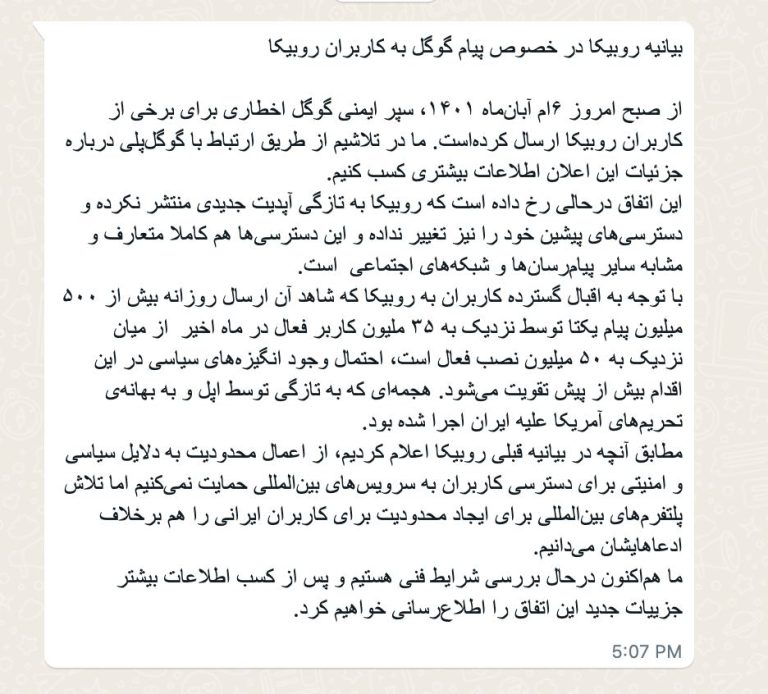 After the warning from Google Play, the Iranian Myket store also warns when installing the Rubika application and warns against installing Rubika with this message: "These programs have been recognized as malicious by Myket's security shield, and it is recommended to remove them to prevent damage to your device. do."
About a year ago, Rubica was removed from Google Play and it was not possible to download it from this Android store. At that time, the people involved in Rubika announced that the reason for removing this application from the Play Store was the sanctions of the United States of America. This is despite the fact that at the same time, many Iranian applications were active on the Google Play Store and could be downloaded and installed.
At the same time, many experts considered the main reason for the removal of Rubica to be the increase in the number of complaints from users about this application in the comments section of the Play Store, and also cited the violations of this platform as an effective factor in its removal from the Play Store. Violations such as the creation of fake accounts, especially for famous figures, were among the issues that both weakened the trust of users in this super application and led to its removal from the Play Store.
Trace some technical issues
Now, after the new restriction imposed by Google's security shield, which has accused Rubica of endangering the security of users' information, some experts believe that this problem is caused by changes and updates applied to Google Play's security protocols.
The issue is that Google updates some privacy policies and application release rules from time to time and informs these issues to the developers of these applications through the panel or email and specifies a date for these applications to comply with the rules and regulations. adapt new If the applications do not apply the necessary modifications according to the new rules, they will face problems.
Probably, in the case of Rubica, the problem is that although this application has been removed from the Play Store, its panel remains, but either it did not receive these Google messages, or because it is not present on this platform, it did not see the messages sent, and that is why the security shield is now closed. Google warns about installing the Rubika app.
Experts believe that it is not logical to read the warning of Google's security shield and the Android operating system as political, and it is more likely to be related to technical issues than to political reasons, which Rubika mentioned in his statement; Because after Google and Play Store provide protocols to applications, they are monitored by employees of this company or through robots that are fluent in Android language in a random check to make sure that the requested changes have been applied. They believe that this issue has also been done in the case of Rubica, but the lack of changes has led to this application being known as dangerous.
Of course, in response to the existence of this possibility, the officials of Mobile First and Rubika say that Google did not send any message to the users before presenting this warning, and this decision has nothing to do with technical issues and is mostly due to political motives.
Previously, Google's security shield had temporarily blocked some other Iranian applications such as Mobile Card and Digikala, which were re-introduced to Google Play by following up the companies that made these applications and fixing the problems.
Rubica is not licensed by the Regulatory Authority
Another issue about Rubica's security problems, which has been raised before, is that this platform is operating in the country and millions of accounts have been created in it, which has not yet received an activity license from the Regulatory and Radio Communications Organization. On the related page Licensed messengers No name of Rubica has been registered by this organization, which is the upstream body for issuing licenses to messengers.
It seems that the lack of publication of technical documents and laboratory discussions of the Regulatory Organization and Research Institute of Information Technology has led to the absence of the name of this messenger in the list of license recipients. Considering the fact that an Iranian application is not licensed inside the country, it may not be reasonable to expect that international platforms and companies will not find any objection to this application.
On the other hand, non-observance of some technical points can also be troublesome for Iranian platforms. Although the director of public relations of the Ministry of Communications has pointed out in a tweet that all messengers have access to some information on their users' devices, the issue of information security or user privacy is not limited to this issue.
One of the requirements that must be met by these platforms is that the framework, rules and standards necessary for coding must be present in the codes in the application. For example, even if a messenger uses an open source project in its code, especially the client code, which is not compatible with the backend, it will give errors that Google will notice and impose restrictions on that platform.
It has always been an issue that some internal messengers use the open source code of an external platform, for example Telegram, but do not push it in the backend according to Android standards. In such situations, Google's robots and employees match these items and if it doesn't match, they may consider that application as dangerous from the user's privacy point of view. An example of these cases was the incident that happened to Golden Telegram a few years ago, and Google removed it from the phones by identifying this messenger as dangerous.
There is another problem with Rubik's that can be seen in its latest update. Currently, when installing a new version of Rubika, users are faced with a second Rubika; That is, instead of replacing the old version with the new version after the application update, a new Rubika application or in other words a second Rubika is installed on the phone, but this installation is registered in the cumulative statistics of Rubika installation on Cafe Bazaar platform. It seems that in this case too, an error occurred in merging the sign of this application. A topic that seems a bit strange from a technical point of view and maybe it is a recent technical problem of Rubika.
With all these issues in mind, we have to wait and see where Rubica's objection to this decision of Google Play will go and whether an explanation of the reason for this decision will be provided by this international store or not.
Source link