News
What will be the position of iPhone 14 Pro and Pro Max among the current flagships?
Apple introduced the new iPhone 14 series, Apple Watch Series 8 and Apple Watch Ultra at the Far Out event held on September 16 with limited people at the Apple Park campus. In their invitation for this event, the Cupertino company used the slogan Far Out, which means "fight", which is a two-sided reference to both the big changes in its latest products and the use of a more powerful telephoto lens, suitable for shooting stars at night, in the iPhone 14 Pro. And 14 Pro Max refers. The important thing about the iPhone 14 family is that the non-Pro versions (simple and Max) still use the previous design, the notch has not been removed, they do not have upgraded cameras (they only have better and larger sensors) and their processors are also based on the new generation of chips. A series are not equipped.
The list of titles that you want from the comparison of iPhone 14 Pro Max with the current flagships of the mobile market:
---
Be careful that the launch cycle of phones based on the iOS operating system is different from that of Android phones, and the main competitors of the two introduced flagship iPhones are actually Samsung's Galaxy S23 Ultra and Google's Pixel 7 Pro, which will be introduced in the coming months; On the other hand, the iPhone 14 Pro and iPhone 14 Pro Max are functionally identical and only differ in terms of dimensions, so in this article, we will compare the iPhone 14 Pro Max with the competitors in the market, such as We compare Samsung's Galaxy S22 Ultra, Huawei's Mate 50 Pro and Xiaomi 12S Ultra to see where Apple's new flagship stands among other flagship phones on the current market.
Of course, the Motorola Moto X30 Pro also has the same specifications as the aforementioned phones, but Motorola has not yet released a global version of this phone, and for this reason, we do not consider this phone as a competitor when comparing the iPhone 14 Pro Max with its competitors.
Design and display
iPhone 14 Pro Max without notch It has been released to the market and its Face ID is also in it A capsule cavity containing a selfie camera It is set dynamically. In the two Pro models of the iPhone 14 Pro family, notifications are displayed with a new animation and come out of the capsule hole above the screen. This innovative systemdynamic island» or Dynamic Island was introduced. In this system, notifications and warnings adapt to the capsule cavity. Apple and Samsung have their own unique design; the design of the Galaxy S22 Ultra is actually a combination of the Galaxy Note phones and the previous version of this family, the Galaxy S21 Ultra, and the notable changes in it are the rear camera module, which has replaced the camera module. , it is designed in the form of an island, and the other is benefiting from a space to accommodate the pen (S Pen), which makes the Galaxy S22 Ultra slightly wider than the previous version.
Related article:
---
Just one day before Apple's Far Out event, Huawei unveiled the premium Mate series phones by holding an event. The Mate series includes high-end Huawei phones, and now this Chinese manufacturer, despite all the problems and sanctions, introduced the Huawei Mate 50 Pro, which has very impressive capabilities. iPhone 14 Pro Max is a little slimmer compared to Mate 50 Pro; Huawei Mate 50 Pro has a 6.7-inch OLED display with a resolution of 1.212 x 2,616 pixels, a larger aspect ratio than the iPhone 14 Pro Max.
Thanks to its 6.8-inch screen, the Galaxy S22 Ultra offers more display space than the iPhone 14 Pro Max; Because Apple uses the same 6.69-inch panel with a resolution of 2802 x 1294 pixels in the design of its new flagship screen.
All four phones have a refresh rate of 120 Hz and come with IP68 standard
The Galaxy S22 Ultra came with a new version of the adaptive refresh rate technology (Dynamic) that allowed the device's screen to change the refresh rate depending on what it was displaying, and now the iPhone 14 Pro models are following suit. They offer a dynamic refresh rate and their refresh rate can vary between 1 and 120 Hz depending on the content. In total, all four phones, iPhone 14 Pro Max, Galaxy S22 Ultra, Xiaomi 12S Ultra and Mate 50 Pro, use 120Hz refresh rate.
Always On Display or AOD (short for Always On Display) is another added feature in Apple's new flagships, which finally offers what has been available for a long time in Android devices such as the Galaxy S flagships. Of course, this feature is very different from what has been released so far in Android phones:
The AOD feature of the iPhone 14 Pro user interface is seamlessly integrated with notifications and the depth effect and background colors. When the iPhone 14 Pro's always-on display feature is enabled, the depth effect is removed from the background image when the phone is locked, and the back image on the background is completely dark, and the front image on the background is also dimmed. In addition, depending on the user's taste, the foreground image in the background can be customized with colors and the ability to highlight the edges.
Widgets will be visible in active AOD mode; But To prevent the burn-in problem of iPhone 14 Pro's OLED display, they disappear and reappear at certain intervals without attracting the user's attention. The content displayed on the lock screen, both in AOD enabled and disabled mode, must be configured in a unified manner and indistinguishable from the rest of the elements on the screen. This means that the background image, color, font and widget must be selected in both modes; But the main visual elements of the always-on display feature itself can be customized independently.
When the iPhone 14 Pro's always-on display is activated, notifications are displayed chronologically, like a normal lock screen, and can be seen for 10 seconds. With the screen turned on, notifications can be viewed as before.
Galaxy S22 Ultra is protected by Gorilla Glass Victus Plus; iPhone 14 Pro Max uses Ceramic Shield, the display panel protector of Xiaomi 12S Ultra is also made of Victus Gorilla Glass, but its back cover is leather. All four iPhone 14 Pro Max, Galaxy S22 Ultra, Mate 50 Pro and Xiaomi 12S Ultra was released with IP68 standard to resist dust and water for up to 30 minutes.
Galaxy S22 Ultra has a maximum brightness of 1750 nits and is in the first place; This figure for Xiaomi 12S Ultra is 1500 nits, and the iPhone 14 Pro Max ranks next with a maximum brightness of 2000 nits.
In general, it can be said that in the discussion of design and display, these five competitors move very much shoulder to shoulder and each one has its own advantages and disadvantages with minor differences; Choosing between iPhone 14 Pro Max, Galaxy S22 Ultra, Xiaomi 12S Ultra and Huawei Mate 50 Pro only depends on the user's taste and type of use, however, it can be said that the design of iPhone 14 Pro Max and Galaxy S22 Ultra is compared to The other two phones are a little more beautiful.
Camera
One of the competitive sectors among mobile phone manufacturers is the camera sector. In order to achieve better video quality, Apple has released two iPhone Pro models, i.e. 14 Pro and 14 Pro Max, with a much more powerful main camera than the previous generation. 48 megapixel sensor and 65% larger than the previous generation It offers more detail and zoom power for iPhone processing and performs twice as well in night photography compared to the previous generation.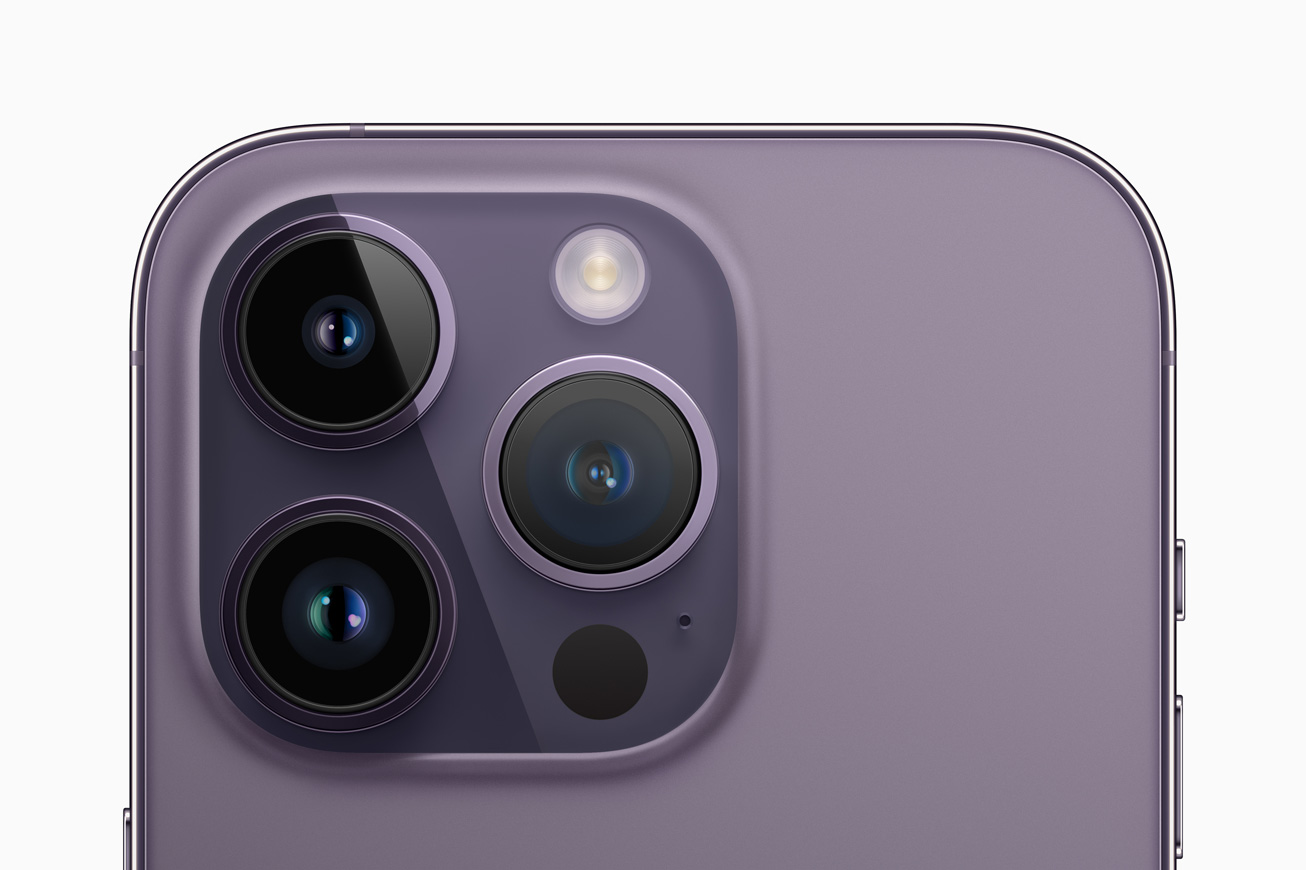 In normal mode, the 48-megapixel sensor equipped with sensor-shift stabilization captures images with the same resolution as promised, but in low light, these 48-megapixels are combined in quads to produce a 12-megapixel output. In the iPhone 14 Pro Max camera module, apart from the main camera, there is a telephoto camera (with 3x optical zoom) and an ultra-wide camera, both with 12 megapixel sensors.
Mate 50 Pro is equipped with a variable aperture system; iPhone 14 Pro Max performs twice as well in night photography than the previous generation
In the Samsung Galaxy S22 Ultra, the main camera is 108 megapixels and offers 3x and 10x optical zooms with its dual telephoto lenses and can produce HDR10+ content; Samsung's current flagship phone has more pixels than Apple's iPhone 14 Pro Max. Xiaomi 12S Ultra has a 50 megapixel main camera and two 48 megapixel telephoto (with 5x optical zoom) and 48 megapixel ultra wide cameras, and in the camera department, it is a bit similar to Huawei Mate 50 Pro.
Huawei Mate 50 Pro uses three cameras on the back panel; The main camera of this phone is 50 megapixels and is equipped with a lens with an optical stabilization system (OIS) and a variable aperture that can reduce or increase the amount of incoming light depending on the light conditions of the environment to increase the quality of the final image.
The second camera on the back of the Mate 50 Pro has a 64-megapixel sensor and a periscope lens that offers 200x magnification. This phone has another camera with a 13-megapixel sensor and an ultra-wide lens.
Regarding the selfie camera, the iPhone 14 Pro Max with a 12-megapixel sensor and the Mate 50 Pro with a 13-megapixel sensor are in almost the same position, and the selfie cameras of the other two flagship phones, namely the Galaxy S22 Ultra and Xiaomi 12S Ultra, are respectively They are equipped with 40, 32 and 60 megapixel sensors.
Function
Apple has released two iPhone 14 Pro models with a chip A16 Bionic Introduced; This chip with TSMC 4nm lithography It is called N4P and it is an improved example (and not as a complete leap generation) of the N5P technology used in the A15 Bionic chip, which is larger than the previous chip and has nearly 16 billion transistors. A16 Bionic focuses on energy efficiency, display and camera, and its processor uses 6 cores (two powerful cores and 4 low-power cores). The powerful cores of this chip consume 20% less energy than the previous generation and display Dynamic Island animations without problems.
In general, the iPhone 14 Pro Max with its new six-core A16 Bionic processor is associated with increased processor performance, graphics and neural processing compared to the previous generation; While all three other flagship Android phones have octa-core processors. Huawei Mate 50 Pro with 5nm Kirin 9000 or 5nm Qualcomm Snapdragon 888 chip and Galaxy S21 Ultra and Xiaomi 12S Ultra were both released with 4nm Snapdragon 8 Gen 1 chip. Since the previous version of the chip used in the iPhone 14 Pro Max, the A15 Bionic, outperforms the Snapdragon 8 Gen 1 chip found in the Galaxy S22 Ultra, it definitely offers more powerful performance than Samsung's current flagship phone.
A16 Bionic is equipped with 6 cores for processing and a 16-core neural processing engine
In terms of the graphics processor, the iPhone 14 Pro and iPhone 14 Pro Max come with Apple's own graphics, which with the ARMv9 architecture has an average performance improvement of about 15% compared to the previous generation, and new memories. 6 GB LPDDR5 Uses; The bandwidth of this memory is about 50% more compared to LPDDR4X models, and the energy consumption is more optimal in them.
Galaxy S22 Ultra and Xiaomi 12S Ultra are equipped with Adreno 730 graphics processor and Mate 50 Pro with Adreno 660 or Mali-G78 graphics. It can be said that in the graphics department, Apple is more powerful than the current flagship phones and offers better graphics.
Battery and charging
Apple in all previous generation iPhone models Increased battery capacity and obtained good results from this action; In the iPhone 14 Pro Max, the Cupertinos increased the battery volume again and provided fast wireless and wired charging technology for the new generation of the iPhone family. Despite having a larger 5,000 mAh battery and 45W fast charging technology, the Galaxy S22 Ultra did not perform well compared to the battery technology of the previous generation iPhone, and now it seems that it has nothing to say against the iPhone Pro Max. The Xiaomi 12S Ultra also has a 4,860 mAh battery and a 50-watt fast charger that charges the phone's battery to 100% in 41 minutes. The Huawei flagship was introduced with a 4,360 mAh battery and uses 66W wired fast charging technology and 50W wireless fast charging technology.
software
Both Android flagship phones in this comparison, i.e. Galaxy S22 Ultra and Xiaomi 12S Ultra, with Android 12 and based on One UI and MIUI respectively, iPhone 14 Pro Max with iOS version 16 and Huawei Mate 50 Pro is also available with the EMUI 13 user interface based on the Harmony 3 operating system (without access to Google Play). what is certain Apple does better than all other brands in terms of support and providing updates. And it releases software and security updates for that device as long as the hardware in its devices allows it, Samsung's flagship phones typically get longer software updates (4 years) and security (5 years) than other brands. Huawei no longer uses Google's services for its products after the US sanctions on the company, and does not yet follow a clear policy of providing software or security updates.
Conclusion
As mentioned, the launch cycle of iOS-based phones is different from Android phones, and the main competitors of iPhone 14 Pro Max can be Samsung Galaxy S23 Ultra and Google Pixel 7 Pro, all of which will be introduced in the coming months; for this reason It is not surprising that Apple's flagship appears to be more powerful than all its current competitors. In the table below, you can compare the specifications of iPhone 14 Pro Max, Galaxy S22 Ultra, Xiaomi S12 Ultra and Huawei Mate 50 Pro:
Source link