News
Twitter launches global Downvote feature test
If you now see the Downvote button next to Twitter replies, you are not alone; Because a year later, Twitter is testing the ability to vote against the whole world. This feature was initially available to a limited number of Twitter users; But the word-based social network says it will soon offer Downvote to Android and iOS users as well.
Unlike websites like Reddit, dissent statistics will not be displayed publicly on Twitter; Instead, the social network will use the registered votes to select relevant answers and display them to the audience.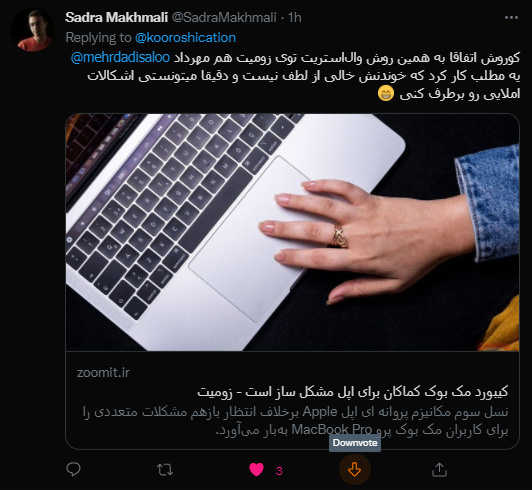 Twitter says test results so far show that users have generally voted against offensive and irrelevant responses. According to Twitter, "This experiment showed that Downvote recording is one of the most widely used tools for people to tag content they do not want to see." Twitter used to offer features such as mute or mark as spam or irrelevant content in nested and complex menus.
Twitter's current conclusion is that with the Downvote feature, "the quality of conversations on Twitter improves"; So Downvote is probably here to stay forever.
Downvote and dislike capabilities are simple ways to provide feedback on online content; But they can also be problematic; For example, these features may be used for purposes such as targeted and widespread harassment or to silence people using Twitter's own algorithms.
The dislike option became so problematic for YouTube that the social network eventually made its statistics public since November last year. Facebook, on the other hand, has tested Downvote many times in the past; But never add to your platform.
Source link