News
TSMC has the air of Apple; Intel is trying to regain its position
According to a report published by Bloomberg and Digitimes on December 15, 1400, Apple, with a share of more than 25% of TSMC sales, is by far the first place in the list of top 10 customers of this independent semiconductor manufacturer.
TSMC is currently the largest specialized semiconductor manufacturer in the world, with all its focus on Apple, and has a special focus on this multinational technology company; This has led Intel senior executives to Taiwan.
Intel was ranked 11th in the TSMC list of top customers with 0.84% ​​of sales, and now intends to change this ranking in the near future and become one of TSMC's top customers by 2023 (1402).
Apple has reportedly reached an agreement with TSMC to supply its first full range of 3nm products, and Intel will need to work with TSMC to ensure it has the parts it needs; In this regard, Pat Glesinger, the new CEO of Intel, recently traveled to Taiwan to meet with TSMC.
Apple accounts for more than 25 percent of TSMC revenue
TSMC has increased the price of its products by 20% amid global chip shortages and supply and demand inequality in the industry, and all customers except Apple are forced to accept the price increase; However, unlike other customers, Apple will receive its A-Series chip system from TSMC starting next month with only a 3% price increase.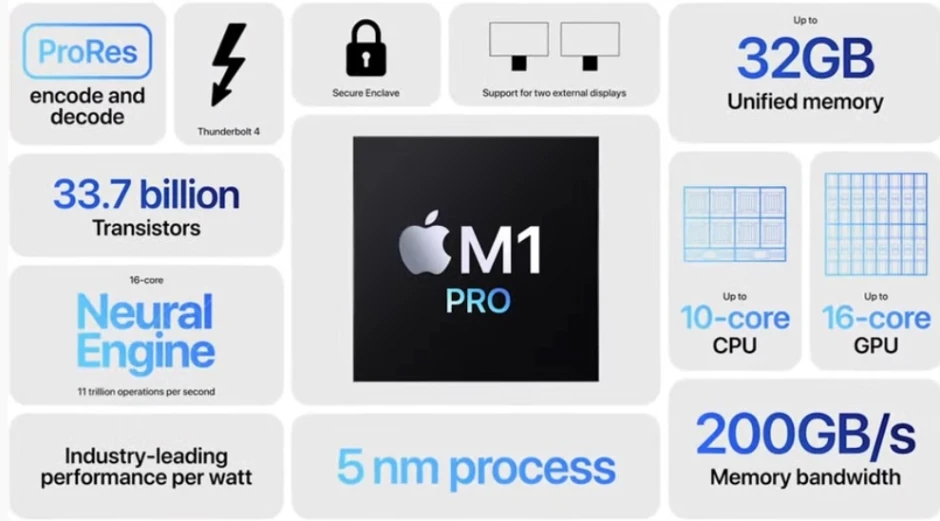 Apple's M1 Max chip has 57 billion transistors
Apple's $ 11.4 billion was's 25.9 percent stake in TSMC last year, and the semiconductor maker's $ 45.51 billion in revenue this year.
In the published list, MediaTek is in second place with 5.8% of TSMC's gross revenue to the Taiwanese chip designer, after which no other customer accounted for more than 5% of TSMC's financial revenue last year.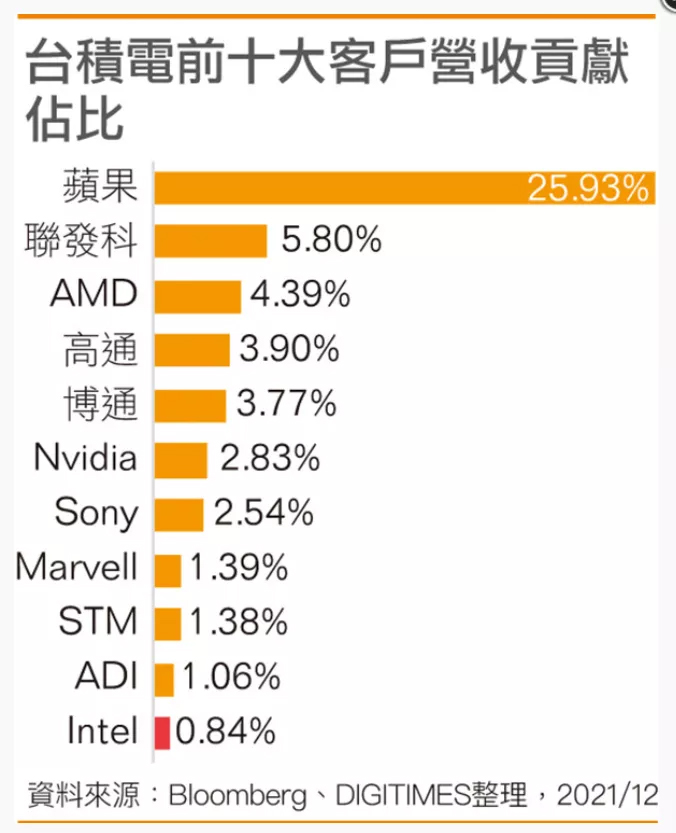 In this list, AMD with 4.4%, Qualcomm with 3.9%, Broadcom with 3.8%, Nvidia with 2.8%, Sony with 2.5%, Marvel with 1.4%, ST M with 1.4 percent, EDI with 1.06 percent and Intel with 0.84 percent are in third to eleventh place.
Intel has separate manufacturing plants for its products, so it's not uncommon to see its name at the bottom of the list, but this multinational advanced chip maker still does not catch up with TSMC and therefore intends to outsource some of its chips. Leave it to an independent manufacturer.
Last week, Pat Glsinger held a meeting with TSMC‌ on "Preventing Intel Conflict with Apple" and the largest semiconductor component maker took over Intel's 4nm production capacity.
The following video was released by Pat Glsinger before he left for Taiwan:
---
In an interview with HBO, Pat Glesinger described Intel's efforts to achieve three nanometers of capacity, as well as Apple's M-Series chips.
Apple believed that they could make better chips themselves, and they did not need us, and they seemed to do well.
The M-series chips were designed by Apple itself to replace Intel components in Mac computers, and TSMC was responsible for producing them with its advanced 5-nanometer technology.
The M1 chip with 16 billion transistors, the M1 Pro with 33.7 billion transistors and the M1 Max with 57 billion transistors were introduced in early 2021 (winter of 1399), with Apple also using the M1 chip to produce the iPad Pro.
In addition to the 3-nanometer TSMC capacity, Intel is interested in the manufacturer's 7, 6 and 5-nanometer processes and intends to outperform its rival AMD by increasing its market share; The company is working to reclaim its position from TSMC and Samsung.
Glsinger added:
All Intel has to do is produce better chips than the Apple M1 chip. I hope we can regain our position in this area over time, as well as in many other areas.
Intel also has plans to develop Angstrom chips and increase their production, and plans to implement these plans by 2024 (1403).
Intel announced in July 2021 (July 1400) that it planned to complete the design of Angstrom-scale processors by 2024 (1403) using the new Intel 20A processor and RibbonFET transistors; The letter A in the Intel 20A process means "angstrom" (equivalent to 0.1 nm), and this manufacturing process creates a new architecture called "RibbonFET" to increase the speed of current change in transistors.
Intel used to be a leader in chip manufacturing, but TSMC and Samsung managed to overtake the company. Now they hope that with this innovation they will be able to produce chips with the highest number of transistors and become the leading manufacturers again.
The general rule is that the smaller the lithography technology, the smaller the transistors inside the chip, resulting in more space to accommodate more transistors; By placing more transistors inside a chip, we will have a more powerful and efficient chip.
Related article:
For example, the system on Apple's A4 chip used in the iPhone 4 in 2010 was built with a 45-nanometer TSMC process and had 1.3 billion transistors; But Apple's Bionic A15 chip used in the iPhone 13 has 15 billion transistors and is manufactured with the advanced 5-nanometer TSMC process.
According to reports, Intel's cooperation with TSMC will continue at least until the era of 2-nanometer chips and after 2025 (1404), and Intel will be able to become the top three customers and one of the main sources of profitability of TSMC until 2023 (1402). Become.
How do you assess Intel's efforts to reclaim its position? What will be the outcome of Apple's competition with this American chip designer?
Source link