News
Top Five One UI 4 Features You Should Try
One UI 4.0 is the latest version of Samsung's UI for Galaxy phones and tablets, developed based on the twelfth version of Google Android, and now users of Samsung's latest flagships, the Galaxy S21 series, the Galaxy Z Fold 3 and Z Flip 3, are getting a stable version. They have access to it. This version will be released according to Samsung schedule for other eligible Galaxy devices.
Samsung has made a lot of efforts to release Android 12 as soon as possible, which fortunately has been largely achieved. In addition, this year Samsung has allowed the release time of this version of Android with its own skin with much less Google Pixel and the possibility of testing beta versions earlier than in previous years in all eligible flagships.
In terms of features and capabilities, the One UI 4 has not undergone major changes, and Samsung has focused more on improving the capabilities and user experience. However, the interface has undergone some visual and subcutaneous changes, leaving users more open to more personalization of the interface. In this article, we will mention some of the new features of One UI 4 that can help increase the productivity of users of their phone.
1. Personalizations taken from Material You design language
This year, Android has seen 12 major visual changes after several years thanks to Google's updated design language called Material You. This design language now gives users more control over changing the color, glaze and appearance of the operating system. The most important is the possibility of producing color palettes based on the dominant colors in the wallpaper and applying it as a general theme of the system and programs compatible with this design language. However, the Google API calls it Monet and has not made it available to its partners; As a result, Samsung has taken the plunge and implemented a similar example in its user interface, which of course is compatible with Google applications.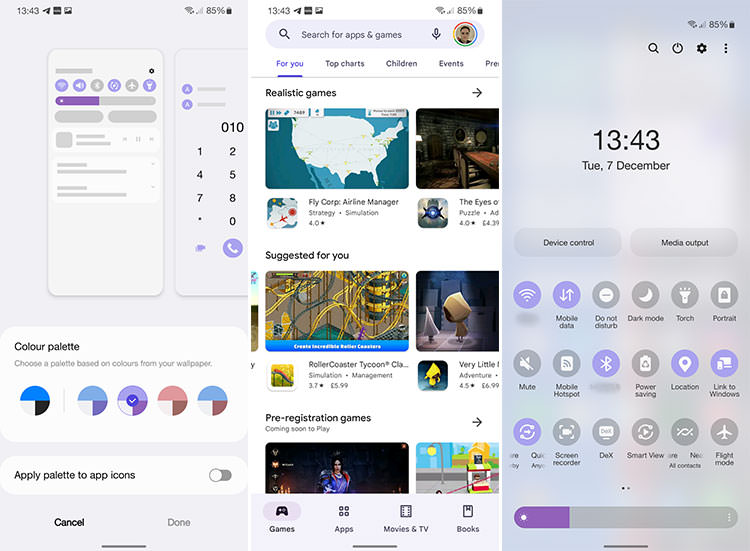 The color theme of the user interface is something that goes back to people's tastes; But overall, Samsung's color choices seem to work better, with a wider range of vibrant colors; In pixel phones, on the other hand, the extracted colors are less saturated. Changing the color theme of the system in the One UI interface is as simple as selecting the wallpapers, all you have to do is select one of the suggested color palettes after selecting the desired wallpaper. These colors will be applied to buttons, menus and icons.
۲. Pack icons
One UI is undoubtedly one of the top and most flexible Android skins for customization; However, the customization capabilities in the fourth version have been further enhanced, and Samsung has also added support for icon packs. This feature was added from One UI 3.1.1; But it was the monopoly of Samsung's new folding devices. However, in the current version it is considered as its standard feature.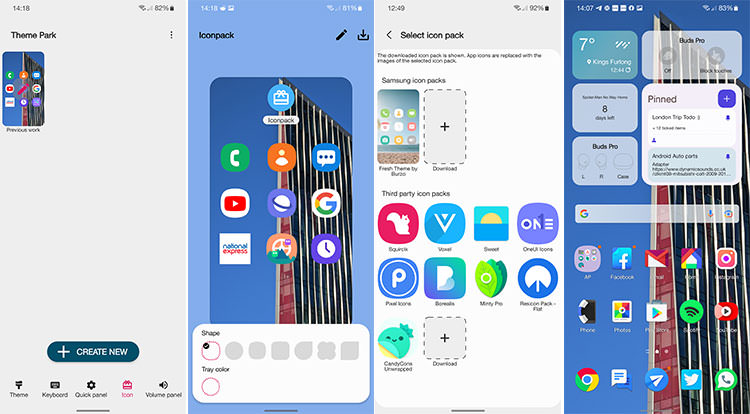 To use the custom icon packs, of which there are countless collections available in the Google Play Store and Galaxy Store, you must have the Goodlock Theme Park app installed on your device. Then open this program and select the Icons option at the bottom of the page to create a new theme by selecting Create New. On the next page, a section is dedicated to third-party applications, and from that section you can apply your favorite icon set by selecting one of them. You can download the Theme Park app from the Galaxy Store.
3. Always clear the screen for new notifications
In previous versions of One UI, there were no three options for displaying the AOD or the always-on display: Tap the off screen once; ۲. Permanent display; 3. View by schedule. Now, a new option has been added, selecting which, every time you receive a new notification, the AOD is displayed and stays on until the phone is unchecked.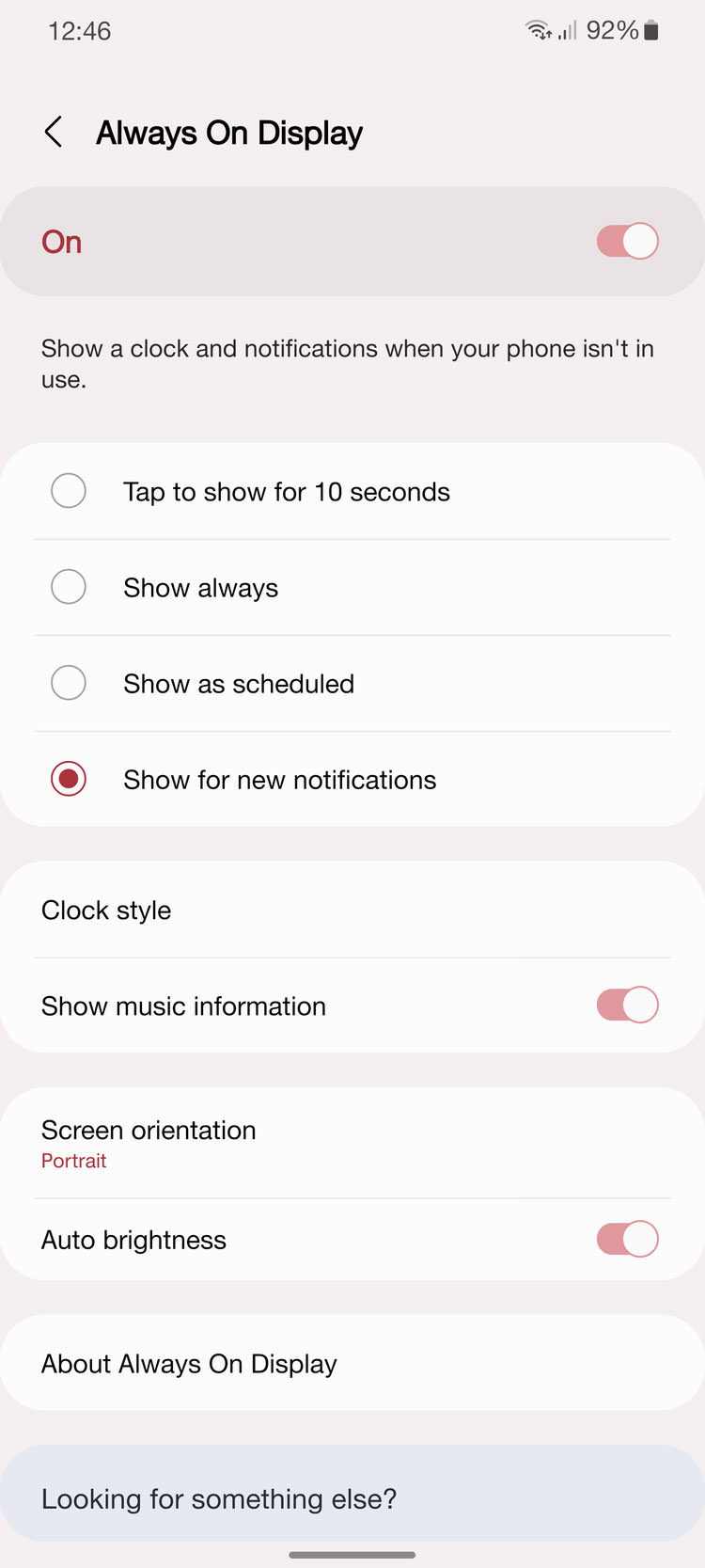 4. Widgets
Widgets are generally not a feature that we want to call innovative or creative; Because by default, Android has been proud of having a widget since the first years of its life. The reason for choosing widgets is that in Android 12 and the One UI 4 user interface, after years of major overhaul, they are now more useful and compatible, and show improved performance.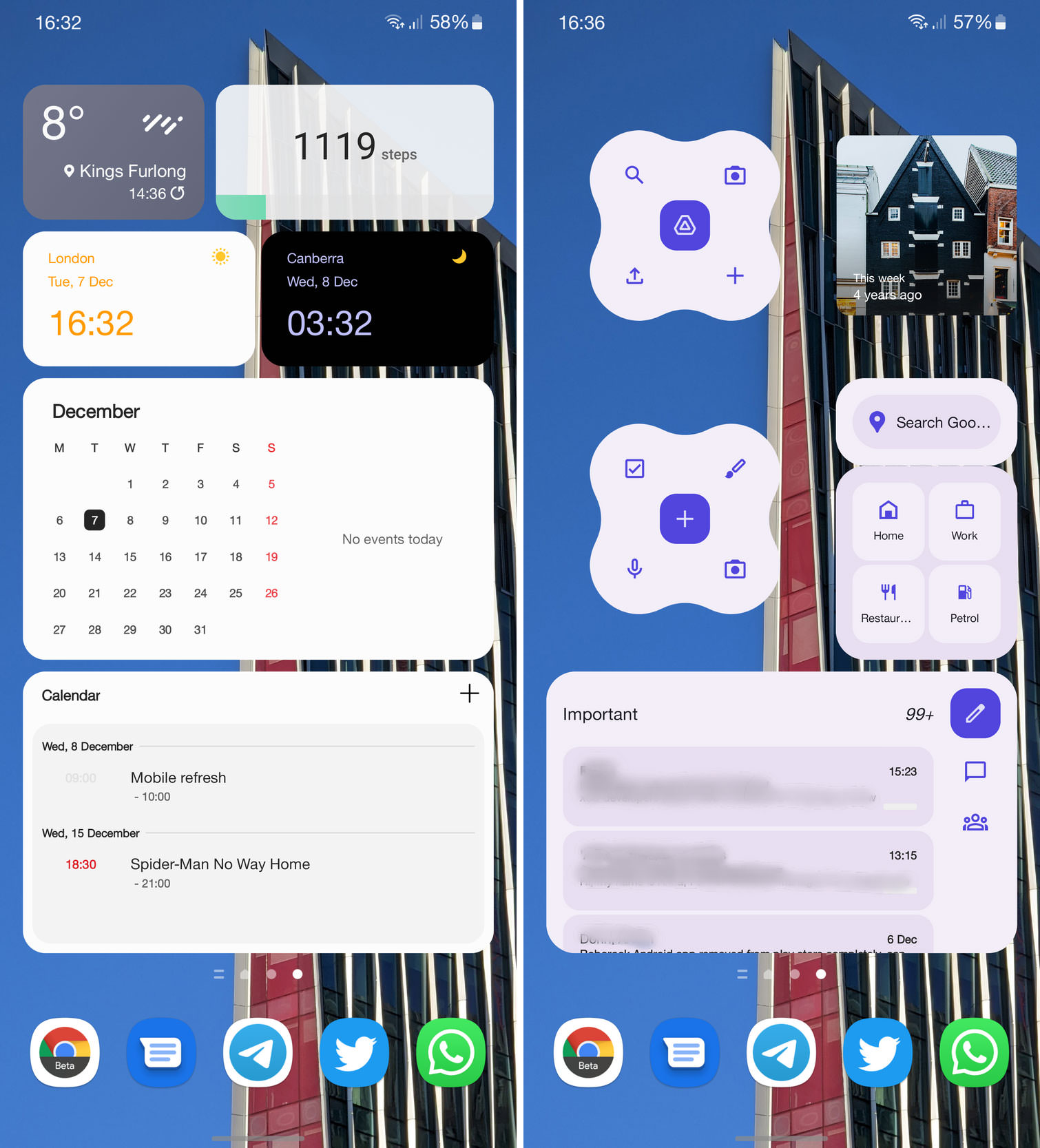 In this section, in addition to having access to all of Google's redesigned and interactive widgets, Samsung has also optimized the widgets section to match the visual effects of Android 12. Also, their corners are rounded.
5. Improved default applications
Another part of Samsung's focus in the One UI 4 development process has been on improving its default UI applications. Samsung applications are now integrated with Material You customizations to provide a more user-friendly experience. Although the camera app has undergone minor improvements, it has made it easier to use. For example, the tree icon on the zoom buttons has been replaced by numerical magnification factors.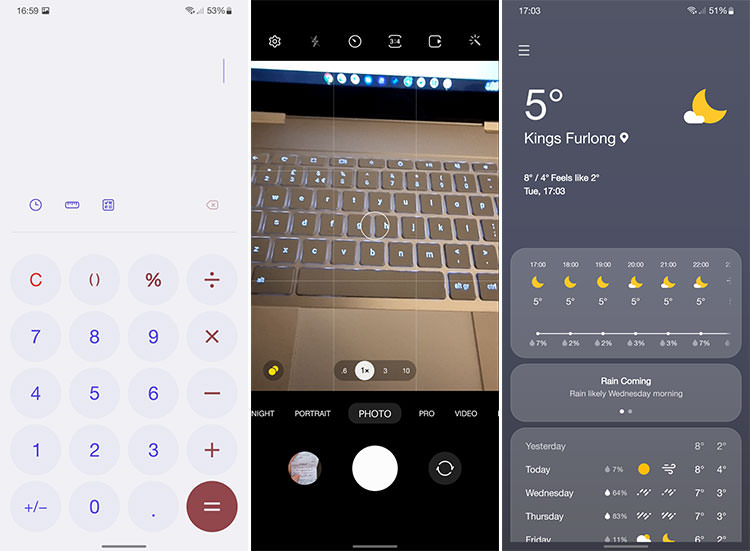 The meteorological program also experienced a major overhaul, and the weather forecast was accompanied by soft and eye-catching animations. Also, ads have been completely removed from it. Earlier, Samsung had decided to advertise in some of its default applications, which was met with strong criticism from users. Now the Korean giant seems to have regretted this decision.
Related articles:
All in all, One UI 4 can be considered a successful and fast update of Samsung, which brings the best features of Android 12 in the form of a straightforward and simple user interface for Galaxy phones. So far as you are familiar with some of the top features of this interface, we recommend that you do not miss the Zumite review of One UI 4.
Source link