News
Third-generation Snapdragon 8CX processor introduced for next-generation Windows PCs based on logo architecture
Qualcomm unveiled its new processing chips at its annual technology event. The company has introduced the Snapdragon 8 first generation for smartphones and the Snapdragon 7c Plus third generation for low-end laptops and Chromebooks. Qualcomm's other product is the third-generation Snapdragon 8cx computing platform, which, as its name implies, is set to launch as the new generation Snapdragon 8cx first generation.
The third-generation Snapdragon 8cx with a 5-nanometer process has been developed for devices running the Windows operating system based on the logo architecture, according to Gizmochana. Qualcomm has announced that the chip's CPU and graphics performance have improved by 85% and 60%, respectively, compared to the previous generation.
The third generation Snapdragon 8cx supports Qualcomm X62, X55 and X55 5G modems. The X65 modem allows data download at speeds of up to 10 Gbps. Also, the maximum download speed of the X55 modem is 7.5 Gbps and the maximum download speed of the X62 is 4.4 Gbps.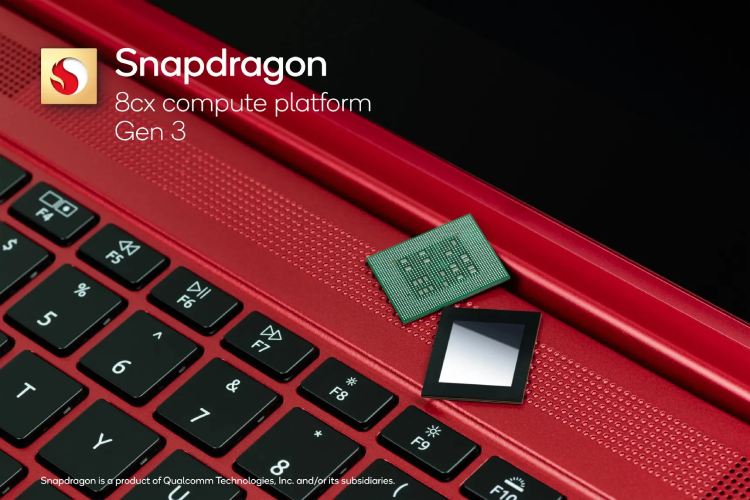 This processor uses a Qualcomm image signal processing unit called Spectra ISP. This processing unit enables better focus, auto white balance and auto exposure in video calls. The third-generation Snapdragon 8cx chip image processing unit supports a 24-megapixel single camera and up to four simultaneous cameras. The processor also offers 4K HDR video recording at 30 frames per second. Other shooting-related features of this chip include the ability to record slow-motion movies with 720p resolution and 480 frames per second.
The third-generation Snapdragon 8cx supports UFS 3.1 storage, which means that data can be read and written faster on devices equipped with this processor. The chip also uses Qualcomm's Voice Suite; Ability to help eliminate noise and reduce echo from unwanted background noise.
Related article:
Qualcomm claims that the processor's optimal power consumption will extend the battery life of the devices to a few days, but no other details are available. Computers with the third-generation Snapdragon 8cx are expected to hit the market in the first half of 2022.
Qualcomm is also working on its next-generation chips for Windows PCs, which are expected to be used in a variety of devices from 2023. This processor is designed by Nuvia; The company that Qualcomm bought earlier this year for $ 1.4 billion. The next generation of chips designed by Nuvia will be launched in 2023 with the aim of competing with Apple's M1 series chips.
Source link