News
The supply of new Nokia headphones with Namdaran's warranty in Iran
With the advent of the Android operating system, Nokia could not adapt to the new changes, and this caused it to quickly give up its place to competing companies. But in recent years, with the appearance of Nokia headphones, this company has become popular once again, and its positive history has made it quickly popular among the people of the world.
Headphones and hands-free products produced by Nokia are among the top brands in the world today, and the variety of models is so wide that customers have a wide range of choices. In this article, we are going to introduce and review some new models and uses of Nokia headphones.
Namdaran Mobile Communications Company: supplier of all types of Nokia headphones and handsfree
Company Mobile communication names It is one of the pioneers in the supply of mobile accessories in Iran. Since its establishment, this company has imported the best and highest quality brands of mobile accessories and has always been one of the largest distributors of Nokia products (headset and handsfree) and high quality brands such as Jabra and Sennheiser in Iran.
After certain problems for the company Nokia After several years of declining demand, Nokia has again managed to attract the attention of the audience by updating its technology.
According to the plan announced by Nokia for the third quarter of 2021, the company began to supply accessories from last year, and Namdaran Mobile Communications Company, which has been one of the largest representatives of Nokia products in Iran for many years, made arrangements at the same time as the global unveiling. , offered these products in the Iranian market along with the warranty of Namdaran Mobile Communications.
Since last October, all kinds of Nokia headphones and other Nokia bluetooth hands-free have been gradually imported to Iran by Namdaran Mobile Communications Company. In the continuation of this article, we will introduce its newest brands.
Nokia completely wireless headphones
Clarity Earbuds+ TWS-731
This headphone is one of the newest and highest quality headphones on the market. The ergonomic design of this headphone is such that you do not feel any discomfort during long-term use. This headphone fits perfectly inside the ear and does not come out during exercise and running. sound Nokia CLARITY EARBUDS+ TWS-731 bluetooth headphones It is very high-quality and clear, and you can use it for up to 4.5 hours per charge. Technologies such as ANC And ENC It allows you to experience a great conversation, because both you and your interlocutor will not hear any noise while talking in noisy and crowded places.
This product provides the ability to touch AirPod to control music and conversation, and eliminates the need for a phone while using it. Another remarkable feature is that you can set each Airpod individually to talk or music. This wireless headphone is completely resistant to drops of water and dust and is in a very reasonable price range for the features it offers. You can easily connect this headphone to your phone with Bluetooth and enjoy playing music.
Other specifications of this Nokia headphone are as follows:
Bluetooth version: 5.2
Media playback: Yes
Media playback time: up to 4.5 hours, with charging case 25 hours
Other features:

Transparency Mode

single use of each Airpod, touch control
antinoise:

Active Noise Cancellation

Technology

ENC

Standard:

IPX4
10 mm neodymium drivers
Low latency mode
Connection

USB Type-C

Low latency for games and videos
Battery life: up to 45 hours
Charging case battery capacity: 380 mAh
Headphone/phone battery: 60 mAh
wireless charging
To buy this product or to see other similar products, you can visit the website of Namdaran Hamishat Hamal.
Nokia completely wireless headphones
Lite Earbuds BH-205
In addition to its remarkable features, this product has a very reasonable price, and it is a very good choice for those who want to buy a product with many features and at an affordable price. The sound quality of this product is very good and it can be played in stereo. This product is available in two colors, blue and black, and they are very light in weight.
One of the good features Bluetooth headphones Nokia LITE EARBUDS BH-205Ability ENC which can remove ambient noise. With the help of these two features, you can have a clear and high-quality conversation that will never tire your ears. You can also use these AirPods separately or together. The charging compartment of this headphone fits easily in the pocket and can charge the AirPods up to 5 times. This means that it can be in standby mode for up to 36 hours. This headphone is very light and compact and you can easily fit it in any bag.
AirPods are connected to your mobile using Bluetooth version 5. Each of the phones of this headphone is connected to a 40 mAh battery and a 400 mAh battery is installed on its charging compartment. You can charge it with a USB Type C cable. Like the above headphones, this model has the ability to touch AirPods to control conversation and music.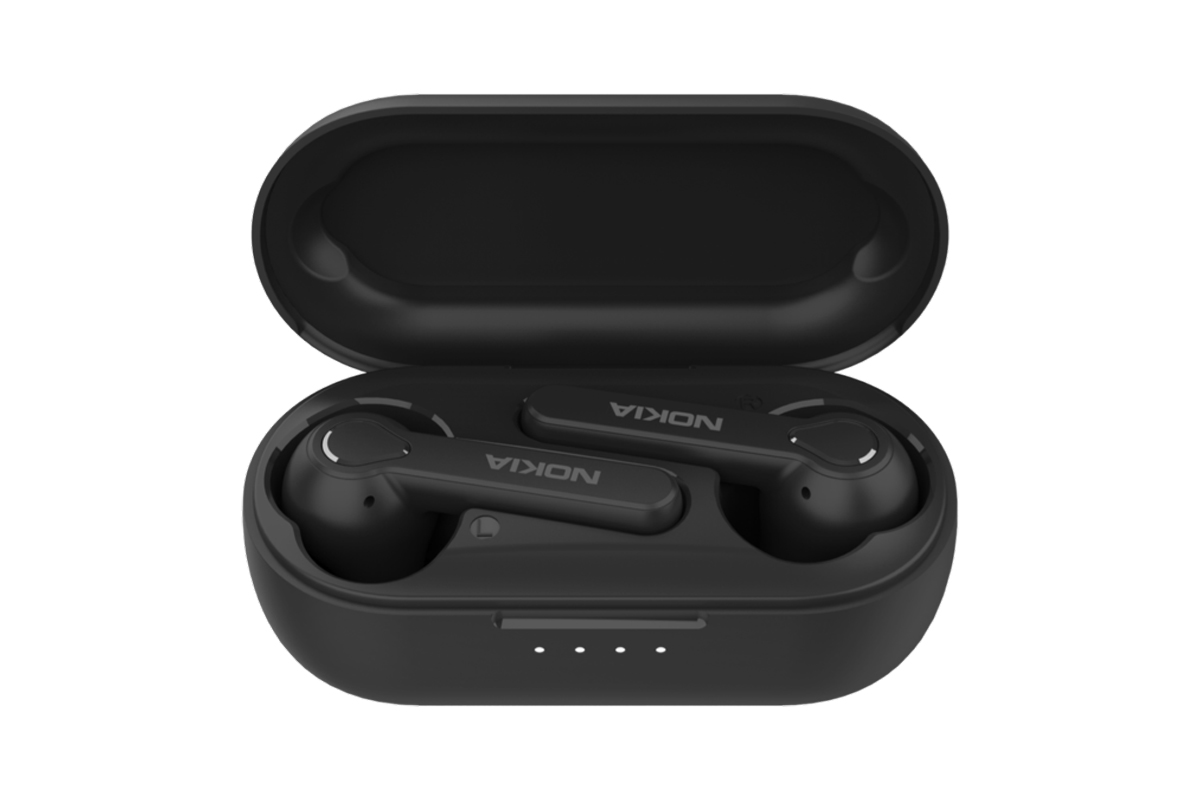 Other features of this product include the following:
Bluetooth version: 5.0
Media playback: Yes
Media playback time: up to 6 hours, with charging case 36 hours
Other features: single use of each Airpod, touch control
Noise cancellation: ENC technology
It can be used individually
Standard: IPX7
Transmission distance: 10 meters
By purchasing this Nokia headphone from Namdaran's website, you can also benefit from Namdaran's warranty.
Nokia Clarity Solo Bud Plus bluetooth handsfree
This Bluetooth handsfree has the ability to connect to two mobile phones and you can use it for up to 6 hours with each charge. You can also put it on standby for up to 80 hours. This product uses two microphones at the same time, which makes the environment noise completely removed and you have a clear conversation. This handsfree uses artificial intelligence technology to enhance your voice quality. Use the standard IPX4 In making this product, it makes it highly resistant to water and you can use it in any weather conditions.
Nokia bluetooth handsfree Nokia Clarity Solo Bud+ SB-501 Also by USB type cable c It is charged and has an LED indicating the amount of charge. The method of connecting this product to a mobile phone is also with the help of Bluetooth version 5.0. This Nokia headphone has very little weight and fits perfectly in the ear and does not cause any problems during long use. This Bluetooth hands-free also uses Airpod touch technology and you don't need your mobile phone while listening to music or talking. This product is currently only available in black.
Bluetooth version: 5.0
Media playback: Yes
Media playback time: up to 6 hours
Connected devices: 2 devices at the same time
Speaker: 12 mm
Standard: IPX4
10 mm dynamic drivers
Weight: 9.5 grams (with battery)
Support HFP, HSP, A2DP, AVRCP
Support multi-point A2DP music streaming
1.5 hours of charging to reach full battery
Operating distance of 10 meters
Battery: 95 mAh
Conclusion
Nokia, which was one of the most reliable and high-quality mobile phone brands for many years, quickly faced a decrease in demand in the market due to the use of Android operating system technology. But by upgrading its technology from last year, it was able to make a powerful entry into the mobile phone peripherals market; Today, Nokia headphones and handsfree are one of the best and highest quality models in the market.
These products, offering very clear sound and very powerful hardware, were quickly welcomed by people. Namdaran Comunication Company, which has been one of the largest suppliers of Nokia products in Iran, at the same time as these products were unveiled in the world, has also offered them to the Iranian market.
In this article, we introduced three samples of the latest and most widely used wireless headphones from Nokia, which are also in a reasonable price range. To buy all kinds of Nokia headphones and other mobile accessories products, you can visit the site of Namdaran Hamishat Mobile Company. that all Nokia products on this site have a warranty and after-sales service of mobile communication names.
Source link