News
The Samsung M8 monitor is inspired by Apple, but smarter
The Samsung M8 Smart Monitor, the new generation of the company's most successful and successful M5 and M7 series monitors, is heavily inspired by the iMac M1 and Apple Display Studio in terms of design, base shape and even color options, but more cost-effective, more practical than both Apple monitors And smarter.
The Samsung M8 monitor, which comes with a stand with angle and height adjustment, is available in four colors: bright blue, spring green, sunset pink and warm white, which are actually inspired by the blue, green, pink and silver colors of Imec. However, the Samsung monitor has narrower bezels compared to the iMac, and its Full HD magnetic webcam is animated, which makes it look nicer while being more efficient.
Related article:
The M8 32-inch smart monitor has a 4K QLED display with a maximum brightness of 400 nits and a refresh rate of 60 Hz, and has HDR10 + 99% sRGB color gamut and 1٫Supports 07 billion colors. Of course, this monitor is not able to play HDR content.
Compared to Apple Studio Display, Samsung's new monitor has a larger display, but a slightly lower resolution; However, it should also be noted that the price tag is $ 870 less than the Apple monitor, which can be used to buy, for example, a Samsung Galaxy Book 2 360 laptop or a MacBook Air M1.
The monitor is also equipped with 2.2-channel speakers based on Samsung's proprietary Tizen operating system; In this way, this monitor can be viewed through the eyes of a smart TV; که Because it can run music and video streaming applications such as Spotify, Netflix and YouTube directly on the monitor environment without the need for a separate computer or player. Other features of this monitor include support for WiFi 5, Bluetooth 4.2, Alexa, Bixby, SmartTings and Samsung Health.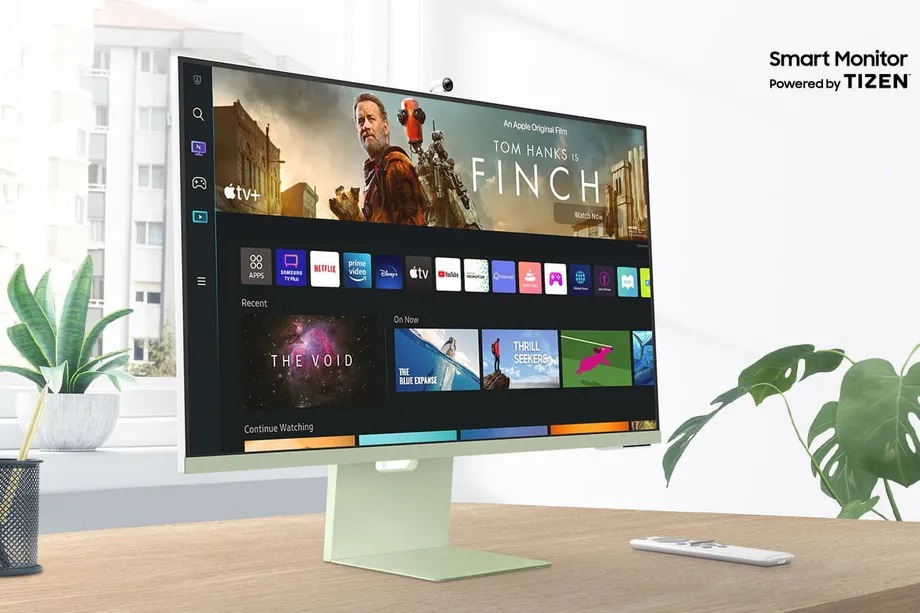 Samsung mentions the ability to stream Apple TV Plus movies in promotional images of the M8 monitor
More interestingly, the M8 monitor, thanks to its AirPlay 2 feature, easily integrates into the Apple ecosystem and allows you to wirelessly play multimedia files from iPhone, iPad and Mac. In addition, the monitor supports Apple Music and Apple TV Plus applications, and its fast-charging USB-C port can easily charge Apple laptops.
The white color of this monitor has a price tag of $ 700, but other colors are $ 30 more expensive. The release date of this monitor has not been announced yet and at the moment, it can only be registered in the pre-order waiting list. The pre-purchase of this monitor also includes a $ 100 Samsung credit card for future purchases.
Although the design of the M8 monitor is heavily inspired by the 24-inch iMac, Samsung reassures users that the Korean product is more cost-effective and easier to use than the Apple monitor. With the launch of the M8, it looks like Samsung intends to attract even fans of the Apple ecosystem who do not have enough money to buy a display studio and other Apple monitors.
Source link