News
The parliament presented the plan for the establishment of the fiber optic network development fund
The optical fiber development plan has been proposed in the country for a long time and it is one of the most important goals that the Ministry of Communications and Information Technology of the 13th Government is seeking to implement. A goal that Issa Zarepour emphasized in the parliament last week on his ministry's efforts to develop and make it available to 20 million households and businesses in three years.
In this context, the parliament adds a single article as Article (7) to the Law on the Duties and Powers of the Ministry of Communications and Information Technology approved on 19/9/2013, which aims to develop the access network with the aim of fair financial management and maximum use of the infrastructural capacities of telecommunication operators. Finally, a fund should be established for fiber-based fixed internet.
This fund is called the final access network development fund based on optical fiber and is affiliated with the Communications Regulatory Commission and the Radio Communications Regulatory Organization will be its executive. The financial resources of this fund include a percentage of the annual gross income of communication and information technology professionals with the approval of the Cabinet.
Also, the funds that will be allowed by the law to determine and collect royalties for the activities of the non-governmental sector in the field of post and telecommunications, it is decided to be allocated to the whole country so that the final access network of fixed internet based on optical fiber can be developed fairly.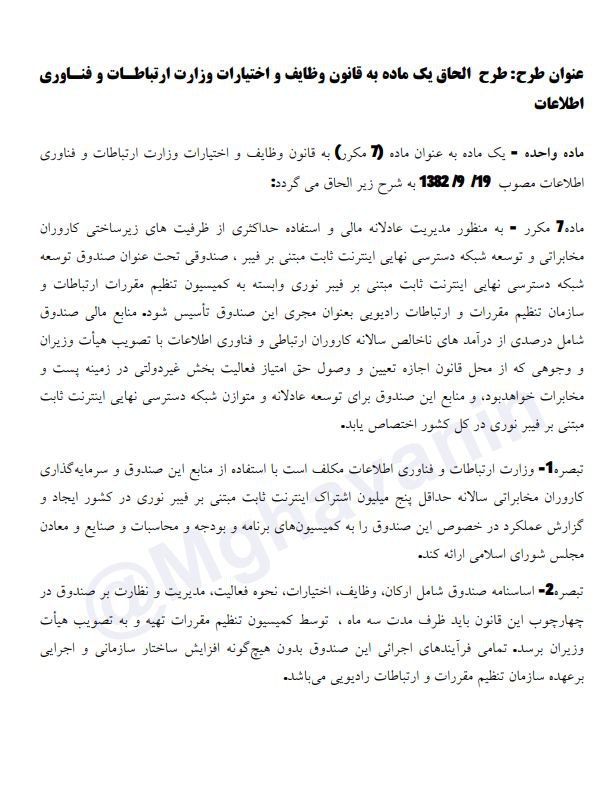 In this plan, an urgency of two notes has also been determined. According to the first note, the Ministry of Communications is obliged to create at least five million fixed internet subscriptions based on optical fiber in the country by using the resources of this fund and the investment of telecommunications companies.
In the second note, it is mentioned that the regulation commission is responsible for preparing the statutes of the optical fiber development fund, including the pillars, duties, powers, operation, management and supervision of the fund within the framework of this law, and get it approved by the council of ministers within three months. .
Source link