News
The LG PuriCare AeroTower cleans the air in your living space with minimal noise
Over the past two years, the corona virus has led companies to focus more on devices that improve indoor air quality. Now that the air is colder than it was a few months ago, it is not bad to be able to purify not only the environment but also the disease by purifying the indoor air; Instead, keep it warm. LG's new product, called the PuriCare AeroTower, is built to do just that, and it's great for that.
According to Digital Trends, this air purifier works both as a fan and a heater. The LG PuriCare AeroTower is set to be unveiled at CES 2022. The AeroTower can rotate a full 360 degrees, delivering air in one of three modes: straight, wide, and diffused.
Directs the air straight at a narrow angle through the diffuser guard; While the wide state emits a wide horizontal breeze. The diffuse mode also provides vertical and indirect currents that prevent stagnant air. You can choose to increase the temperature up to 86 degrees Fahrenheit in different modes.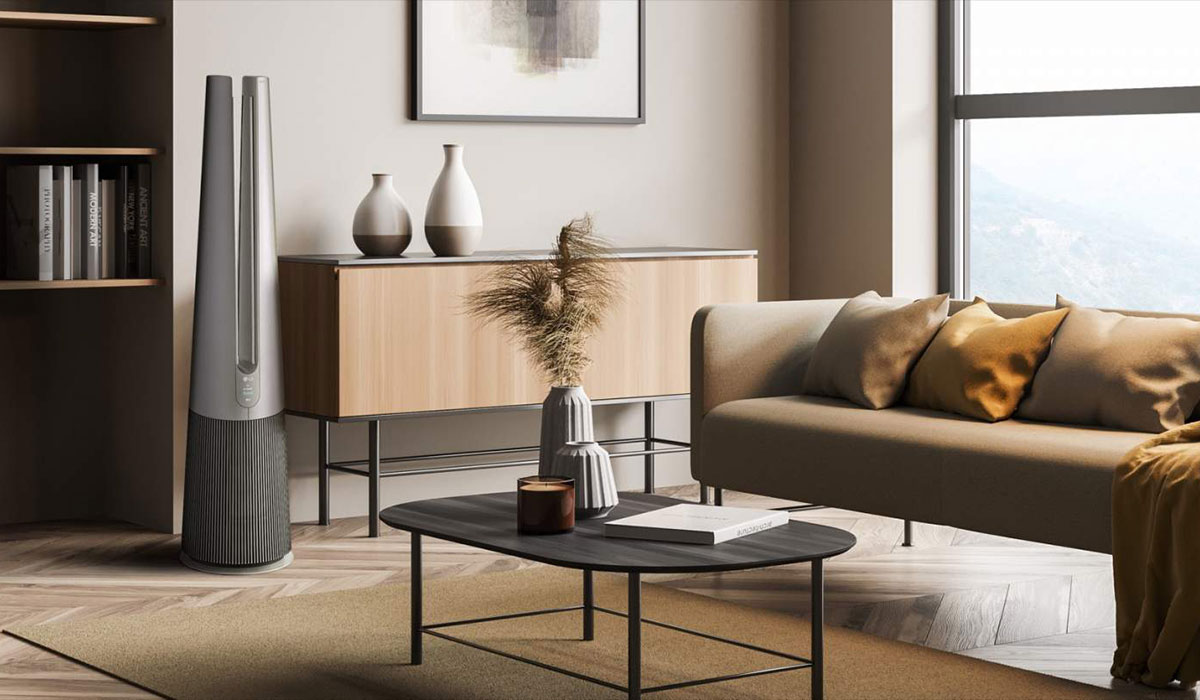 Perhaps the most important feature of AeroTower Its volume. At just 23 decibels, it can fit in a home office without interfering with video calls; Because it is practically silent. The LG Puricare AeroTower uses a multi-stage HEPA filter to absorb 99.97% of 0.3 micron particles.
The product also uses UVnano technology to kill bacteria that may accumulate on the fan during long-term use. The presence of such a filter in Puricare AeroTower means that no matter what season you are in, this device always makes sure that the air inside your place is clean. If you have a pet in your home, this device can help increase the air quality of your living space.
Related article:
You can check the collected air quality data with the LCD screen purifier or through the LG ThinQ mobile app. You can also use this app to change AeroTower settings; Even if you are not at home.
The new LG air purifier has a very stylish appearance and can easily find its place among the decoration of new homes, and its two colors, beige and silver, give the buyer more options. Finally, it should be noted that access information and other details of the LG PuriCare AeroTower air purifier will be available at CES 2022.
Source link