News
The Intel Arc Alchemist GPU with 256 processing units has the same performance as the RX 580
Twitter revelation with the username Benchleaks shared the results of the implementation of two Geekbench 5 benchmarks on a notebook equipped with a Core i5-12500H processor and Intel's proprietary Arc Alchemist Xe graphics. The Arc Alchemist graphics in this notebook use 256 processing units and 6 GB of random video access memory (VRAM) and according to the OpenCL scores, it seems to have the same performance as the RX 580 Radeon or the GeForce GTX 1650 Super Nvidia.
OpenCl is one of the Geekbench 5 tools for modeling GPU computing.
The GPU is rumored to be part of a new series of Intel DG2 family mobile version (DG2). According to reports, one of the leading configurations of this family of Intel GPUs has 256 computing units and VRAM capacity between 4 and 8 GB, and the same configuration can be seen in the geekench benchmark.
The Intel DG2 family of GPUs consists of five configurations: The most powerful model will have 512 operating units, followed by GPUs with 384, 256, 128 and 96 computing units; Therefore, version 256 of this family seems to be one of Intel's mid-range GPUs for the mobile GPU market.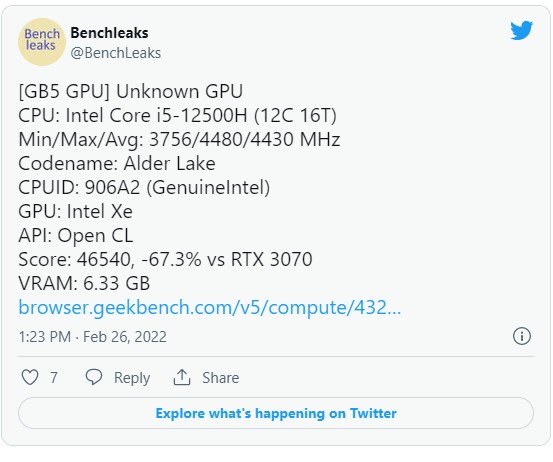 The revealed results of running two OpenCL geekenches benchmarks on a notebook are slightly different; The first shows 46,540 points and the second shows a slight decrease of 45,483 points.
These scores are similar to the results of the OpenCL GeekBench 5 benchmark on several older Imedi and Nvidia GPUs, such as the RX 480 and RX 580 Radeon, the RX 5600M, as well as the GTX 1650 Ti and GTX 1080 Max-Q, and by computational standards by today It turns out that Intel's Arc Alchemist mobile GPU with 256 computing units is not that powerful.
Related articles:
Of course, it should be noted that Geekbench 5 is not a gaming benchmark, and the results may be very different in the real world.
However, if we limit ourselves to the results of Geekbench 5, the mobile GPUs that Intel introduces as intermediate will act more like lower GPUs. It remains to be seen which market segment the blue team will target with its DG2 product line; But if Intel's version 512 of the DG2 GPUs, or the "top" GPU in the family, can't beat the mobile version of the RTX 3070 or RTX 3080 and be the only competitor to mid-range GPUs like the RTX 3060; Version 256 of this family can only be used as a beginner level product.
Source link