News
The Huawei Watch D smartwatch with the ability to measure blood pressure was introduced
Huawei in progress Ceremony December 23 at In addition to introducing the P50 Envelope clamshell phone, it also unveiled its new smartwatch called the Huawei Watch D, which is the brand's first smartwatch that uses the highly functional blood pressure and ECG capabilities to record heart rate abnormalities.
The Huawei Watch D is able to continuously measure a user's blood pressure with very high accuracy, and by storing data for several days, it provides a comprehensive picture of his blood pressure changes. Huawei also promised that Watch D users with a one-year VIP subscription, which is activated with the purchase of the watch, can use the company's health services and benefit from the advice of medical experts by providing data recorded by Watch D. In addition, this watch is capable of detecting more than 70 sports activities, which is a significant number compared to other brands.
Watch D, according to Huawei, is the first smartwatch with the ability to measure blood pressure Certification IP68 It is supplied resistant to dust and water penetration. Huawei also said that the watch weighs only one-sixth the size of a standard blood pressure monitor and will therefore feel comfortable on the wrist.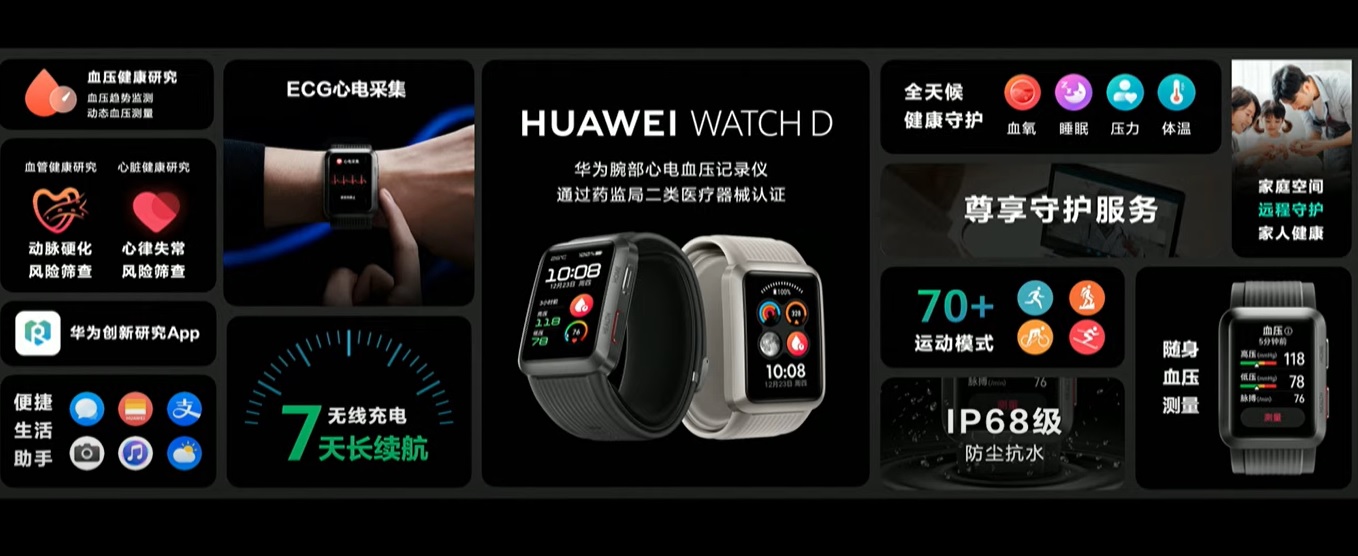 The Huawei Watch D with a 1.64-inch full-color HD display with a density of 326 pixels, according to the company, offers excellent image resolution, and reading information on this screen is possible at a glance.
Huawei also described the battery performance of this watch as excellent. Watch D can charge for 7 days by measuring blood pressure six times and ECG five times a day.
The watch is available in black and titanium and will be available from December 25 (January 4) at a price of 2988 yuan (about $ 470).
Source link