News
The first Snapdragon 8 Gen 2 benchmark shows that Apple's mobile processors are still invincible.
The first processor benchmarks Qualcomm's Snapdragon 8 Gen 2 used in high-end Android phones has been leaked. These unofficial benchmarks show that Qualcomm's high-end chip doesn't measure up to Apple's A16 processor as expected, and even loses out against the A15. A15 is the processor used in the iPhone 13.
According to Zomit report, Snapdragon 8 generation 2 is the most powerful and advanced Qualcomm processor. This processor uses 4nm lithography like the previous generation, but this time Qualcomm went to TSMC instead of Samsung. The use of TSMC lithography has reduced the energy consumption of the new Snapdragon and increased its power.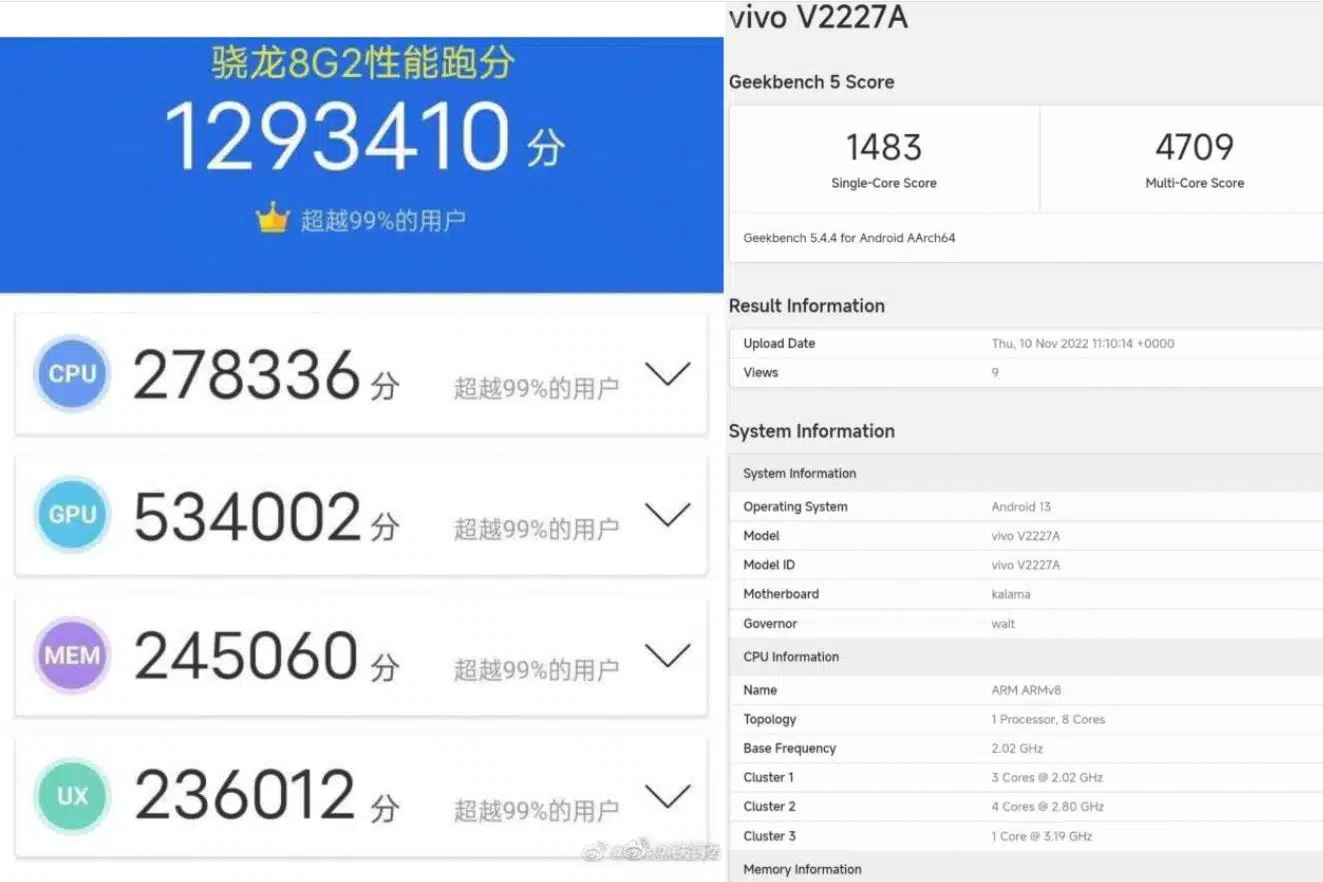 A whistleblower on Twitter By publishing a screenshot, he claimed that the Snapdragon 8 Gen 2 was able to score 1,293,410 points in the Entoto benchmark. This score is said to be recorded on one of Vivo's unreleased phones (probably the Vivo X90 Pro+ 5G). The Snapdragon 8 Gen 1 processor scored 1,061,361 points in the same benchmark.
Meanwhile, Snapdragon 8 Gen 2 is said to have scored 1,483 points in Geekbench's single-core test and 4,709 points in Geekbench's multi-core test. The Snapdragon 8 Gen 1 scored 1,240 and 3,850 in Geekbench's single-core and multi-core sections, respectively. These numbers show that Qualcomm has been able to improve its new processor in terms of processing power.
Related articles:
While the new Snapdragon generational improvement sounds encouraging, things change when Apple's A-series processors enter the equation. The A16 Bionic processor used in the iPhone 14 Pro and iPhone 14 Pro Max has scored 1,874 and 5,372 in single-core and multi-core respectively in Geekbench. A15 Bionic, the processor of iPhone 14, iPhone 14 Plus and iPhone 13 family phones, with a single-core score of 1,709 ranks higher than Qualcomm's flagship.
The Snspadragon 8 Gen 2 processor uses the main Cortex-X3 core with four 2.8 GHz mid-cores and three 2.0 GHz low-power cores. In the official benchmarks, Qualcomm claimed that the CPU unit in the Snapdragon 8 Gen 2 system-on-chip is up to 35% more powerful and 40% less powerful than the previous generation. According to Qualcomm, the Snapdragon 8 Gen 2 graphics unit is 25% stronger and consumes 45% less energy compared to the previous generation.