News
The first Intel Arc A380 graphics card benchmarks have been released
According to the leaked information, the A380 graphics card achieves a score of 2870 Mpix / s in all-purpose computing on the GPU, delivering almost the same performance as the RTX 3050 Ti and RTX 3050 NVIDIA laptop GPUs.
The leaked information from SiSoftware confirms that the expected Intel graphics card is most likely designed for the desktop class, and in terms of specs, will be based on the XE-HPG DG2 graphics chip. Based on previous rumors, it is believed that the graphics card will be made with 6-nanometer lithography, and its eight Xe cores will reach 128 executive units (EU).
The top models of this family apparently have 512 EU units and 32 Xe cores. Of course, it seems that there is a lower model called the A350, which will house the DG2-128EU graphics chip with a capacity of 96 executable units.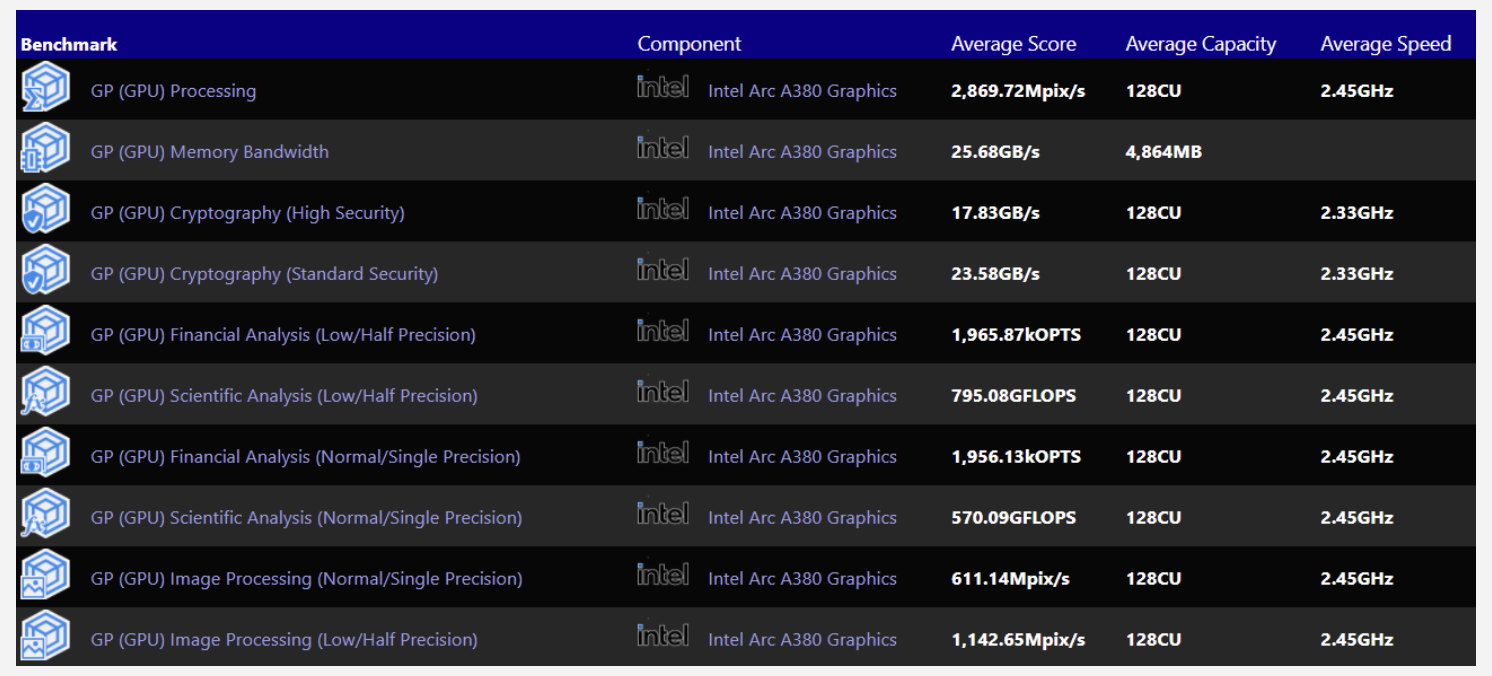 In general, SiSoftware benchmarks do not specify what drivers are in; But most of the tests have just been taken. Evidence suggests that Intel intends to name the new cards Axxx, and that the numbers correspond to the level of performance of that particular card. New data suggests that the Intel Arc A3XX series may all be based on the DG2-128EU graphics chip. Also, it is said that high-end models based on the advanced 512EU graphics chip may be named A7XX or A5XX.
According to the benchmarks, the A380 achieves a clock speed of 2.45 GHz; But it is not clear whether the mentioned frequency of Marbo 6 is the maximum performance or not. However, such clock speeds put the A380 in the range of AMD Navi 22 and Navi 23-based graphics cards. In addition, the card will have 6GB of GDDR6 memory, and it turns out that all Arc Alchemist family configurations come with beam tracking capability and the XeSS feature set, which is an image enhancement on Intel cards.

In the desktop version of this card, you can expect the pin speed to reach 16 Gbps and subsequently the bandwidth to reach 168 Gbps. The price of the mentioned graphics card is not known yet; But it is estimated to cost between $ 200 and $ 250. We also expect Intel to introduce its first Arc GPU at CES 2022.
Source link