News
The first HP gaming monitor with HyperX brand was introduced
Gaming brand HyperX which from last year to one of the subcategories HP has changed, for the first time with the introduction of a series of monitors Armada He entered the field of manufacturing gaming monitors. Hyperix has always focused on the production of accessories and gaming parts; Therefore, until now, it has not benefited from the production of gaming monitors. For this reason, Hyperix by introducing mid-range gaming monitors Armada 25 And Armada 27, Entered the market for the production of game monitors.
Armada 25 HyperX 24.5 inch screen with resolution Full HD And it has a refresh rate of 240 Hz. Such specifications make the mentioned monitor an ideal product for games e-sports Converts where high frame rate and high response speed are critical.
Since the Armada 25 of technology G-Sync Nvidia supports, it is possible to provide different refresh rates, which along with the panel IPS With a response speed of 1 millisecond, it is very suitable for gaming. The screen of this monitor can produce 400 nits of brightness and 99% of the color range sRGB cover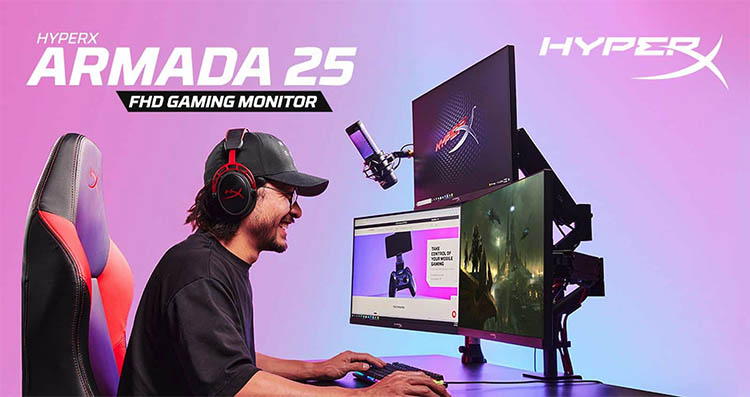 If you are looking for a more professional product, Armada 27 HyperX with a 27-inch screen and resolution Quad HD And the 2560×1440 size and 165Hz refresh rate can be a better option for you by balancing the resolution and smoothness of the image more. Armada 27 It also supports Nvidia's G-Sync technology and has a response speed of 1 millisecond.
The mentioned monitor has a better performance in reproducing colors compared to other models and with 95% coverage. DCI-P3 and 400 lighting intentions and certification Display HDR 400 Ability to provide experience working with a product HDR for the user. Perhaps, in addition to the screen features of the mentioned monitors, their base and installation capabilities are also among their other interesting advantages.
Although two monitors are introduced from standard stands VESA They use, Hyperix the possibility of using the arms Single Gaming Mount has also provided that by installing in the desired place, it brings the possibility of moving and rotating the monitor in the desired direction for the user. The mentioned arms provide more flexibility compared to standard bases, and the new Hyperix monitors being equipped with them can be very pleasant for users.
It should be noted that Hyperix parts Single Monitor Mount Monitors Armada It is sold separately for those interested. You can after installing the monitor bracket that is from the bases VESA use, more easily install purchased arms. This piece can support monitors with maximumInstall a 32-inch rope and a weight of 9 kg.
Also, another arm-shaped extension for monitors is available, which allows the use of multiple monitors by installing them. All the mentioned products are expected to be released this month. monitor Armada 25 Hyperix and Armada 27 They are available for $449.99 and $499.99, respectively. The gaming arm of the mentioned monitors costs $109.99 and its extension costs $79.99.
Source link