News
The Exynos 2200 is a multi-core better than the first-generation Snapdragon 8
You may be a little disappointed with the delay in the release of the Samsung Exynos 2200 System-on-Chip (SoC), but it's interesting to note that this processor performs better than the Snapdragon 8 Generation One. Samsung is expected to make final adjustments to the chip, but when it comes to multitasking performance, the Korean tech giant doesn't seem to care much about its new flagship processor, as the latest comparison suggests that the chip has been successful in terms of performance. Multicore beat Qualcomm's latest flagship processor.
According to wccftech, the results of the Geekbench 5 benchmark comparing the Exynos 2200 and the first-generation Snapdragon 8 show that the two chips are used in the Samsung smartphone with the model numbers SM-S908B and SM-S901U, respectively. The results of this benchmark show that the Exynos 2200 easily defeated the first-generation Snapdragon 8 processor in terms of multi-core performance, but lags behind its longtime rival in terms of single-core performance.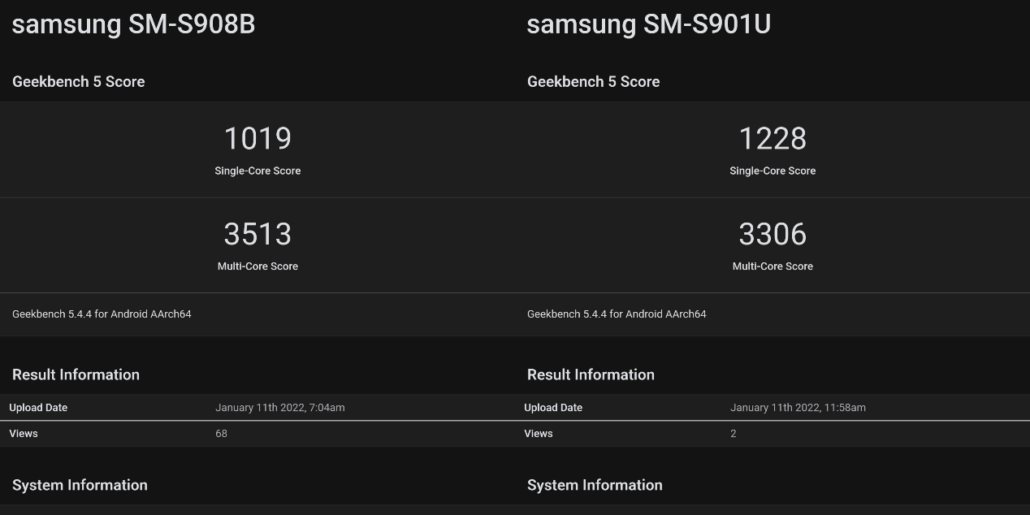 While the Exynos 2200 looks set to be being tested on a Samsung smartphone, rumors have it that the Galaxy S22 series will only ship with the first-generation Snapdragon 8 chip. The South Korean tech giant claims that there is no problem with the performance of the company's new flagship chip, but apparently the company does not want to upset its loyal customer base and become a target for harsh critics of the smartphone market.
Related article:
Even at present, given the available evidence, the problem of delaying the release of the Exynos 2200 cannot be attributed to the triangular configuration of its CPU, and perhaps more due to the use of a graphics processor based on AMD RDNA2 architecture. It is said that Samsung has encountered the problem of overheating the graphics part when setting the GPU of its latest mobile chip to a certain frequency, and therefore the company must reduce the operating frequency of the Exynos 2200 GPU to achieve an acceptable temperature.
Given that the Exynos 2200 has easily defeated the first-generation Snapdragon 9 in multi-core performance, it is clear that Samsung does not need to change the CPU structure of this on-chip system.
Source link