News
The best Telegram bots – Zoomit
This time we went to the Telegram application and decided to introduce you to a number of useful and special Telegram bots so that you can use them if their application is related to your daily activities.
---
What is Telegram bot?
A Telegram bot is a program that provides functions and automations that Telegram users can use in chats or channels or groups. To build these bots, you can use the bot maker of this platform called Botfather or its API. Certainly, the API method provides developers with more possibilities that can be used to build advanced robots.
The applications of Telegram bots are:
Automated newsletters
Sending content from social media or blogs to Telegram
Instant notification system
Providing support services to customers
Providing common questions and answers
file management
Translation
---
1. Botfather bot (Telegram bot creation tool)

The Botfather is the official bot provided by Telegram. Users can create their desired Telegram bots using this bot according to their specific needs. The attractive features of this tool have made it the starting point for building most bots on the Telegram platform.

As you can see in the image above, you can access the list of Botfather commands by typing the / character. For example, command newbot/ is used to create a new bot and mybots/ is used to view previously created bots.
---
2. IFTTT bot (automation tool and connection with 360 other online platforms)

IFTTT or IfThisThenThat is a platform that focuses on connecting different web services and creating automation for users. Telegram bot of this platform can connect your group or channel to 360 external services including Instagram and Twitter and many other social networks and online services.
Also, this bot allows you to set actions based on the conditions of their occurrence to be executed automatically. For example, with this bot, you can automatically publish Twitter updates of certain user accounts in your Telegram group, or whenever your username is mentioned on Twitter, its message will also be sent to your Telegram.

The IFTTT robot provides you with straightforward and practical commands, the example of which you can see in the image above. For example, you can use the connect_group/ command to connect IFTTT to your chat groups. In a similar way, you can use the connect_channel/ command to connect IFTTT to your Telegram channel.
---
3. NewFileConverterBot bot (file converter)

With the File Converter robot, you can convert all types of files to your desired formats. This robot is a versatile swiss army knife for converting files. To use this tool, you must send the desired file to its chat space. This robot will automatically recognize your file format and provide options to convert it to other formats. After choosing the final format you want, your file will be converted and you can download its new version in the new format.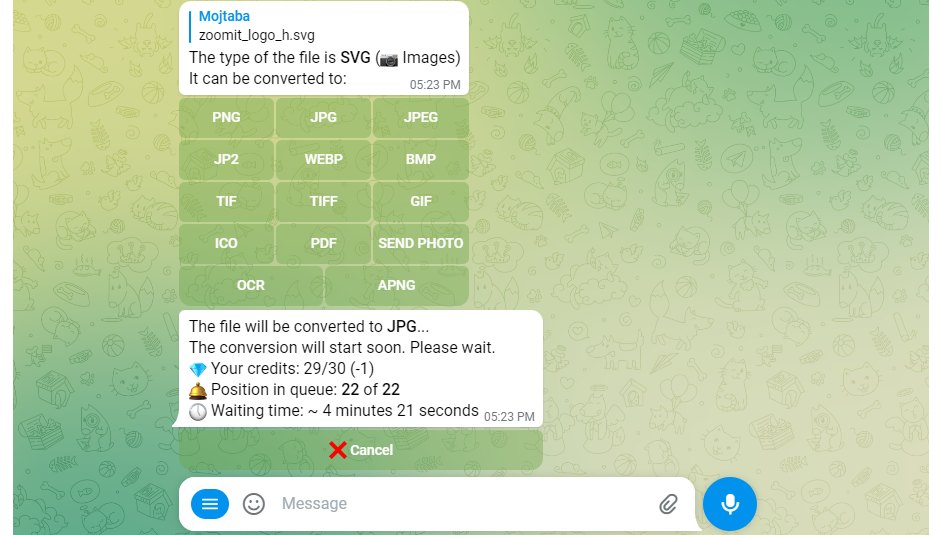 As you can see in the image above, we sent the SVG version of the Zoomit logo to the bot and then converted it to JPG format. Depending on the size of your file, the process of converting and rendering the final file may take several minutes.
Login to the NewFileConverterBot bot
---
4. DropMailBot (temporary email address)

DropMail bot is useful for people who don't want to share their email address with everyone and get rid of spam emails. This bot provides a disposable email address that you can use to sign up for services that you're likely to use only once. To complete the registration process in most online services today, email address verification is required, and this bot is designed for exactly that purpose.

You should note that the temporary email addresses provided in DropMail will be deleted automatically after 10 minutes. It should be mentioned that this robot actually uses the DropMail.me platform to provide its services. After starting the bot, you can create a new temporary email address for yourself by tapping on the New Address option.
---
5. Youtube_dwnldr_bot (download bot from YouTube)

Related article:
If you need to download YouTube videos, using Telegram bots designed for this purpose will provide you with a very easy way. Youtube_dwnldr_bot is one of the most powerful and fastest Telegram bots for downloading YouTube videos.
Working with Youtube_dwnldr_bot is very easy. For this purpose, first copy the desired video link from YouTube and after opening this robot, send the video link to the chat page. At this stage, the robot will ask you to choose the format and quality you want. Then, you have to wait a bit for the requested file to be prepared and available to you. Finally, you can download the desired video file with the selected quality.
Needless to say, Youtube_dwnldr_bot supports various formats such as mkv and mp4 with resolutions of 480p, 720p and even 1080p. This tool also allows users to convert videos to mp3 audio files.
Login to Youtube_dwnldr_bot bot
---
6. JayBeeInstaDLBot bot (download from Instagram)

There are different ways to download videos and images published on the Instagram social network. JayBeeInstaDLBot is one of the best and easiest ways to download content from Instagram. To use this bot, just copy the address of your desired post or story from Instagram and send it to the chat bot page. JayBeeInstaDLBot telegram bot is written in Python language and offers very good performance speed.
Login to the JayBeeInstaDLBot bot
---
7. QuizBot robot (creating tests in Telegram)
QuizBot helps you create quizzes with multiple choice questions. You can add media or desired texts to each question and set a time limit for the answer. After the test is over, this bot allows sharing the results in groups and private chats. In addition, you can invite other users to answer your questions with this bot separately in chats.

By opening the QuizBot bot in Telegram and selecting the Start option, two new options will be available to you, and you can create a new quiz by tapping on Create New Quiz.
---
8. TwitterVid_Bot (download from Twitter)

Sometimes you need to download some content of Twitter posts, which includes images and videos published on this social network. For this purpose, you can use online services or branched programs for this purpose. However, if you don't want to install additional applications, using Telegram bots is a very good way to do this.
TwitterVid_Bot is one of the fastest and most powerful Telegram bots to download the content of Twitter posts. The operation method of this tool is very simple, just like the download bots from Instagram and YouTube, and it is enough to provide the desired post link after typing @twtittervid_bot in the chat page. Of course, after visiting this robot and pressing the Start button, there are very useful and short training videos on how to work with it that you can use.
Login to the TwitterVid_Bot bot
---
9. GameBot robot (game and entertainment)

If you are looking for fun with your friends in the Telegram environment, GameBot will probably appeal to you. This robot is designed for gaming and you can use it to play online games with your friends and family. This simple and practical tool provides the possibility of playing group games in group and single chats and currently offers three interesting titles:
Math Battle: Yes or no questions based on math tests
Corsairs: To reach the next stage, you have to avoid the collision of the balls.
LumberJackBot: You have to chop the sticks and save yourself from the branches.
---
10. FileToBot (online file storage)

One of the most popular and useful Telegram bots you can find is FileToBot. This amazing tool has a very simple function and by using it you can easily upload all the files you want to the cloud so that you can access them later from anywhere else.
FileToBot has no limit to file storage and is actually an infinite service. Every file you upload with this Telegram bot will provide a unique link through which you can access the said file. In addition, this link can be used to share files with others.
Telegram bot FileToBot supports all types of files in any format and there is no limit on the size of uploaded files. Finally, if you are looking for an excellent and full-fledged robot for cloud storage of your files, this robot is one of the best options.
---
Frequently asked questions
Is it safe to use Telegram bots?
Telegram has provided a powerful security mechanism for bot developers; But keep in mind that some bots that ask you for private information may not have enough security. In any case, most of the bots on this platform are safe and you can use them with peace of mind.
Is it free to use Telegram bots?
Most of the utility bots that meet your needs are completely free. Of course, there are some robots among them, some of their special features are paid; Therefore, if you want to use all their features, you have to pay a fee. It should be noted that the robots introduced in this article are completely free.
Source link