News
Teterland dismissed Reuters' claims as unsubstantiated
According to Tetherland Public Relations, "In this report, Reuters has claimed that despite the sanctions imposed on Iran, Iranian exchanges have financial and commercial transactions with the Binance international exchange, and Iranian exchanges are carried out in this way." It is worth noting that hours after the publication of this report, Tetherland sent his reasons for the falseness of the claim and hypothesis officially presented to Reuters; But until now, after more than 3 days have passed, he still has not received any response."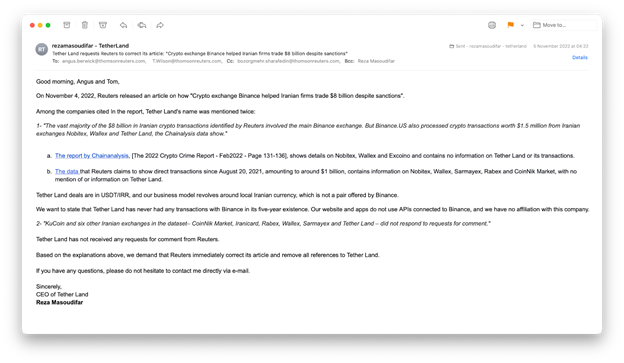 Attaching the image of its email to Reuters reporters in Juabiyeh, this company considered the media's claims to be undocumented and emphasized: "It does not have any financial and commercial dealings with government, military and paramilitary organizations and bodies." These points are mentioned in this answer:
1. In the "Cryptocrime 2022" report by "Chain Analysis" published in February 2022 [The 2022 Crypto Crime Report – Feb2022 – Page 131-136], there is no mention of Tetherland and only the names of three other exchanges are mentioned. Meanwhile, Reuters has admitted in its report that Tetherland's name is mentioned in the Chain Analysis report; Therefore, this is a complete lie. And this issue will undoubtedly question the authenticity of the entire report.

2. At The files that Reuters From the microtransactions of Iranian exchanges, it has published in its report, there is no official and valid transaction and document about Teterland and only the names of five exchanges are mentioned, and Tetland's name is not among them, and the claim made lacks documentation.

3. In another part of the Reuters report, it is stated that "we asked Teterland to respond; But no response has been received." In this regard, we declare that we have not received any request from Reuters to ask for an answer.

4. Tetherland is a specialized reference for Tether/Toman exchange and since 2016 and at the same time as we started our activities, we have provided all the necessary infrastructures and technologies in a safe and secure environment, focusing on doing transactions inside the country and using the knowledge of local experts. We have no affiliation with any external service or institution.

5. Tetherland does not have any official or unofficial commercial or personal account in Binance. In the last 5 years, Tetherland's transactions have been specialized in Tether/Toman, and it is obvious that Tether/Toman transactions will not be carried out through Binance international exchange despite the sanctions imposed against Iranians. We note that the "Tetherland Converter" service, which was recently launched with a free fee, is not affiliated with any of the foreign exchanges Binance, Kocoin and FTX.

6. Tetherland, as a private online business active in the field of cryptocurrency exchange, does not have any financial and commercial dealings with government, military and paramilitary organizations and bodies, and provides its services only to Iranian users, whether natural or legal entities with private ownership and by performing strict identity verification for the purposes of exchanges. Offers cryptocurrency within the country.

"Transparency" is a fundamental value in Tetherland is what we adhere to, and in these 5 years of serving our dear compatriots, we have tried our best to be honest and transparent with them and not to endanger the security of users' assets in any way for our own interests. According to the records posted on Tetherland blog, whenever users' property is at risk, quickly and without direction. Gave the necessary warnings And we have informed the users about all the security tips.

In the end, we declare that our duty in the Tetherland team is always to provide a safe, fast and reliable platform for the exchange of Tether for our compatriots, and in this field, relying on the knowledge and expertise of the team consisting of the youth and elites of our beloved country, we have tried to achieve this important task. realize
In a report published by Reuters on November 13, Binance Exchange was referred to as the largest cryptocurrency exchange company in the world and it was said that this exchange provided services to customers living in Iran despite the US sanctions and cooperated to circumvent the sanctions. Earlier, Nobitex also considered the claims of this report to be contradictory and rejected it.
Source link