News
Telegram is working on the possibility of hiding content related to movie spoilers
If you care about the features of these platforms to choose the messenger application, Telegram will certainly be one of the top options in front of you. The application supports very large groups with a capacity of 200,000 people, and in addition, various files can be sent to other users in almost any volume.
Now it seems that the developers of this application intend to add another attractive feature to these messengers that has not been provided in any of the competing applications so far. This is a "spoiler style for chat" feature that will eventually make it possible for users to talk about movies like Spiderman: No Way Home that are currently being released.
According to an AndroidPolice report, a Telegram post posted on Reddit indicates that the messaging app will soon support the ability to hide potentially sensitive text or movie spoilers. This option is hidden, and when recording a video from the screen, is displayed in the style menu by long pressing when selecting text. After pressing the Send key, you will notice that the sent message has been replaced with a fuzzy pixel cursor instead of the actual words and sentences, and the original text will be displayed just by tapping on it.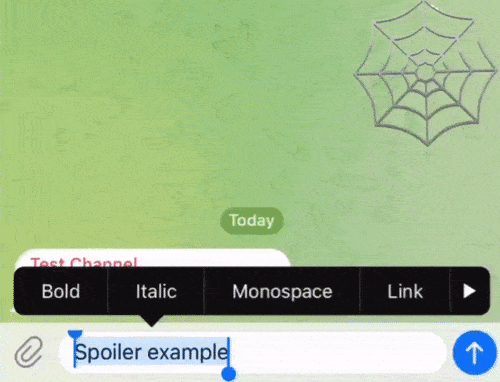 It is possible that Telegram will run this feature as an appropriate spoiler alert before providing the steady state of this feature. Although this feature will initially only be available for textual content, it looks like in the near future it will be possible to hide multimedia content such as photos and videos in the same way. In addition, this feature may only be enabled on channels and groups; For this reason, we may not initially see this feature in single chats.
Related articles:
This feature is currently seen in the iPhone version of Telegram; But since the app is available on a variety of platforms, it seems unlikely that the ability to hide movie spoiler content is for Apple users only. Thus; This feature will most likely be available at the same time for all versions of Telegram, including Android and the lower version.
Source link