News
Significant performance superiority of Core i5-13400 compared to Core i5-12400 in basic benchmarks
The sale of the unannounced Intel Core i5-13400 processor has started in some stores in Indonesia, and for this reason, the specifications and price of this chip are now available. Jawara Media has shared the preliminary performance statistics of the mentioned processor, which shows its superiority over the Core i5-12400. In fact, Intel Core i5-13400 uses more cores and has a higher working frequency compared to the previous model of this chip. In addition, the new blue team processor performs better than before in multi-threaded workloads (Multi-Threaded Workloads) Offers.
Intel's Core i5-13400 uses a 4+6 core configuration (including 6 high-performance cores and 4 low-power cores) and a base frequency of 2.5 GHz, and its maximum frequency reaches 4.6 GHz in enhanced mode. This processor has 20 MB of L3 cache memory, and compared to its previous generation, Core i5-12400, it uses four additional cores, and its frequency has also increased by 200 MHz compared to before. In addition, the L3 cache memory of the new Intel chip has increased by two megabytes. The price of this processor is around 226 dollars, while its previous generation is sold at the price of 211 to 221 dollars.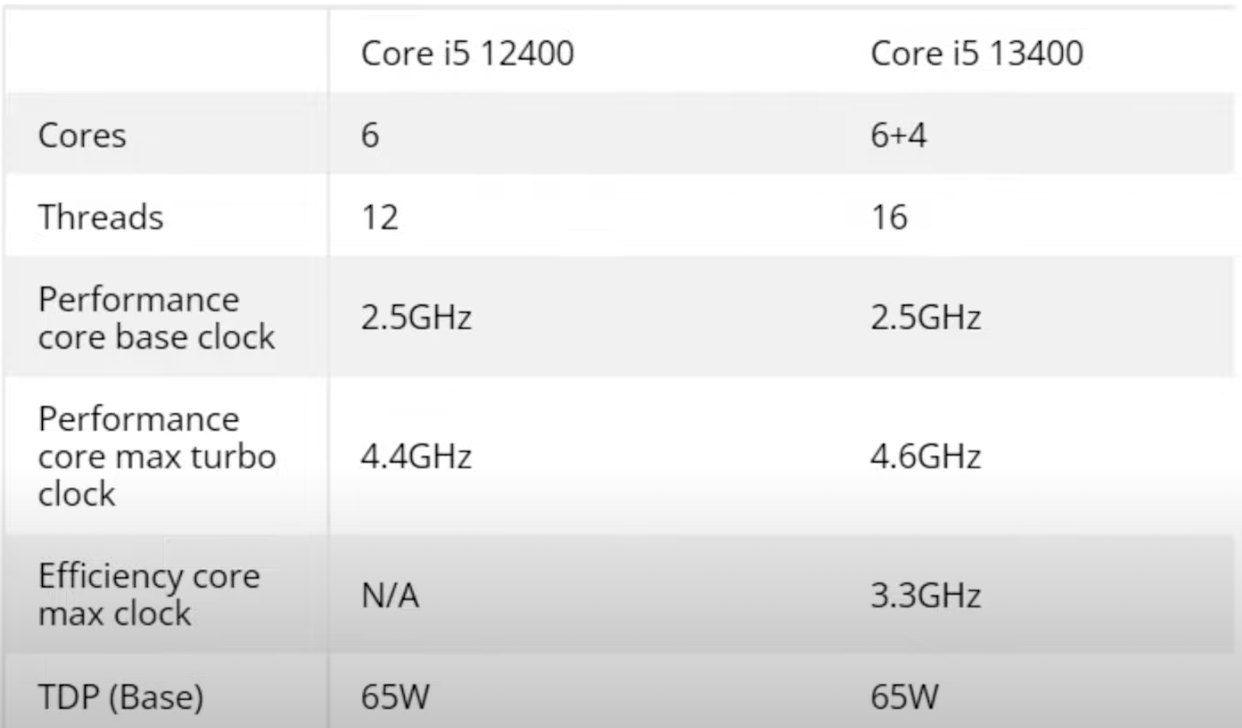 But why has Intel not officially provided other details about this chip other than the addition of four low-power cores to the Core i5-13400? This product is actually the only 13th generation blue team processor that uses RaptorLake B0 and Alder Lake C0 silicon. The power consumption of this processor is 65 watts and it uses a locked multiplier, so it cannot be easily overclocked. There may still be a BCLK overclock option for this product, but since no one has tested this method on this particular model so far, we don't have any more details.
It should be noted that the frequency of a processor is equivalent to the product of the base frequency (BCLK) (which is usually 100 MHz) by a factor known as a multiplier.
written by TomshardwareConsidering the performance of the Core i5-13400, at least in the C0 Die version, it seems that the performance of this processor has increased significantly compared to the previous generation, the main reason of which is probably the addition of low-power cores. We should mention that CPU-Z program still identifies this processor as RaptorLake series for obvious reasons.
Related article:
Although the Core i5-13400 will probably be officially announced during next month's CES, it has already been listed in stores in Indonesia and even the first benchmark results are available. Keep in mind that we are currently dealing with preliminary statistics on the performance of this chip and therefore cannot comment on it with confidence.
The Core i5-13400 is about 5.5% faster than the previous generation of this processor in the single-threaded performance section of the Cinebench R23 benchmark. However, according to the results shared by Jawara Media, its multithreaded performance score is 29% higher than the previous model. In the Blender software test, this chip is 22% faster than its previous version due to the high workload and the use of multi-threaded processing. The chip is now 23 percent faster than the previous generation when it comes to outputting 1080p H.264 video in Adobe Premiere, as this workload also clearly uses multi-threaded processes.
While the performance of the Core i5-13400 is significantly improved over the Core i5-12400, at least according to Jawara Media's benchmark, the extra cores and higher frequency increase power consumption. For example, the consumption of this new processor in heavy workloads has increased to 86 watts, which is 20 watts more than its previous generation.
Source link