News
Seizures of tarantulas, beetles and scorpions of rare species at Columbia airport
Security officials at El Dorado International Airport in Bogota, Colombia, recently discovered hundreds of rare specimens of insects and spiders that smugglers were trying to smuggle out of the country. Airport officials said the rare species were embedded in plastic containers in the suitcases of two Germans. Colombian authorities arrested the two German nationals on Thursday last week as they were about to board a flight to Europe, according to the website All That Interesting. A total of 232 tarantulas, a scorpion with seven babies, nine spider eggs and 67 large beetles were found during a search of the passengers' luggage, airport security officials said.
While the two claim to be German nationals, the animals were taken to Germany for research purposes, but the inspections did not reveal any official permits or international transport bills. Carolina ortia Vasquez, director of the Bogota Department of the Environment, said in a statement that the departure of rare species from the country, even for academic or research purposes, such as the case of these citizens, requires a permit from the Department of the Environment. "We have not had such a large shipment of tarantulas since 2018," she added. "The biggest shipment this year was shark fins."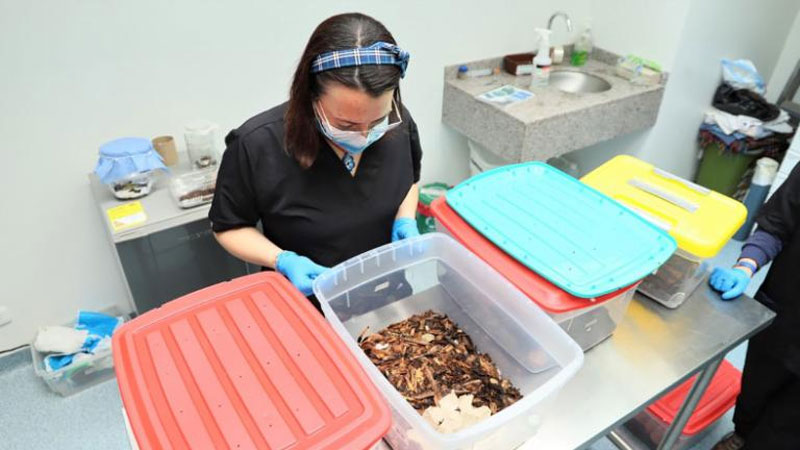 Colombia has become the focus of lucrative trafficking operations for wildlife trafficking
When customs officers opened the couple's suitcases, they were confronted with 210 plastic containers encased in roll films. According to the LiveScience website, the animals were taken directly from nature from the town of San Luis de Gassno in the Boyaca section of Bogota. The insects in the cargo included hatchery spiders, tarantulas, large beetles and scorpions. The traffickers have been arrested and are likely to face criminal and civil sentences in addition to fines. However, the charges against the two detainees remain unknown. Insects were also handed over to the Department of the Environment to be thoroughly examined before being released or transferred to another location.
"This is the second time in less than a month that wildlife has been seized at El Dorado Airport," Vasquez told Deutsche Welle in Germany. Over the past year, we have discovered more than 11,000 specimens of various animal species throughout the city. "I have to say once again that wild animals are always better off free and in their own homes."
Colombia is the fourth largest country in South America with a population of about 51 million. The country has a unique treasure trove of reptiles, insects and a variety of rare or unique species. Colombia is also one of only 17 countries in the world where tens of thousands of different species of animals live. As a result, the country has become a hotbed of criminal activity by wildlife traffickers in recent years. Meanwhile, some European and Asian countries also became wildlife black markets. In September of this year, Colombian police discovered a shipment of 3,943 shark fins destined for Hong Kong.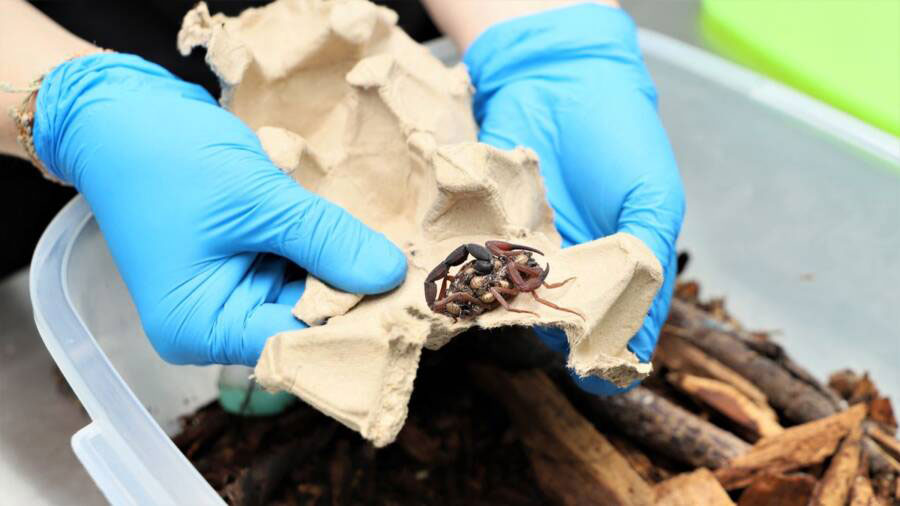 Insects and spiders recently discovered at the El Dorado International Airport in Bogota, Colombia were housed in 210 plastic containers.
In this huge shipment, 117 kilograms of fish balloons can also be seen, the use of which for making painkillers has caused its smuggling as much as possible. At the same time, Hong Kong has become the largest shark fin market in the world in recent years, and on the other hand, the savage act of ballooning has caused a stir among environmentalists, with the European Union, along with the United States, Canada, Brazil, Namibia, South Africa and Colombia has also enacted strict laws banning the sale of ballet.
But the bans also apparently failed to curb wildlife trafficking. The harsh fact that more than 11,000 specimens of various animals have been discovered and confiscated in Colombia this year alone shows that countless consignments also left the country undiscovered. Of the 11,000 specimens discovered, 7,058 were live animals stored in special containers. Acknowledging this, Bogota remains the focus of wildlife trafficking, El Dorado International Airport said in a statement.
Related articles:
Last winter, Colombian police arrested two Germans, a Venezuelan and a Polish man on charges of smuggling nine tarantulas abroad. Although smugglers smuggle various animals and goods for various reasons, the main reason is tax evasion. In July of this year, a man who was unwilling to pay 18 percent tax on gold embedded about 800 grams of 24-carat gold in his gut was arrested. The man was on his way from Dubai to Connor International Airport in India, but airport security officers suspected he was walking and arrested him after a physical search. It is not yet clear whether the two men will be released on fines or sentenced to prison.
Source link