News
Samsung unveils Neo QLED 2022 TVs with new features and 144Hz refresh rate
Samsung has unveiled new Neo QLED TVs alongside new MicroLED and lifestyle TVs. The South Korean giant claims that the Neo QLED 2022 TVs have a new Neo Quantum processor for better backlight control, improved image quality, audio performance and new software features.
Unlike Samsung Mobile, the Samsung Neo QLED 2022 TVs are available in 4K and 8K models and have MiniLED backlighting and advanced contrast. In addition, it will increase the brightness from 12 bits on Neo QLED 2021 TVs to 14 bits on newer TVs. That Leads To Control More Source the light And Function Better HDR It becomes. The previous generation Neo QLED TVs have 4096 brightness levels and this figure has quadrupled in the new generation and reached 16384 levels.
Samsung's new TVs also feature HDR10‌ Plus, HDR10‌ Plus Gaming, AMD FreeSync Premium Pro, upgrade rates of up to 144Hz, and HDMI 2.1 ports, making it ideal for high-end gaming through the Xbox Series X, PS5, and even PCs. Unfortunately, there is no Dolby Vision support.
Samsung has implemented the Shape Adaptive Light feature, which analyzes the line or shape of objects on the screen to improve the brightness and accuracy of those shapes. It can also help with the flourishing problem commonly found in MiniLED TVs.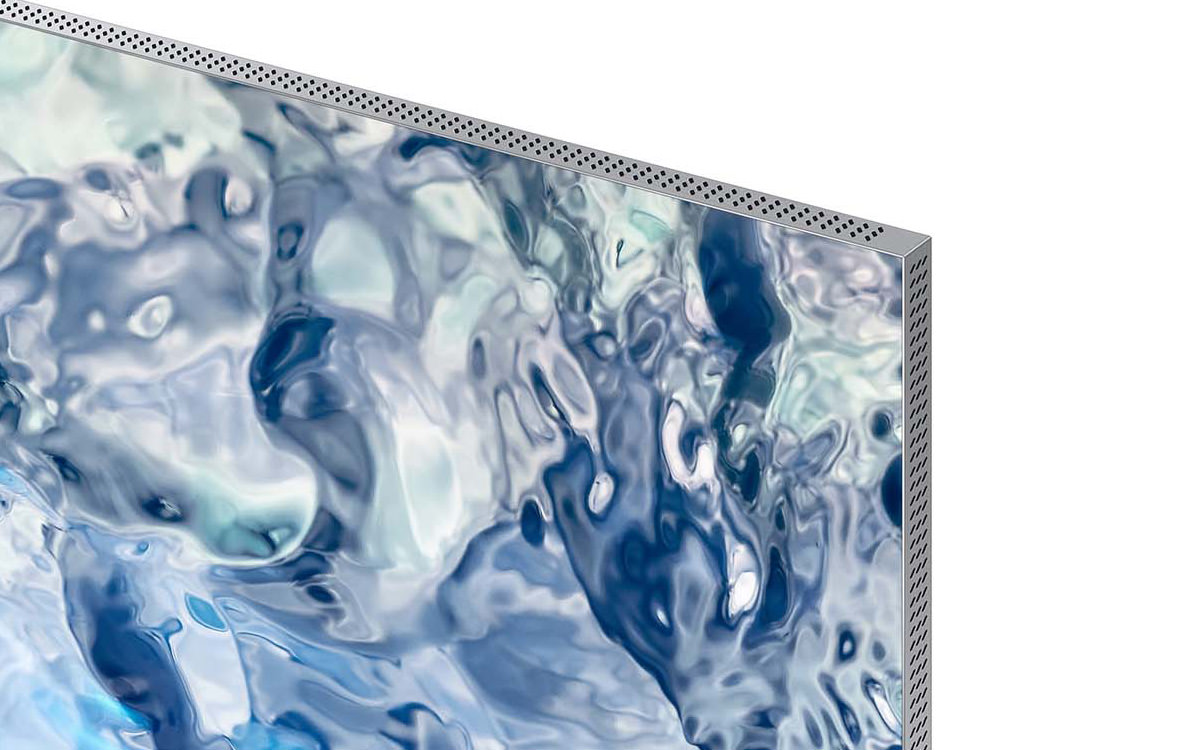 Top and side speakers of Neo QLED 2022 TV
The company has also used the Real Depth Enhancer feature to identify objects and process them in the background, which improves image quality and realism by adding a sense of depth to the image. The new EyeComfort mode uses the sensors built into the Neo QLED 2022 TVs and the time to adjust the brightness and white balance so that users do not suffer from eye fatigue.
Samsung also introduced the OTS Pro (Object Tracking Sound Pro) in 2022 with its Neo QLED TV series. The company uses artificial intelligence to analyze moving objects on the screen, and then uses TV speakers to play audio at the top. The previous generation of Neo QLED TVs could only use external speakers to simulate the sound of moving objects from one side of the frame to the other.
Neo QLED 2022 TVs can deliver Dolby Atmos sound without the need for additional soundbars or multi-channel speaker systems. These TVs also feature Q Symphony, which combines TV sound and Samsung compatible soundbar to create a more immersive sound.
Samsung's new Gaming Hub for 2022 TVs
Related article:
The South Korean giant has also improved the software part of its TVs. New Neo QLED TVs have a newer version of Tizen that manages content from all major streaming services. This version is similar to Apple TV and Google TV; But it is not clear whether it also supports Netflix. Consumers can use the NFT platform to buy and trade digital artwork. The Watch Together feature can also be used to watch content with friends and family while making a video call using the TV.
The company has also transformed the Game Bar into a brand new gaming hub that offers cloud gaming and more, and enhances the gaming experience. Other features of the new TVs include SmartThings, Samsung Health, SpaceFit audio calibration, Alexa and Active Voice Amplifier.
Source link