News
Researchers have proposed a new solution for recycling solar panels
Solar energy is one of the main keys to solving the problem of climate change; But for this technology to be considered sustainable, it must be recyclable. Unfortunately, today, when the solar panel reaches a stage where it is not practical, it will probably face one of two fatees: the industrial shredder or the landfill.
Researchers at Arizona State University hope to use a chemical compound to recover metals and precious materials in solar panels such as silver and silicon to develop a new recycling method for unused panels. With this approach, the recycling of these renewable energy sources will become more economically attractive.
The US Department of Energy recently provided a $ 485,000 two-year grant to the group. They now hope to launch a pilot version of a solar panel recycling plant in the next three years with this funding.
In addition, Arizona State University is sponsoring the company First Solar (First Solar), which is active as an industrial consultant in this project, will provide financial support for this innovative project. If all goes according to plan, this recycling process, which is cleaner and more cost-effective than other methods, can be used at the same time as the first wave of solar panels is turned into waste.
Diana BauerSays Executive Vice President of Advanced Construction at US Department of Energy:
While the tendency to use clean energy through new technologies is growing day by day, the way recycled equipment is becoming more important is becoming increasingly important.
A relatively small number of solar panels have reached the end of their life; But experts say most of these panels come from landfills. In this situation, their precious metals and materials can not be recovered.
منگ تاوArizona State University researcher and lead author of the study predicts that the world will be in the most optimistic state of silver shortages before making all the solar panels it needs. In addition, it is important to reuse the silicon wafer, which is of sufficient quality for use in a solar panel, due to its enormous energy consumption.
The new method of recycling solar panels has a great potential to improve the economy
Today, although solar panels are recycled, the valuable materials used in them are rarely recovered. Industries related to this field, instead of recovering materials such as gold and silver, usually recover the aluminum frame of the panel and the copper wires behind it. They continue to break down the solar panel and sell it as broken glass.
Tao says selling these three recycled panel products (aluminum, copper, and crushed glass) could ultimately bring in $ 3 per panel. Recycling each panel may cost up to $ 25, according to companies that will use the new approach. New solar recycling processes that are able to recover more metals and minerals can dramatically improve the economy.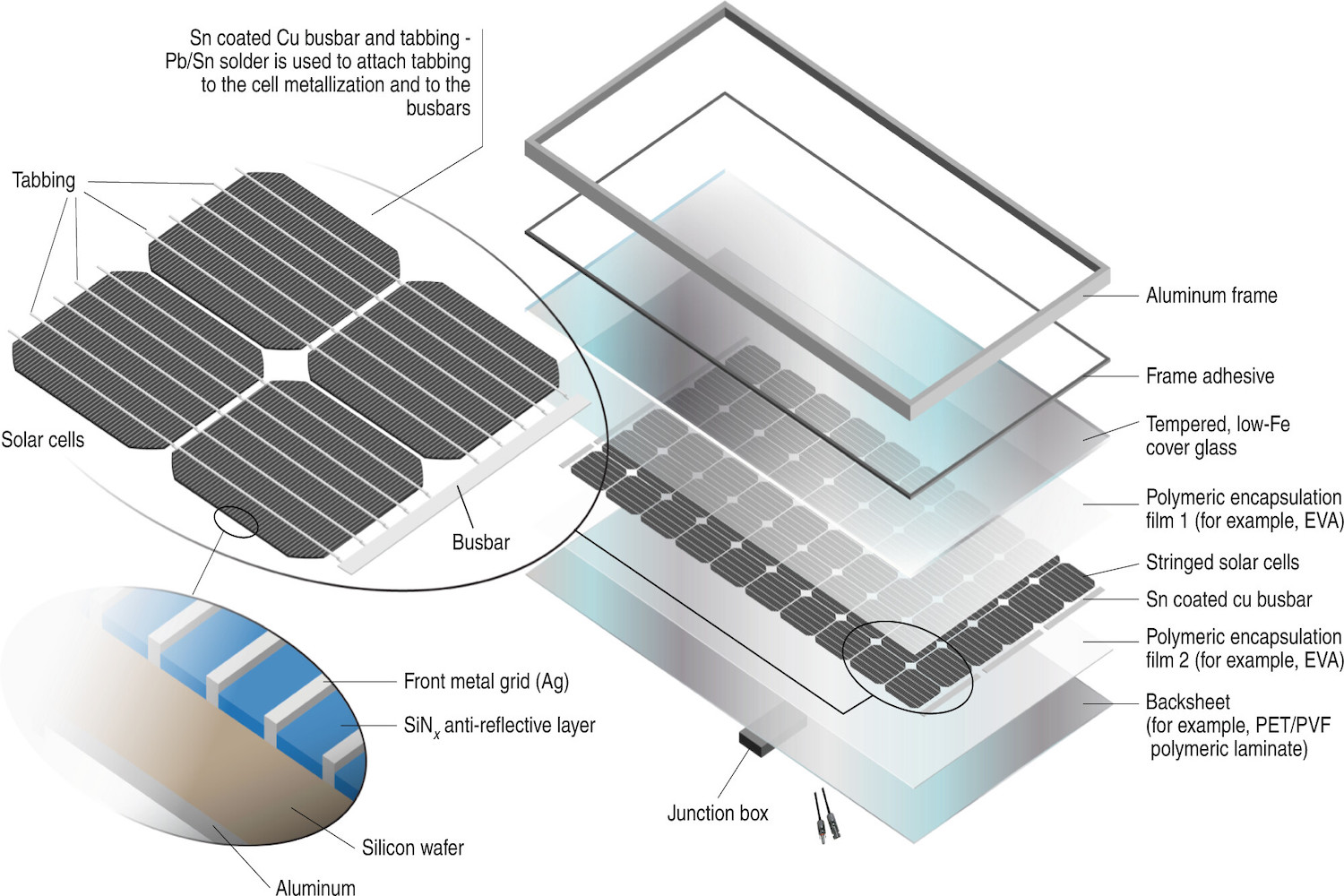 Silicon Solar Panel Components
In the process proposed by Tao et al., In each solar panel, silicon cells the size of an envelope are first separated from the polymer sheets and glass that surround them by means of hot steel blades. In order to extract silver, tin, copper and lead from the isolated cells, a special chemical composition is used. Once these materials are recovered, only the silicon in the cells remains.
Hazardous chemicals are used in this process. Tao says about this:
These chemicals can be used over and over again to reduce the amount of toxic waste. This is one of the unique features of this recycling method. Also, by recovering lead, it eliminates the environmental hazards caused by the entry of this toxic element into natural resources.
Tao claims to have previously been a knowledge-based company TG Own, it has developed a new technology aimed at the complete recovery of silver, tin, copper and lead used in solar cells. A new grant to this research group will optimize the recycling technology. It also paves the way for the question of "Is it possible to use this method to recover silicon with sufficient purity to make new solar cells without the need for a lot of energy in the high-purification (Siemens) refining process?"
The next step, assuming that everything goes according to plan in the next two years, is to attract a private investor to build test plants that can recycle 100,000 solar panels a year this way.
The next goal is to build the first solar panel recycling plant based on this technology
Karsten and mbach, Founder of a non-profit organization Cycle cycle (PV CYCLE), an activist in the field of solar recycling, believes that the approach proposed by Tao et al. Has a great potential for recycling valuable by-products and protecting the environment.
According to Wambach, a complete recovery of silver and other metals used in solar panels is probably not possible due to the inevitable loss of some losses in the process. He says:
In the commercial version of this process, the amount and purity of recycled metals are optimized based on the quality required by the downstream user and the capacity to reduce the cost of refining processes.
Cost savings will be an important issue. Tao believes his proposed process could return $ 10 to $ 15 per solar panel, depending on the price per day. However, Wombach warns that these numbers may change if manufacturers continue the current trend of declining silver use in solar panels. It may even be $ 15 to cover the recycling costs of each panel. This means that broader and more comprehensive protection policies may need to be adopted.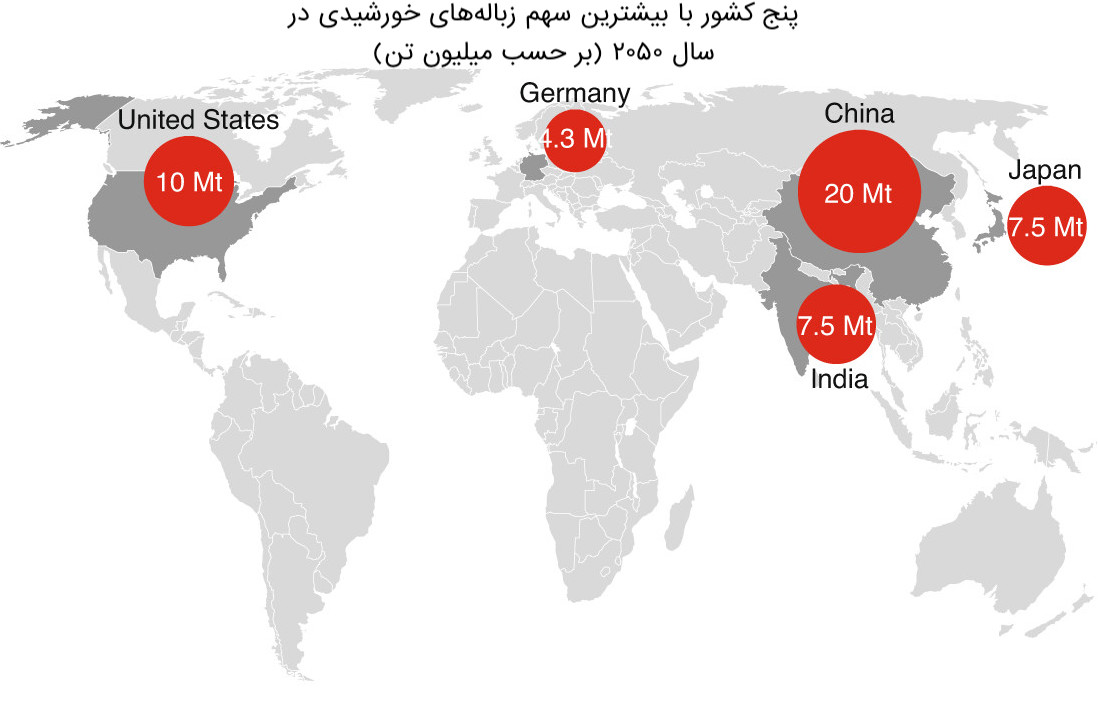 Finally, Wambach adds:
The last issue to be addressed in this direction is the significant increase in solar waste in the coming years. In 2016, there was less than half a million tons of solar waste in the world; But the International Renewable Energy Agency predicts that by 2030, that figure could reach 8 million tonnes, to the point where by 2050, solar waste production will reach 6 million tonnes per year.
Based on forecasts and data on the value of metals and minerals used in each panel, Tao and colleagues estimate that by 2028, there will be more than $ 1 billion worth of applied materials in solar waste. If we can overcome the problem of recycling this waste in the best way, we will actually achieve a billion-dollar treasure!
Source link