News
Pixel 7's Tensor G2 chip specs revealed; From CPU changes to significant GPU improvements
Some time ago, Google announced that Pixel 7 and Pixel 7 Pro phones, which will be unveiled in October, will be equipped with the second generation of Tensor series chips called Tensor G2. One of the whistleblowers on Twitter It says that Google uses the code name GS201 for this chip. Before the new information was revealed, we did not know any specific details about the Tensor G2 chip and only some sources said that this chip uses the Cortex-A55 core.
It seems that a few days ago, a person who had a pre-production sample of the Pixel 7 Pro recorded the benchmark of this phone on Geekbench. Thanks to this, more details about Google's flagship have been revealed. It seems that the second generation Tensor chip uses two Cortex-X1 cores, two Cortex-A76 cores and four Cortex-A55 cores like the first generation.
Apparently, Google has changed the frequency of CPU cores. More specifically, it is said that the frequency of the Cortex-A76 cores has increased by nearly 100 MHz and has reached 2.35 GHz. The frequency of Cortex-X1 cores has also been increased by 50 MHz so that this processing cluster operates at a frequency of 2.85 GHz. Meanwhile, the cluster of four Cortex-A55 cores appears to have a frequency of 1.85 GHz.
Google Tensor G2 chip is made with 4 nanometer lithography. Improvements applied in processing frequency and lithography make the G2 about 10% more powerful in multi-core performance compared to the first generation Tensor. It should be noted that the improvement of single-core performance will be insignificant.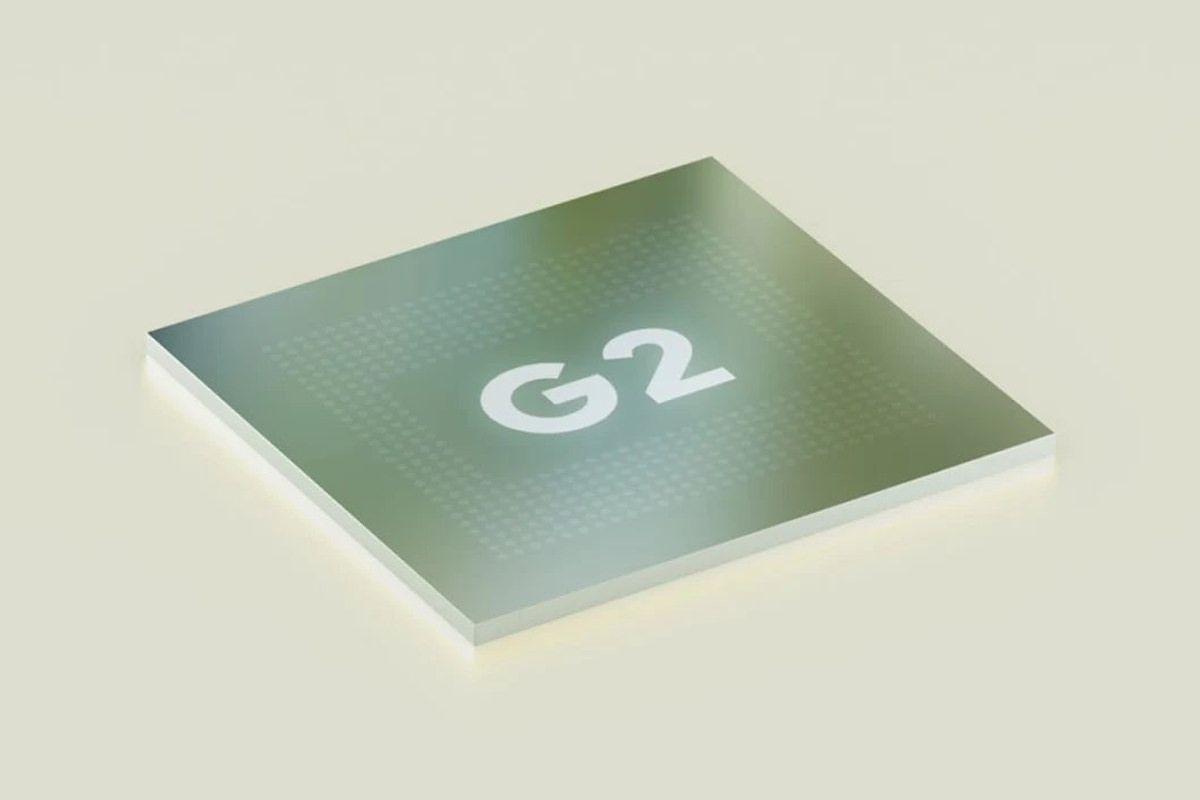 At first glance, such a situation may discourage users; But Google probably made a wise decision. Most chipmakers make ARM cores more powerful generation by generation; But this work reduces productivity and increases energy consumption. Google avoids these problems by keeping the old cores in the new chip.
Thanks to the use of improved Cortex-A55 cores, Google's Tensor G2 chip will likely have more headroom to achieve higher frequencies. The first generation Tensor chip rarely used this core due to the high consumption of Cortex-X1; But this situation will probably change in the second generation.
If we look at raw CPU power in terms of numbers, we can see that Tensor G2 performs much weaker than competing chips. However, don't forget that raw CPU power isn't the whole story these days. The cooling system and software optimization and other components used in the system-on-chip affect the final performance of the chip.
Although the CPU unit in the new Google chip has not seen any major changes, the GPU unit seems to have been significantly modified. In the new generation of Tensor family chips, Google uses the Mali-G710 graphics unit instead of the Mali-G78 graphics unit.
When introducing the Mali-G710, ARM announced that this graphics processor experiences nearly 20% improvement in performance and 20% reduction in energy consumption compared to the Mali-G78. Also, this graphics chip becomes 35% stronger in machine learning-based processing.
The camera application of Pixel phones relies heavily on the graphics unit. Thus, the Pixel 7 and Pixel 7 Pro, which use the G2 Tensor, will be greatly improved in terms of camera software processing. These two phones will become stronger in the field of gaming.
The interesting point is that the pre-production sample of Pixel 7 Pro is equipped with kernel version 5.10. This kernel version is supported on devices that ship with Android 13; But we expected Google to go for kernel 5.15. Of course, these conditions may change before the official release of Pixel phones. From a technical point of view, there is no reason why Google should not go for the 5.15 kernel in the Tensor G2 chip.
Related articles:
An important point that we should not forget is that sometimes it is possible to falsify Geekbench results; Of course, it seems that the new benchmark is not fake. The person who leaked the specifications of the Tensor G2 says that the chip will be equipped with a stronger TPU unit codenamed Jaineiro. Probably, Google will significantly improve artificial intelligence based processes in the new generation of Tensor chip. In addition, the Encode and Decode block is also improved. In the first generation Tensor chip, decoding was limited to AV1.
Some leaked information also points to improved image signal processor (ISP) performance. Tensor G2 chip will be equipped with a new modem called S5300 made by Samsung. Google seems to have tested the Tensor G2 chip with 16GB of RAM on Geekbench. This chip was probably supposed to be used in the canceled Pixelbook laptop.
Google is said to have received the first samples of the third-generation Tensor chip, codenamed Zuma. This shows that SoC manufacturing is a complex process and sometimes takes years. It is likely that the third-generation Tensor processor will be produced based on Samsung's GAAFET three-nanometer lithography. Sources in the chip supply chain say that Samsung's 3nm lithography performs very well in terms of energy efficiency and is likely to appear on par with TSMC's 3nm lithography.