News
Opening an online account in Pasargad Bank and receiving a card at the desired location, with "Vipad"
Going to the bank and waiting and presenting documents was and is the concern of all of us. The solution of technology and smartphones has been growing in the world for some time and has paved the way. Neobank is a way that has made presence in physical branches of banks possible.
One of the leading banks in digital fields and digitalization of banking processes is Pasargad Bank. With the presence of neo-banks in the world, Pasargad Bank has also taken a step in this way, and knowing the needs of the audience, the knowledge of digital banking, Vipad, Trabank Pasargad has offered Vipad, with the support of Pasargad Bank and under the supervision of this bank, has provided the possibility of benefiting from banking affairs at any time and place for all Iranian compatriots.
Vipad, Trabank Pasargad
The purpose of Vipad's presence is to provide comprehensive financial services to all compatriots. Online access to basic banking services, along with other special services of Wipad, even in cities and villages where there is no branch of Pasargad Bank. Vipod's service portfolio is currently diverse, and this portfolio will continue to be larger and more fruitful. Trabank Pasargad is a new member of the Pasargad Bank family, whose services we will learn more about later.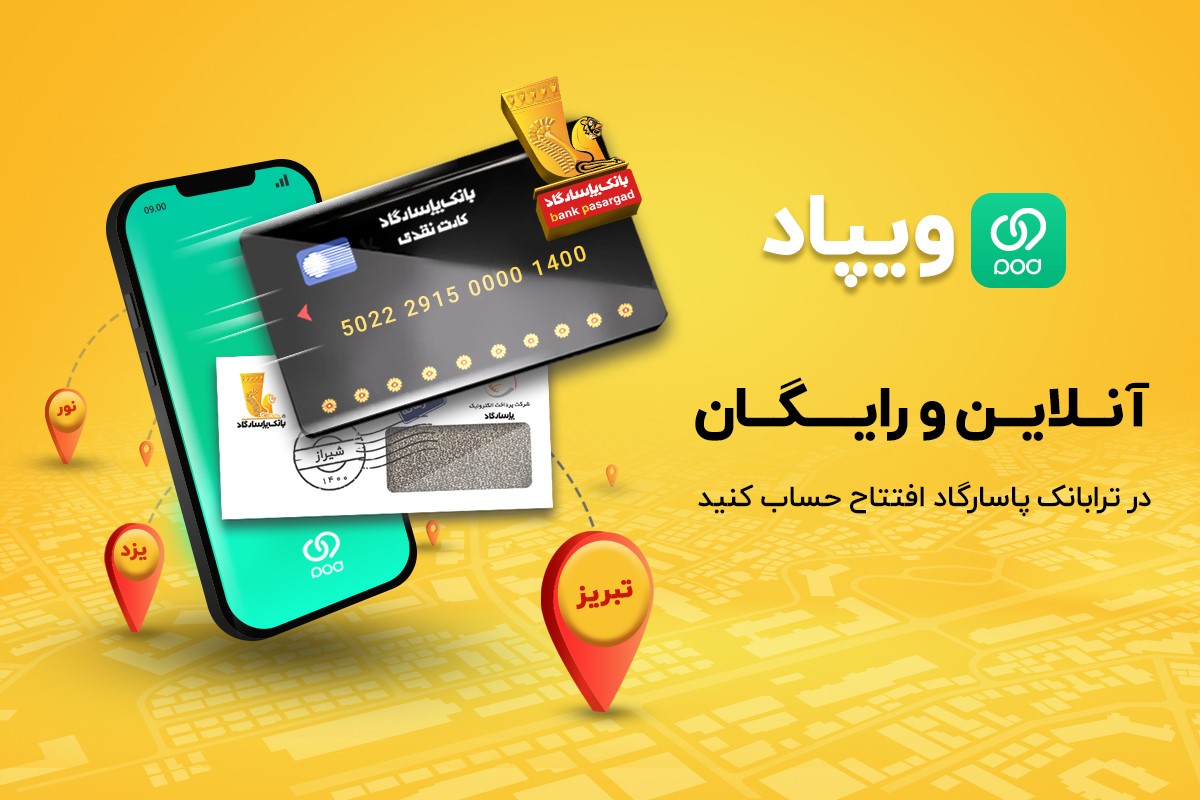 iPod, Services and Features
Open Pasargad digital account
Opening an account in Wipod is completely online and you do not need to go to the bank at any stage. You can have a Pasargad digital account in less than a few minutes, just by entering your personal information and authentication video. To open an account, after downloading Wipod, log in with a mobile number that is in your name. After verifying the mobile number by entering the one-time code, you need to enter the national code, date of birth and serial number of your national smart card.
In order to recognize and match your face with the entered information, in the last step you need to upload a few seconds video of your face. To record video, the background behind you must be white. Now keep the camera in horizontal and selfie mode and shake your head first to the front and then to the right and left. You don't need to say any words or sentences. After checking and verifying your information and identity, your Pasargad digital account will be opened.
Get the physical Wi-Pod card at the desired location
You can request to issue and send a physical Wi-Pod card online and for free. After your information is verified and your account opening is complete, you will be able to request a physical card. After registering the request for a physical card, enter the postal information including the exact address and zip code, so that the physical Wipod card will be sent to you by mail. After receiving the card, visit the Wipod app and activate your card by entering the one-time use code sent.
The Wipod card password will be sent to you via SMS after activation. If you forget or lose your card password, you can get your card password by selecting the "Reissue password" option without going to the ATM.
Get immediate and online facilities
After receiving the physical Wipod card and activating it, you can receive facilities online and instantly. Pashtovaneh account is available to all compatriots with the aim of providing micro-facilities for purchasing consumer and daily goods. You only need bank validation to activate the backup account. In the validation of your financial behavior in the country's banking system, it will be checked. Bank behavior includes not having bounced checks and overdue bank debt.
This credit can be used in all online and physical stores and you can pay half of your purchase with it. The other half of the invoice amount must be paid from your digital account balance. In the first step, you can apply for a credit of 1 million tomans and receive higher amounts by settling it on time. The credit repayment method is one time and you can extend the settlement time up to 4 months.
Block your card online
With Wipod, you can block your card instantly without going to the bank or ATM. Any hour of the day and any day of the week, if there is a problem with your card, you can block it from the digital account page and reactivate the card if the problem is solved.
Get a duplicate card online
After the card is lost or its expiration date is reached, you can apply for a duplicate card online.
Get the first password and the dynamic password of the card online
If you forget your card's password or want to change your first card's password for security reasons, you can do it instantly and online through the Vpod application. The dynamic password of your card is also activated for free and does not require any action on your part.
Receive unlimited and free SMS for deposit and withdrawal
SMS deposit and withdrawal account and Vpod card are enabled by default and you can receive SMS for every transaction without limit of withdrawal limit and without paying fees.
Send a virtual gift card
One of the problems with cash gifts is the time spent at the bank to get the gift card. With Wipod, you can create a virtual gift card online in less than a few minutes and send it to your loved ones. Depending on the occasion, you can choose your favorite design from among the available designs and send it to the desired person from your audience with the desired amount and text. The virtual gift card can be used in all internet portals and the dynamic password is also active on it.
Ask your questions
Wipod support is available 24 hours a day, 7 days a week, via online chat and phone calls. You can raise your problems and questions and get answers whenever you want.
Security and credit
Your account information is stored and maintained by Pasargad Bank and on the infrastructure of this bank. The security of Vipad and the balance of your accounts in Vipad is also guaranteed by Pasargad Bank.
Download and more information
To get more information and benefit from the services and facilities of Vipad, Trabank Pasargad, wherever you are in Iran, you can install its Android and iOS application from Cafe Bazar, Myket, Sib App and Sibcheh or visit Visit the Wipod website (click).
Source link