News
NVIDIA unveiled NVIDIA DLSS 3
Nvidia DLSS using super resolution AI and Tensor Cores In GPUs GeForce RTX, It revolutionized graphics. Since launch, 216 games and apps have used this technology, which provides faster frame rates and better performance for real-time video game raytracing.
Today, NVIDIA DLSS 3, the next revolution in neural graphics, was announced. DLSS 3 increases the performance of DLSS 3 up to four times by combining the ultra-high resolution of DLSS and NVIDIA Reflex. Currently, the ecosystem is rapidly adopting the said technology and more than 35 games and applications are integrating with it.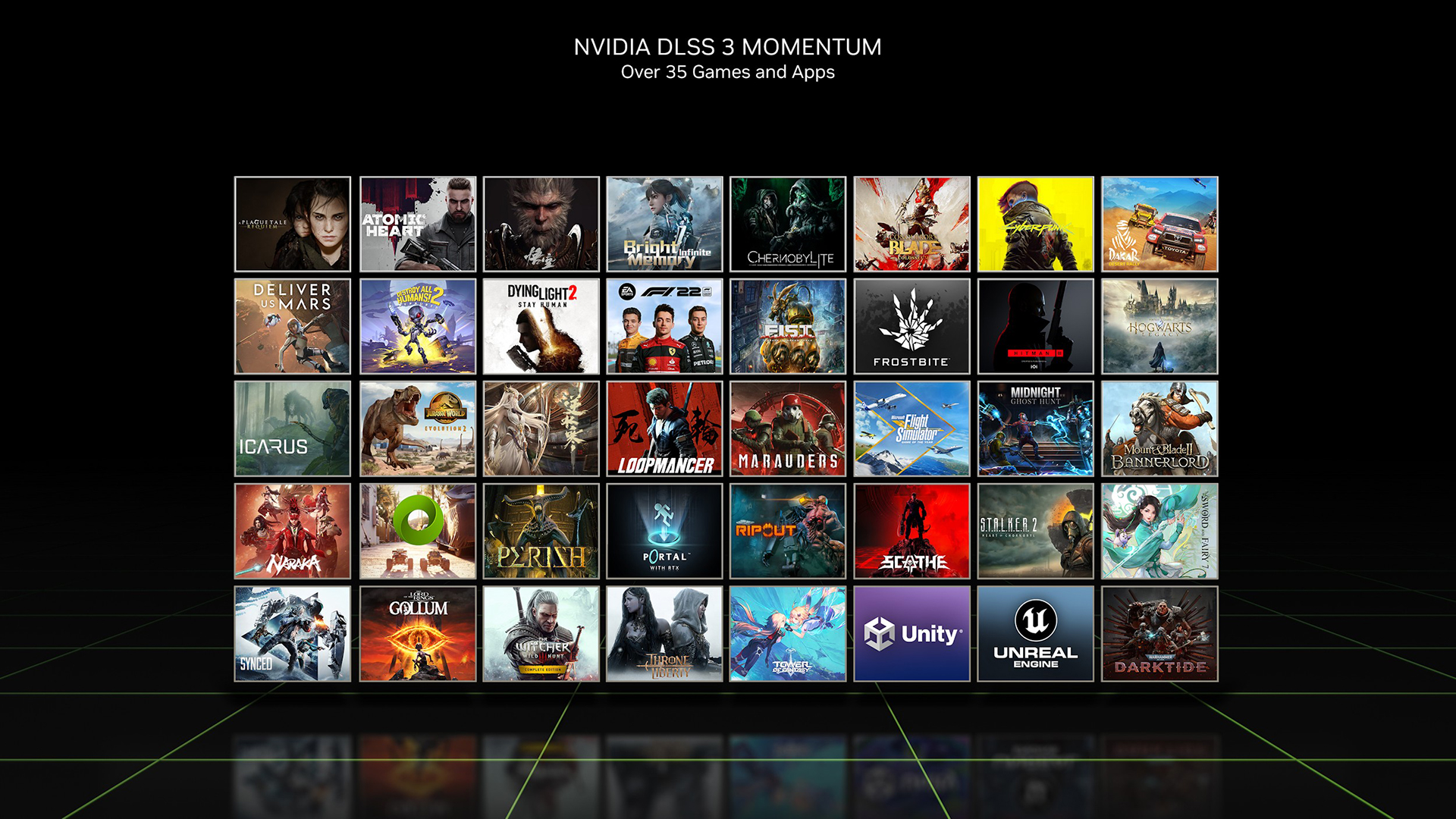 DLSS 3 is a revolutionary advancement in artificial intelligence-based graphics that dramatically increases performance; While maintaining excellent image quality and responsiveness. The mentioned technology supports the fourth generation of Tensor Cores and the optical flow accelerator of NVIDIA Ada Lovelace architecture.

The DLSS Frame Generation autoencoder receives four inputs, including the current and previous game frames, the optical flow field generated by the Optical Flow Accelerator, and game engine data such as motion and depth vectors.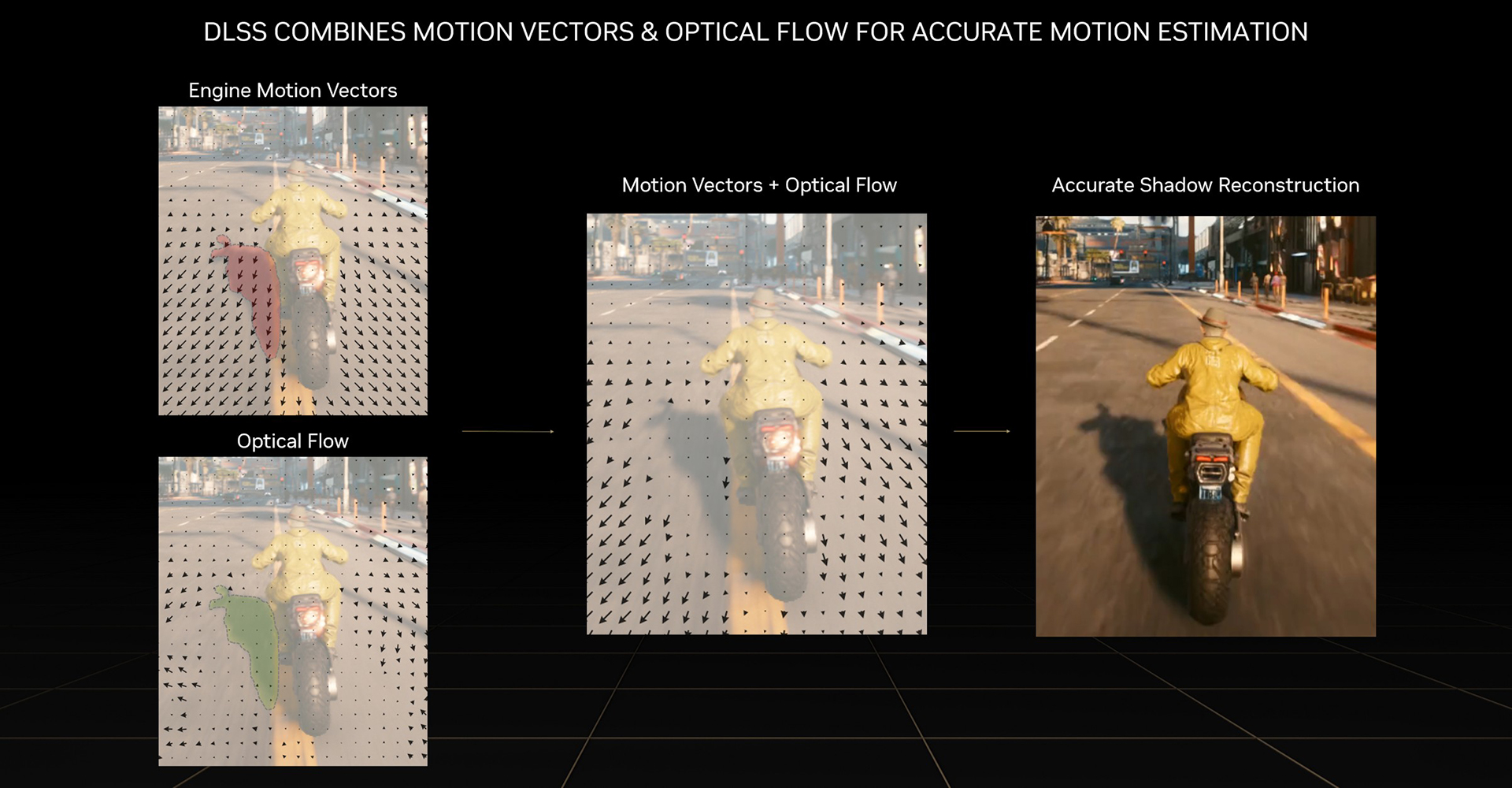 The introduction of NVIDIA DLSS 3 is considered a revolution in neural graphics
The Ada optical flow accelerator analyzes two consecutive in-game frames and calculates the optical flow field. Then, the optical flow field records the direction and speed of movement of pixels from frame one to frame two.
The accelerator can capture pixel-level information such as particles, reflections, shadows, and light that are not included in the game engine's motion vector calculations. For each pixel, the DLSS Frame Generation AI network decides how to use information from the game's motion vectors and the light flow field and successive game frames to create intermediate frames. Using both motor motion and optical flow vectors for motion tracking, the DLSS Frame Generation network can accurately recreate geometry and effects; Just as you can see in the image below: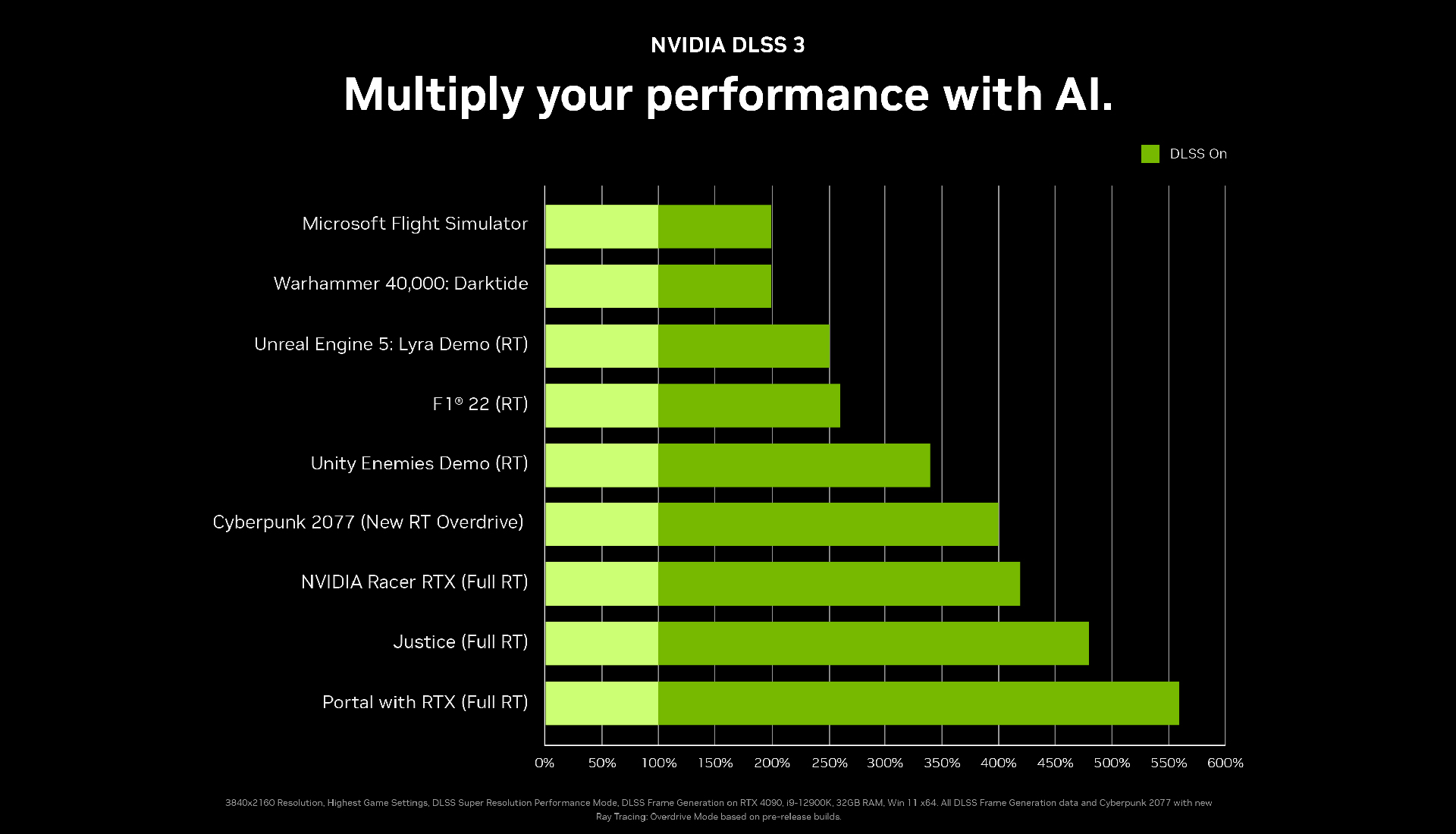 Compatible games DLSS3
A Plague Tale: Requiem
Atomic Heart
Black Myth: Wukong
Bright Memory: Infinite
Chernobylite
Conqueror's Blade
Cyberpunk 2077
Dakar Rally
Deliver Us Mars
Destroy All Humans! 2- Reprobed
Dying Light 2 Stay Human
F1Ⓡ 22
FIST: Forged In Shadow Torch
Frostbite Engine
HITMAN 3
Hogwarts Legacy
ICARUS
Jurassic World Evolution 2
Justice
Loopmancer
Marauders
Microsoft Flight Simulator
Midnight Ghost Hunt
Mount & Blade II: Bannerlord
Naraka: Bladepoint
NVIDIA Omniverse
NVIDIA Racer RTX
PARISH
Portal with RTX
Ripout
STALKER 2: Heart of Chornobyl
Scathe
Sword and Fairy 7
SYNCED
The Lord of the Rings: Gollum
The Witcher 3: Wild Hunt
THRONE AND LIBERTY
Tower of Fantasy
Unity
Unreal Engine 4 & 5
Warhammer 40,000: Darktide
The article is being updated
Source link