News
Nvidia Ada Lovelace graphics architecture unveiled; 4 nm lithography and 76 billion transistors
As previously promised, Nvidia introduced the new Ada Lovelace graphics architecture during the GTC 2022 event. This architecture ends up producing 4nm chips with 76 billion transistors, which will be the beating heart of the RTX 4000 series graphics. Ada Lovelace is the third generation of graphics architectures of the RTX family.
Narrated Nvidia, Ada Lovelace makes a "huge generational leap" in the performance, productivity and capabilities of Green Team graphics. According to Nvidia, Ada Lovelace is the most advanced graphics architecture in history.
Jenson HwangThe CEO of Nvidia announced during the GTC event that chips based on the Ada Lovelace architecture will contain up to 18,000 CUDA cores. The number of CUDA cores in the new generation of Nvidia graphics architecture is more than 70% more than the architecture Ampere is RTX 3000 series graphics cards were produced based on the Ampere architecture.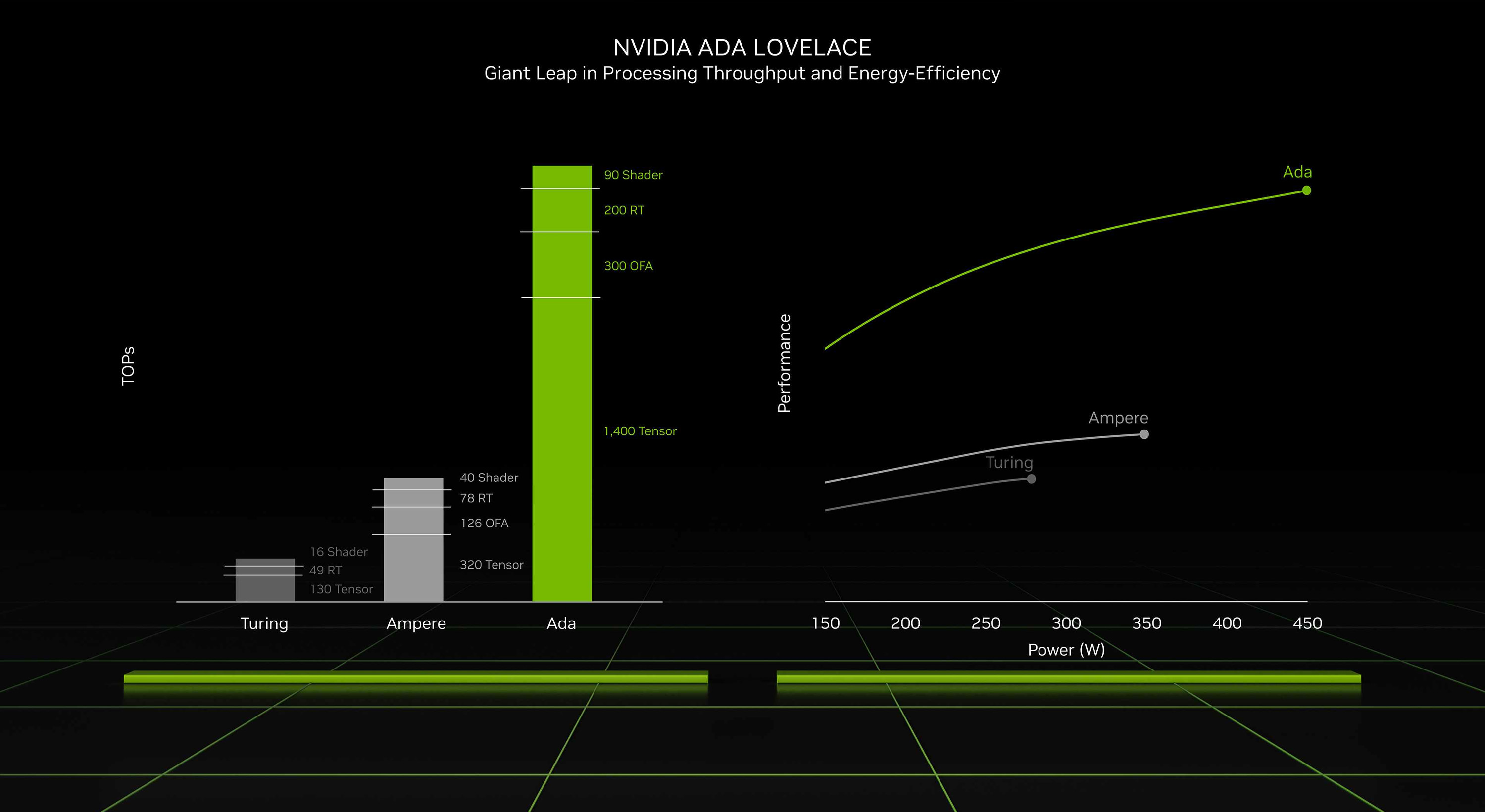 Graphics based on the Ada Lovelace architecture deliver up to twice the power at Ampere-level power consumption. In the new generation of Nvidia graphics, the gamer's hand is more open for overclocking. According to Nvidia's announcement, the Ada Lovelace graphics architecture includes a stream processor with 90 teraflops power and leads to the production of chips with 4nm custom lithography by the Taiwanese company TSMC.
The number of CUDA cores in Ada Lovelace-based graphics is increased by more than 70%
Stream processors (known as SMs) provide most of the graphics power required for gaming. In the previous generation, the power of these processors was doubled, and in the Ada Lovelace architecture, their power has increased by more than two times. The most powerful Ada Lovelace graphics chip will host 76 billion transistors, while the number of transistors in the previous generation reached 28 billion.
Nvidia announces the presence of Shader Execution Reordering (or SER) shading technique in its new architecture. This technique enhances the ray tracing performance of the graphics card two to three times.
GPU architecture relies heavily on parallel processing, and the more the number of concurrent processes increases, the more optimized it becomes. Nvidia's SER significantly affects parallel processing and optimizes the previous three processes. Thanks to SER, the shading performance of graphics cards will be doubled and the frame rate in games will improve up to 25%.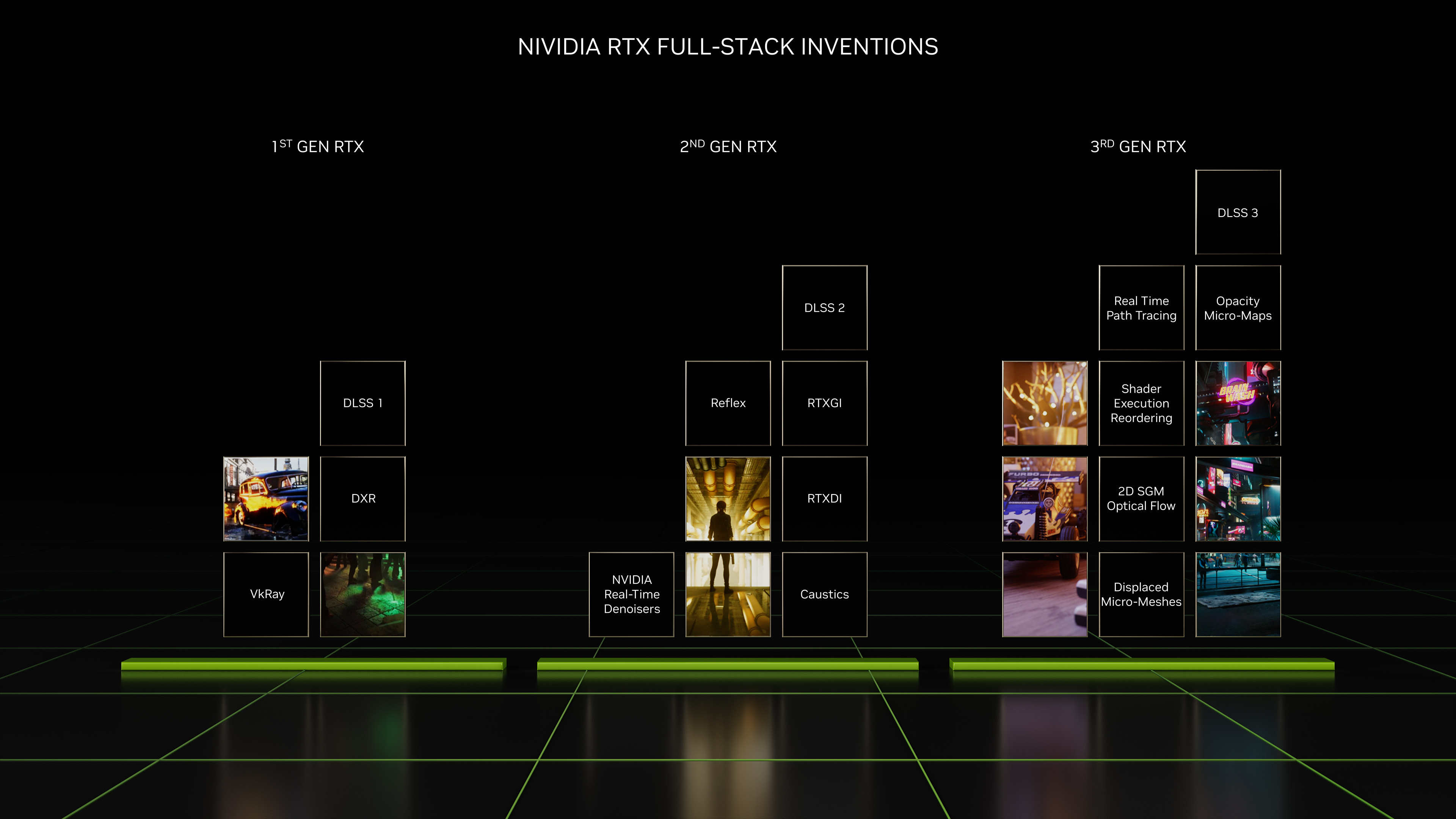 By unveiling special cores called RT Core, Nvidia made the dream of using ray tracing technique in video games a reality, and this year it has used the third generation of these cores in the Lovelace architecture. Nvidia says that the third generation cores perform up to 2.8 times better than the previous generation. These new cores are equipped with Opacity Micro-Map engine and Micro-Mesh engine to perform better ray tracing processing.
Nvidia says Ada Lovelace doubles the performance of CUDA cores and includes the fourth generation of tensor cores. According to the green team in the format FP16 will provide 1,400 teraflops of tensor power. Nvidia's Tensor cores focus on artificial intelligence processing and bring benefits to voice and video calls as well. Nvidia says the fourth-generation Tensor cores are equipped with a new FP8 engine that increases performance by up to five times.
Nvidia says it has overclocked Ada Lovelace graphics to more than 3.0 GHz in its labs.
Nvidia says it has overclocked Ada Lovelace graphics to over 3.0 GHz in its labs. Few of Nvidia's new GPUs will likely be able to deliver such a frequency, but most RTX 4000 GPUs will easily deliver frequencies above 2.0 GHz. This increase in frequency shows that the performance of RTX 4000 has improved by 50% compared to the previous generation.
Nvidia says that the RTX 4000 series graphics cards, which are produced based on the third generation of architectures specific to RTX products, will be very powerful and will bring significant improvements in gaming performance and artificial intelligence processing. Thanks to Ada Lovelace's new architecture, developers can improve performance by up to four times in games that rely entirely on ray tracing.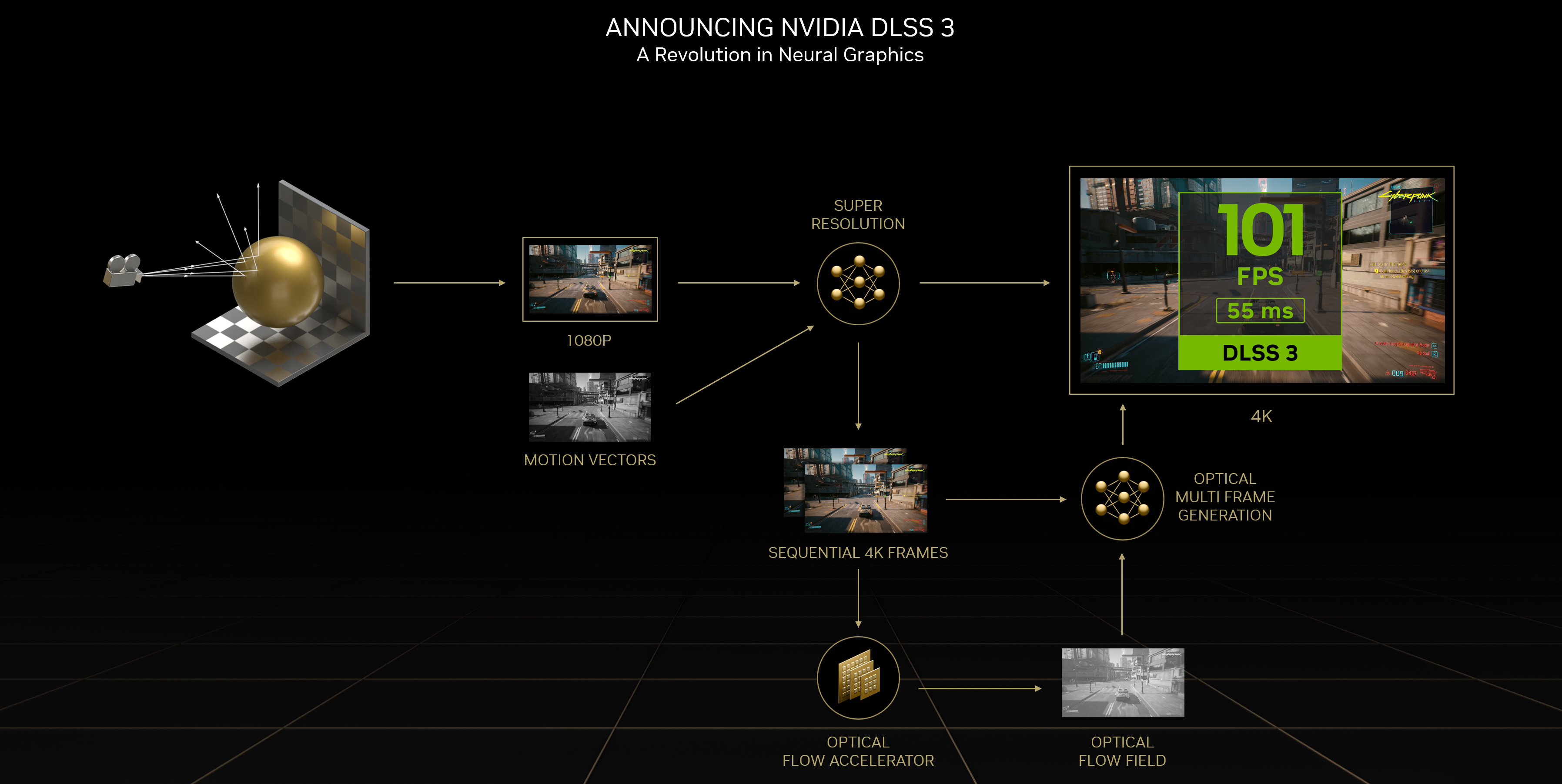 Nvidia unveiled the DLSS 3 feature at today's event. Tim Sabz says that the algorithm of this technology has been changed in the new generation to improve performance and display visual effects in a more attractive way. At its event, Nvidia demonstrated the game Cypberpunk 2077 with DLSS 3 technology to show how much this feature affects the frame rate of the game.
Related articles:
Nvidia says DLSS 3 is a revolution in neural rendering and significantly increases frame rates with Optical Flow Accelerator. On the other hand, RTX Remix allows developers to create amazing mods with ray tracing and DLSS for classic games.
In the Lovelace architecture, Nvidia has also improved a number of current features. According to the green team, Nvidia Reflex makes video games more responsive than before, reducing system lag to 10 milliseconds in popular eSports games.
In addition, GeForce Experience can now record gameplay in HDR mode at 8K resolution and 60 frames per second. The new version of Nvidia Broadcast removes background noise twice as well as the previous version and improves the camera for video calls and live streaming.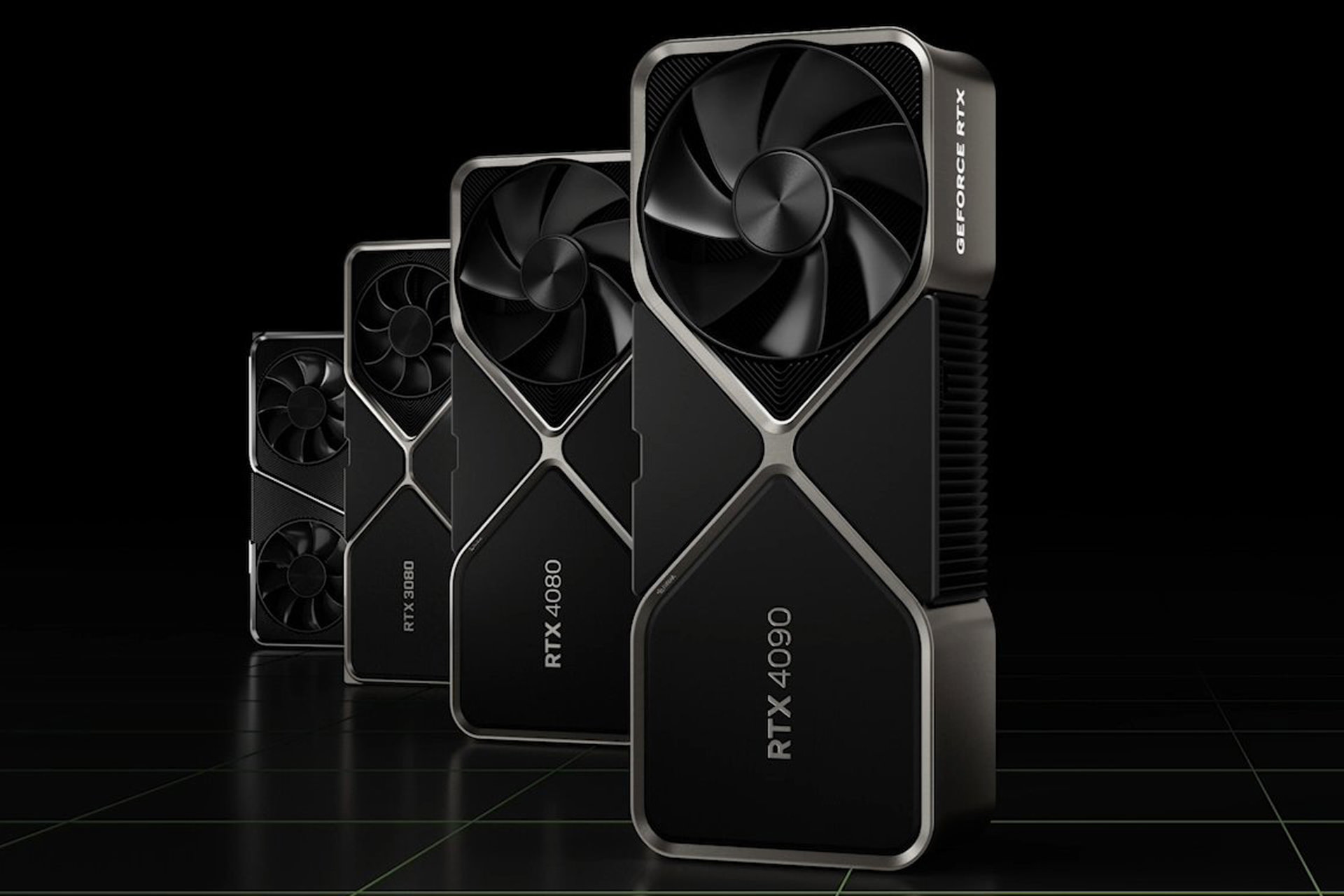 At tonight's event, Nvidia unveiled the RTX 4090 and RTX 4080 high-end graphics cards as the first GPUs based on the Lovelace architecture. The RTX 4090 graphics card uses 16,384 CUDA cores, a boost clock speed of 2.52 GHz, and 24 GB of GDDR6X memory, and is priced at $1,599.
The RTX 4080 graphics card is introduced in two models with 12 or 16 GB of GDDR6X memory. The 16GB model has 9,728 CUDA cores, while the 12GB model uses 7,680 cores. These two models are priced at $1,199 and $899, respectively.
Source link