News
Motorola has announced the list of phones that will receive Android 12
In October of this year (October 1400), Google released Android 12, which has made countless improvements in privacy, security, interface design and other areas. This update will be released gradually for various smartphones and tablets, and now with the release of xda-developers, Motorola has officially announced which of the company's handsets will receive the update.
A few days ago, Motorola shared details about the Android 12 update in a post that includes improvements to My UX, the company's Android skin. The features of Android 12 on Motorola are almost identical to what you see in the Google Pixel series, complete with a variety of Material You design languages. However, My UX does not seem to automatically receive color from your background image like a pixel phone, but instead a specific range of colors (color palette) from the section. Settings app Available.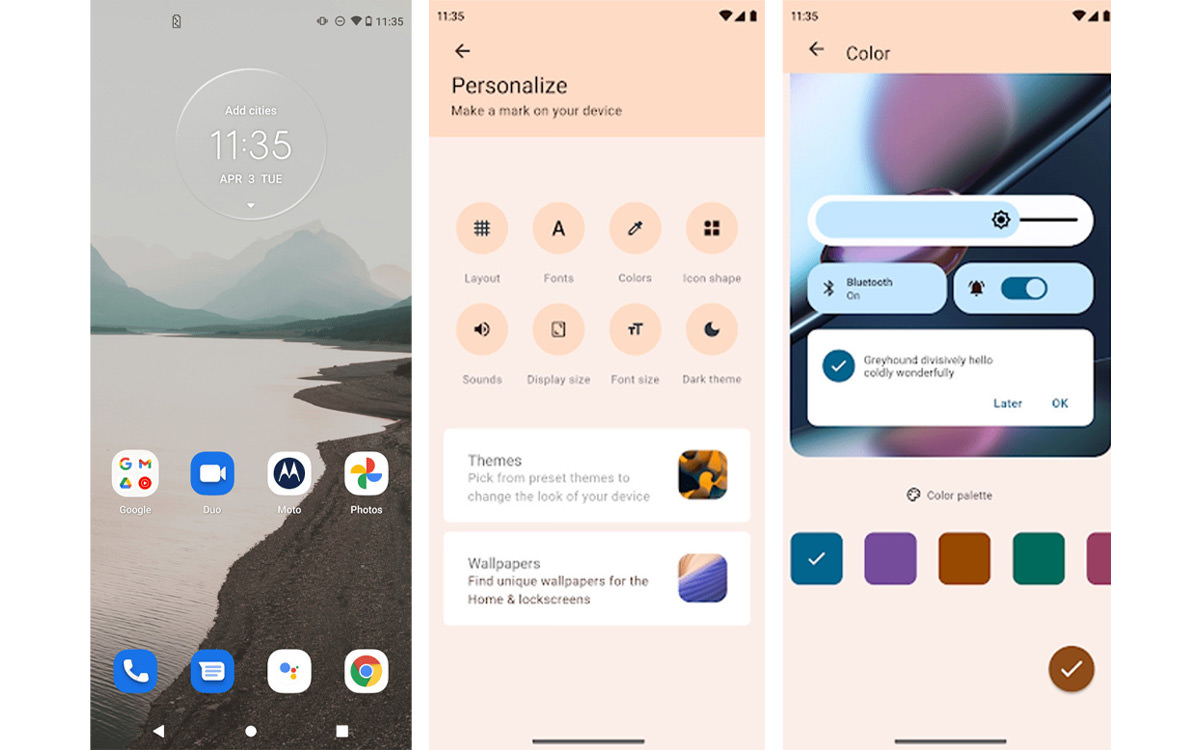 Motorola has also released a complete list of all phones that will receive the official Android 12 update. There is no exact timeline for the release date, except for an unspecified commitment that the first update will begin in February 2022 (February and March 1400). Most recent devices such as the Moto Edge and Moto G as well as both versions of the Moto Razer are on this list.
Related article:
This list may be good news for owners of the announced devices, though; But in the meantime, there are many recent Motorola phones that do not seem to be updated. The Moto G10 (also known as the Edge S), Moto G10‌ Power, Moto E7‌ Power and Moto G Play version 2021, all of which were released this year, will not receive Android 12. Many of the company's 2020 handsets are also not on this list.
Below you can see the list of Motorola devices that receive the Android 12 update:
Motorola Razer and Edge
razr 5G
razr 2020
motorola edge 20 pro
motorola edge 20
motorola edge 20 lite
motorola edge 20 fusion
motorola edge (2021)
motorola edge 5G UW
motorola edge plus
motorola one 5G ace
motorola one 5G UW ace
Motorola Moto G.
moto g200 5G
moto g71 5G
moto g51 5G
moto g41
moto g31
moto g100
moto g60s
moto g60
moto g50 / moto g50 5G
moto g40 fusion
moto g30
moto g power (2022)
moto g pure
moto g stylus 5g
Business Edition phones
moto g pro
motorola edge (2021)
motorola edge 20
motorola edge 20 lite
motorola edge 20 fusion
It seems that Motorola is still not interested in changing its very bad track record in major Android updates, especially for the company's low-cost handsets. Meanwhile, most of Samsung's low-cost devices will receive at least two major Android updates, and Apple's $ 399 original iPhone SE has been running the latest version of iOS since 2016.
Source link