News
Mobile games earn more than console and PC games
When we hear the word gamer, we usually think of people who use high-end products such as Razr laptops, flagship headphones, RGB lighting hardware, and two or three monitors to play games, but we seldom think of anyone who is. , Runs the Clash of Clans game with your smartphone.
According to a new report by global game analysis company NewZoo, market data for 2021 shows that mobile gaming has upset the entire equation of the gaming industry. In fact, just last year, mobile gaming revenue worldwide was higher than the sum of dedicated console and PC games.
The mobile gaming industry now accounts for 52% of the gaming market, with a total revenue of $ 93.2 billion by 2021. In addition, mobile gaming is the fastest growing industry, and this trend is expected to continue; Because the number of smartphone owners around the world is increasing.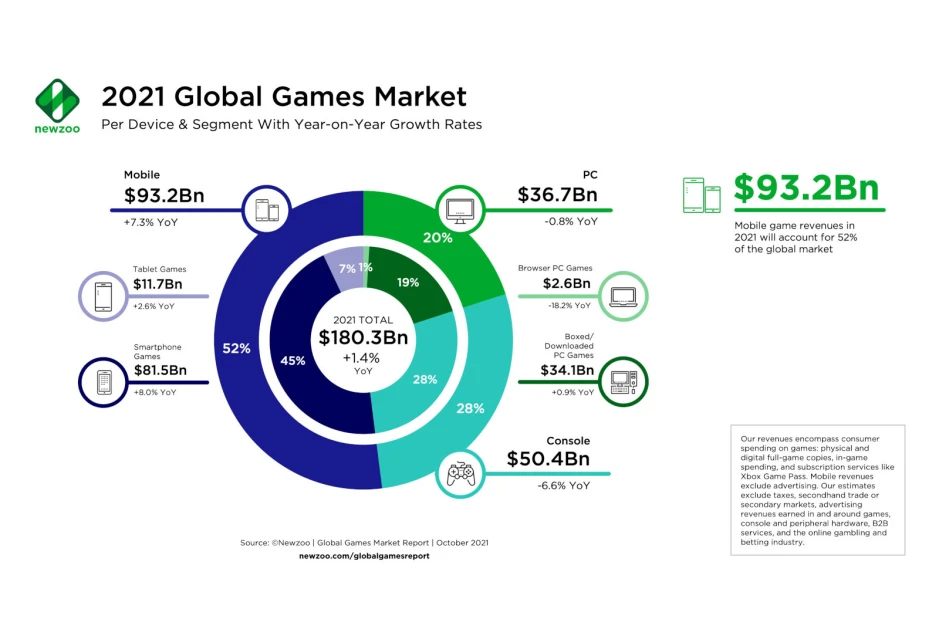 The advent of the global Android operating system paved the way for this great change; Because the platform allows developers around the world to create games for hundreds of different handsets from hundreds of different companies, all operating under the same operating system.
While Microsoft and Sony's efforts to develop big games diminished during the Corona epidemic, smaller mobile developers continued to operate and entertain smartphones with a growing audience.
Surprisingly, China accounted for the largest share of total mobile gaming revenue (more than $ 30 billion) last year. For comparison, the United States has a share of $ 15 billion, and Japan has earned about $ 14 billion from this market.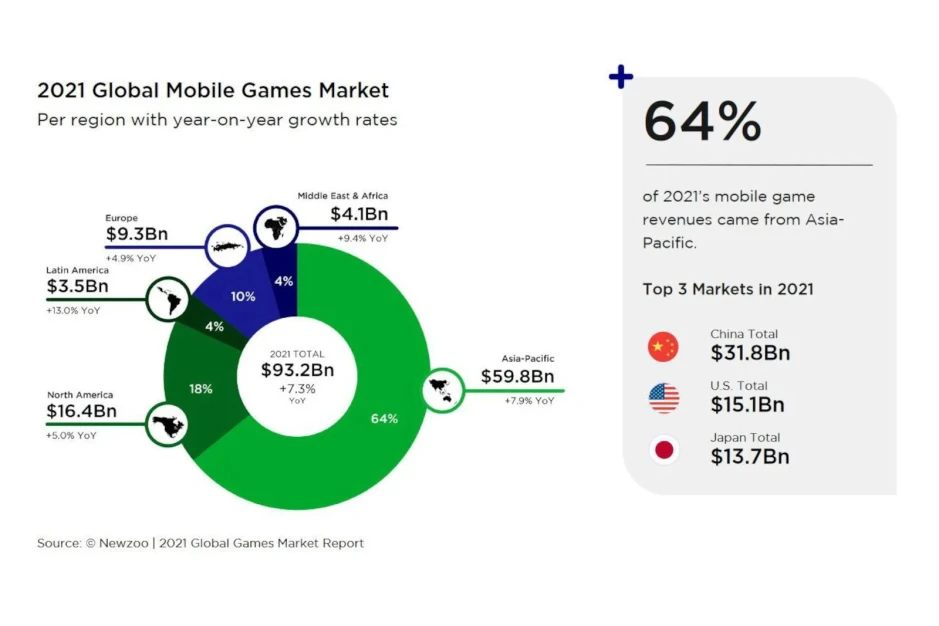 China has a large number of gaming software companies that have helped it acquire this large stake. Chinese mobile gaming companies include miHoYo, the developer of Genshin Impact, and Tencent, which has made popular titles such as Pabji and Call Audio.
According to NewZoo, an astonishing array of emerging markets has helped boost mobile gaming revenue, reflecting a significant shift in the gaming industry around the world. Latin America, Africa and the Middle East are recognized as the fastest growing areas in this area. Although these areas account for less than 10 percent of total gaming market revenue, their growth potential is likely to continue unabated for the next few years.
Streaming mobile games and ticketing have been important changes, and Metavars can be even more pervasive.
Facebook's Metavars project, along with Apple, one of Meta's biggest competitors in virtual reality development, will drive major growth in the gaming industry in the future, and virtual reality games will become a major hub for social interaction.
Currently, streaming mobile games has become a dominant category in Twit, which uses phones such as Lenovo's Legion Phone Duel 2, which provides the necessary technology, especially for mobile players.
Related article:
Surprisingly, TickTook has also become a station for mobile gamers, publishers and game developers. This factor has further increased the social platform, and according to NewZoo, the number of hours of game content on TickTook has increased by about 533% between 2020 and 2021.
The Corona epidemic over the past few years has undoubtedly benefited the gaming industry; Due to the fact that people all over the world have been locked up at home for months at a time and have limited means of entertainment to spend time.
While not everyone has a PlayStation, Xbox, or gaming PC, most people have at least one smartphone. According to Statista, more than 6 billion people worldwide use smartphones, and that number is expected to exceed 7 billion by 2024, bringing unprecedented growth to the mobile gaming industry in the coming years.
Source link