News
Microsoft will add some features requested by users to the Windows 11 Start menu
Microsoft is considering some changes to the Windows 11 Start menu that many users have requested. In the latest beta version of the Windows Insider Developer Channel, more customization options are available for the Start menu of Redmond's latest operating system, including the right-click on the Start button for quick access to the menu settings.
According to Digital Trends, Microsoft introduces these new changes in build number 22509 of Windows 11 and refers to them as a "set of improvements." Beta testers can use the "More Pins" or "More Recommendations" options in this version to display an extra row of pins or recommendations, respectively. Adding this feature can make it easier for Windows 11 users to access popular applications.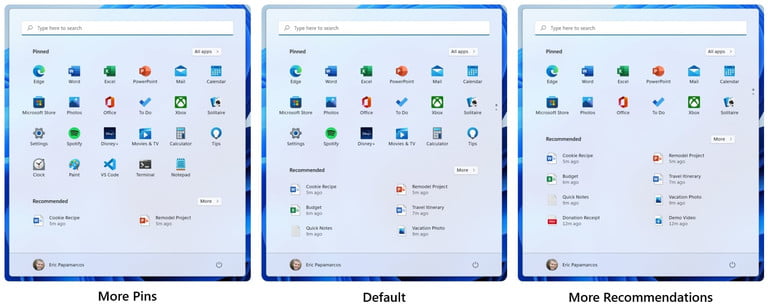 In addition, Microsoft has added date and time to all secondary display taskbars. This feature is not yet available to everyone and is currently available for some select Windows Insider users. The company hopes to get feedback on how it works before launching it publicly.
Related article:
Microsoft has also added some settings from the control panel to the new Windows 11 configuration program, including advanced sharing settings and screens for printers and scanners.
In this test build, when you turn on Bluetooth or WiFi in airplane mode, the next time you use airplane mode, your options will be presented in the communication section, thus making the connection easier during the trip.
These new changes are currently only available in the Start menu of the demo version provided in the Windows Insider Developers Channel. It is expected that after the end of the trial period, we will see the release of these new features for all Windows 11 users. Other parts of Windows 11, including the new Paint software, have been made available to other users a few months after initial testing in the developer channel.
If you want to experience the new changes of Windows 11, you must register your system in the Windows Insider program. To do this, press Windows + I on your keyboard and click Windows Update> Windows Insider Program. Now you need to select Dev Channel. At this point, your computer will restart several times. Of course, we recommend that you do not register your PC in this program, because trial versions of Windows usually have a lot of bugs that are likely to affect system performance.
Source link