News
Methods of buying and selling digital currency in Exquino application
One of the advantages that Exquino has considered for its users, in addition to the security and wide range of services, is the "Exquino Application" which has many features and helps a lot in the ease of using the service. In the following, you will learn how to start working and buy and sell digital currency in the Exquino application.
Exquino application features
Exquino platform has designed a free application for users of Android and iOS and as Web App Available. Exquino digital currency exchange benefits from the lowest fee rate, the highest deposit speed and 24-hour support, 7 days a week.
In the Exquino application, you can Current price of digital currencies View, buy, sell and exchange cryptocurrencies online and instantly through Exquino Market.
Exquino application has other advantages such as:
wallet
Instant deposit and withdrawal of digital currencies
The possibility of trading and holding digital currencies without the need for authentication
Authentication in a short period of time
The possibility of determining the limit of profit, loss and ordering OCO
The possibility of buying cryptocurrency without a ceiling
The possibility of paying online and offline Riyal
The possibility of buying and selling more than 200 popular cryptocurrencies
also has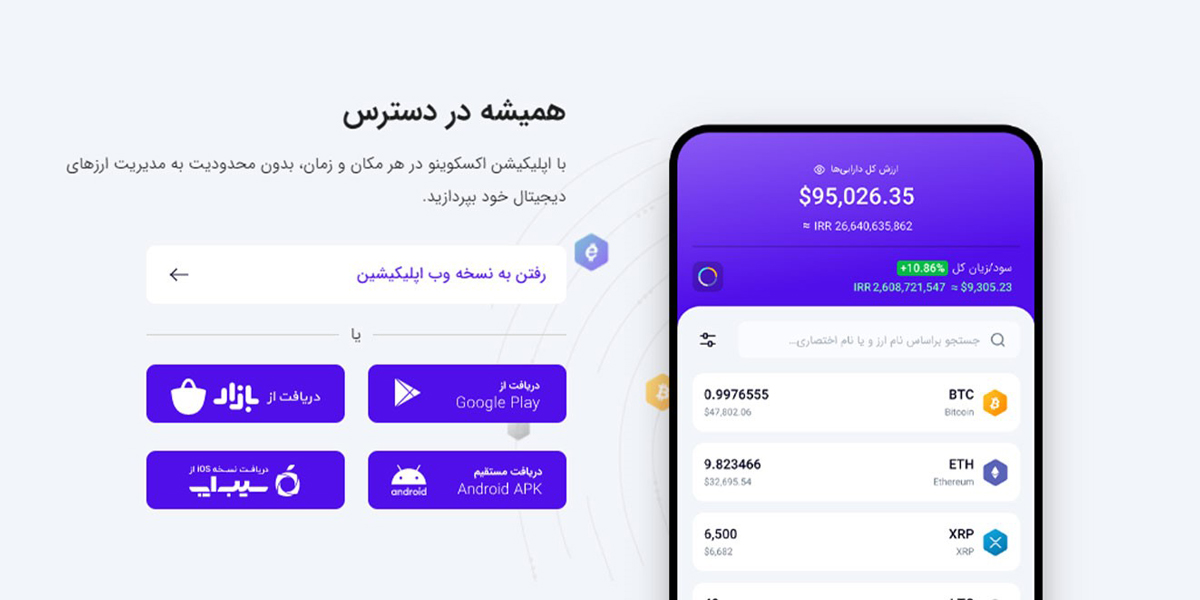 How to work with Exquino application
To download and install the Exquino application, if you are an iOS user, you can download this application from Apple App or use the Web App version of Exquino. If you are an Android user, you can download and install the Exquino application directly from the site or from Google Play and Cafe Bazaar. Android users can also use Exquino Web App.
In the next step, it is necessary to use an active mobile number Registration in Exquino so that you can use the features of the application.
Inside the application, you will see different sections such as dashboard, wallet, conversion, price list, ordering, transaction list, gifts, support and settings.
You can also make a deposit to Exquino wallet in Riyal or cryptocurrency.
To Buying and selling digital currency in Exquinoyou need to authenticate in Exquino as a first step.
How to authenticate on Exquino website:
1- Open your personal profile menu and select "Complete authentication" option.
2- After reading the description of the steps, select the "Start Authentication" option.
3- Enter your phone number and after sending the verification code, enter your special code in the specified field.
4- Enter an active email and confirm your email with the verification code as in the previous step.
5- After confirming your contact information, it is time to complete personal information; Enter your first name, last name, national code and date of birth and click on confirm and continue.
6- The last part of authentication in Exquino is uploading the images of your identity documents (national card).
Identification and authentication of users:
After verifying your contact and identity information, you will enter the identification section:
1- According to the guide, upload a photo according to the requested sample and press continue.
2- At this stage, you have to make a video of yourself. You will be given a text that you must read aloud in front of the camera, following the required conditions.
At the end, after performing the actions related to the identification section, send your documents and wait for the authentication confirmation from Exquino; Your identity will be verified as soon as possible.
In addition to specifying a strong password, you can increase the security of your Exquino account. Two-step authentication with Google Authentication also enable
Buying and selling digital currency in Exquino application
You can use Exquino app as a Secure platform for buying and selling cryptocurrency or as Digital wallet use. To buy and sell cryptocurrency, you can deposit Rials (online and offline) and deposit digital currency online. To deposit Riyal, you need to enter your account information in Exquino, and you can deposit digital currency through a direct link or QR code.
Also, you can withdraw money from your account in the Exquino application in two ways, Riyal and cryptocurrency.
What is Exquino Market?
Exquino MarketIt is a professional and different environment to operate in the digital currency market, which offers you good facilities. In Exquino Market, you can use various price charts, analysis tools, the possibility of limited and instant ordering and view the volume of user orders to get the best results. In this user environment, proceed to Digital currency trading They do with other users. Also, in this environment, you pay a much lower fee for exchanging digital currency.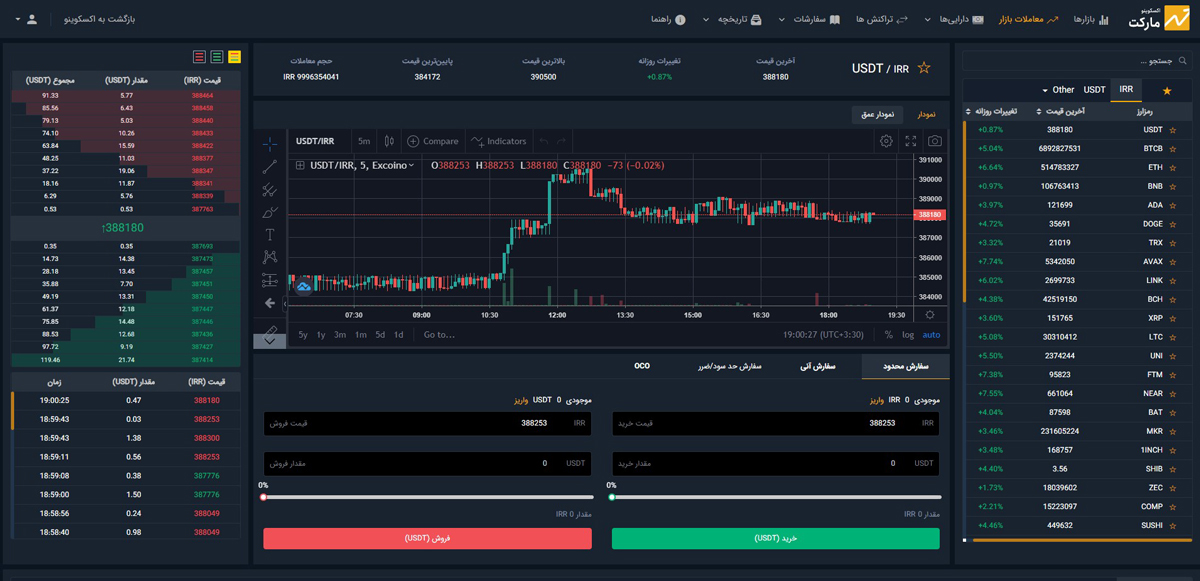 Using Iranian platforms for Transaction, Buying, selling and keeping digital currenciesConsidering the sanctions against Iranian users, it is currently one of the safe ways to operate in the digital currency market. Exquino digital currency exchange With the facilities it provides for its users, it turns this environment into a safe and simple platform where users can deal with all kinds of digital currency transactions with peace of mind and be sure of the security of their assets.
Along with all these features, Exquino always considers special plans to benefit and reward its users in different ways.
Source link