News
Meta attacked Apple by installing an advertising banner in New York: WhatsApp is more secure than iMessage
Meta, the parent company of Facebook, Instagram and WhatsApp, has targeted Apple's iMessage service in a new advertising campaign. Meta and Apple have a tense relationship, and the ad against iMessage raises the tension even more. Meta, which does not have a positive image in the minds of most users due to the Cambridge Analytica scandal, believes that it offers a more secure service than Apple.
According to CNBC, Mark Zuckerberg The CEO of Meta has posted an image of a banner ad at Penn Station in New York City that claims WhatsApp is more secure than Apple's messaging service, as well as regular text messages. In the description of his post on Instagram, Zuckerberg writes: "WhatsApp is much more private and secure than iMessage thanks to end-to-end encryption that works on both Android and iOS."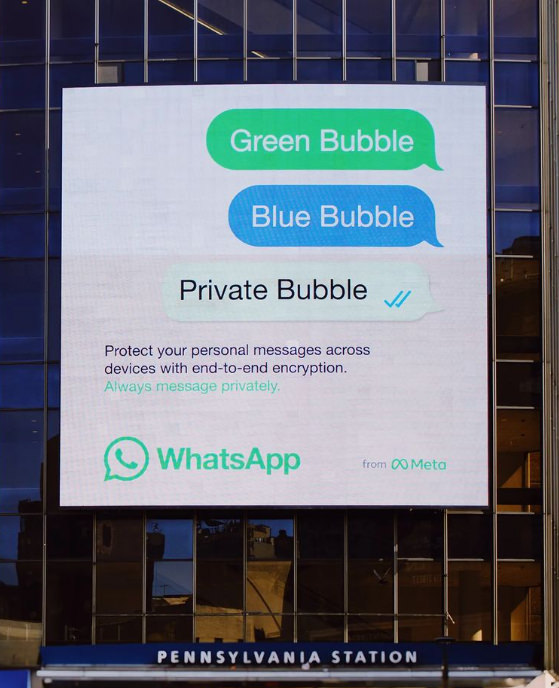 Both WhatsApp and iMessage are encrypted, however messages and their backups on the device may be stored in a way that Meta and Apple can access. SMS messages are stored by telecommunication operators.
WhatsApp has hosted an end-to-end encryption system since 2016, but it did not encrypt backup files until last year. WhatsApp also enables automatic deletion of messages. Zuckerberg says these two features are not yet offered by Apple's iMessage. Zuckerberg said Meta is also working on adding end-to-end encryption to Instagram messages.
End-to-end encryption is a system that ensures that no one – not even the messaging service provider – can access messages exchanged between users. The lack of access to the text of the message makes a company like WhatsApp theoretically unable to provide the contents of the messages to government organizations. Of course, Zomit's investigations show that WhatsApp has, in some cases, made the metadata of messages available to security agencies.Metadata is data that describes the details of another data.
WhatsApp is also said to respond to requests from law enforcement agencies such as the FBI "within minutes." WhatsApp does not have a great track record in terms of security. The messenger has repeatedly faced significant security flaws, and in the latest example, we saw a critical security issue in the service.
Related articles:
Meta has considered Apple as one of its most serious competitors for years (Zuckerberg clearly stated at a conference in 2018 that the biggest competitor of Meta's messaging services is iMessage). Apple has dealt a major blow to the meta ad business with a series of privacy-focused features in iOS, even as its own ad business is growing rapidly. These two companies will also be direct competitors in the mixed reality equipment market in the near future.
Meta's ad banner is being installed in New York's intercity train station while Google has recently criticized Apple once again due to the incident of green bubbles and blue bubbles. In iPhone phones, when sending and receiving messages from the Android phone, the message bubble turns green. However, if the message is exchanged between two iPhones, the iMessage system will be activated and the bubble will turn blue.
Google says that Apple should add the RCS protocol to iMessage so that Android phones and iPhones can send messages to each other with various features such as reacting to messages. Apple has not released iMessage service for other platforms besides iPhone, Mac and iPad.
Source link