News
Lifeweb report: VPNs are the most popular applications for Iranian users
In a report, the Lifeweb data analysis system analyzed the most popular applications among Iranian Google Play Store users in the fall of 1401 and presented statistics showing that 71% of the most used applications on this platform are VPNs. Messengers and social networks are the second most popular applications among Iranian users with 14%. Tools, games, entertainment and other categories are also in the next categories of the most used apps.
According to the Lifeweb public relations report, among the Iranian applications that are among the top 100 applications of this Android application platform, Sorush Plus Messenger has the first rank with more than 61,000 installs and a rating of 3.2. Divar is also in the second place with more than 10 million installs and a score of 4.6, and Messenger Yes has been the third most used app this fall with more than 6 thousand installs and a score of 3.7. Two online audio and video broadcasting applications, namely "Man" and "Telebion", are in the third and fourth places with more than 1 million and more than 10 million installs, respectively.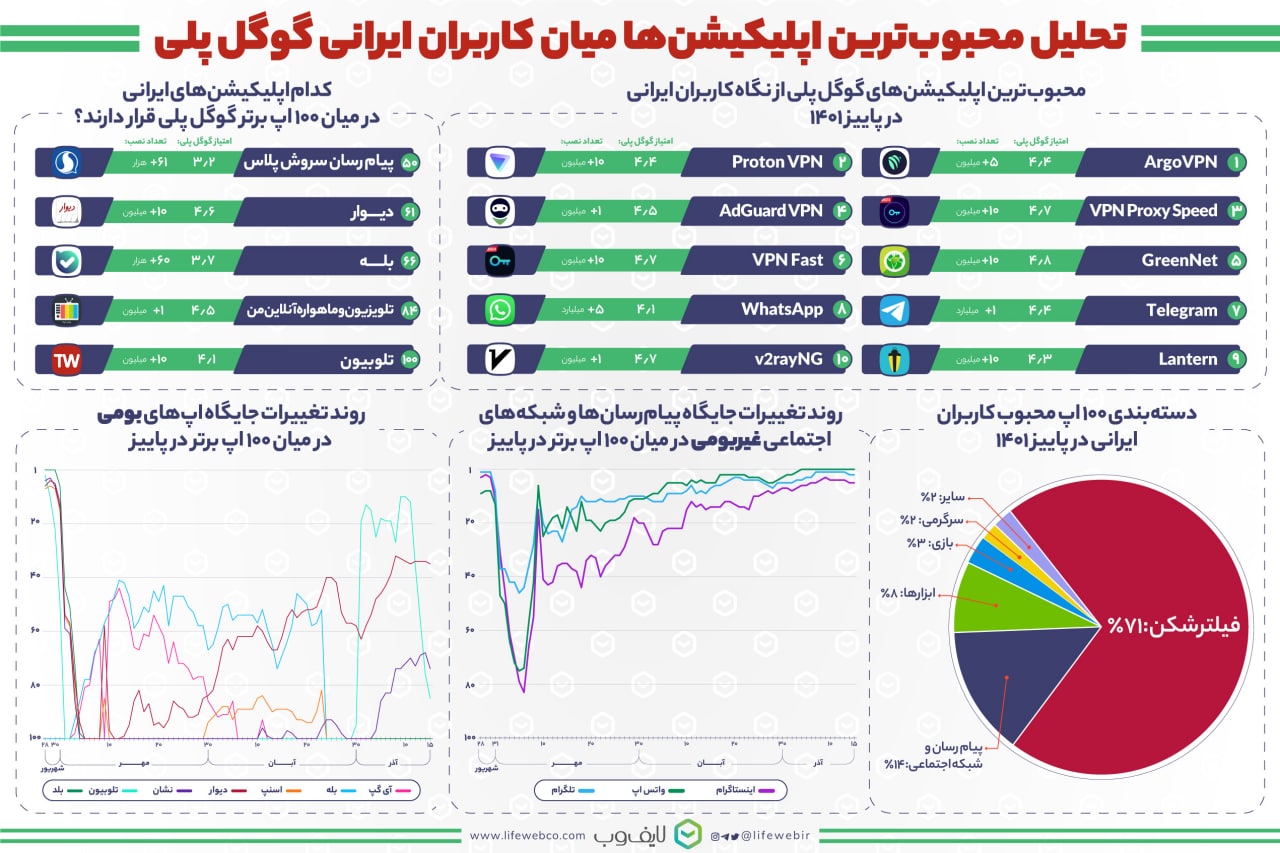 Among the 10 popular Google Play applications from the point of view of Iranian users, the first 6 applications are VPNs, such as Argo VPN, Porton VPN, and VPN proxy speed. Except for the seventh and eighth ranks of this list, which belong to Telegram and WhatsApp messengers, the other ranks also belong to VPNs, which, considering the intensification of filtering in Iran, the increase in the need to download and install VPNs by users inside Iran seems natural.
The most interesting thing about these popular apps from the perspective of Iranian users in the fall of 1401 is that the popular messengers in this top ten list are foreign filtered messengers that users have searched for and received from the filtered Google Play platform.
The Lifeweb report has also provided information about the trend of changes in the position of non-Iranian platforms, which shows that Telegram, Instagram, and WhatsApp, all three of which were ranked between 1 and 10 in September of this year, dropped to the position of 40 to 80 out of 100 applications in October and November. had found; But in December, they returned to the same rank from first to tenth.
This trend of Lifeweb changes about Iranian apps has also been shown that among the iGP, Yes, Snap, Divar, Nishan, Telebion and Beled apps, the Telebion application has reached a position between 10 and 20 in December, which is probably the broadcast of the World Cup matches in this The moon is one of the reasons for this change of position. The wall application is another Iranian app that has changed its position positively and has reached a rank between 80 and 100 to a rank lower than 40.
Source link