News
Josbo Cooling System Ensures Stability of 5th Generation PCIe-Based SSDs
In recent years, SSDs, which were usually monopolized by small and very expensive products, have made their way into the home systems, tablets, smartphones, and even Microsoft and Sony ninth-generation consoles, and we are seeing significant advances in this area; With more than five gigabytes of read and write speeds in PCIe 4.0, it is becoming a single standard that will soon be replaced by fifth-generation PCIe-based SSDs.
Despite great advances, temperature control of these very fast hardware components has always been an Achilles heel for products and manufacturers. Like any other computer component, overheating can reduce the performance and shorten the life of an SSD; Therefore, the mentioned hardware components, especially the SSDs that support the fourth and fifth generation PCIe, require a separate cooling system, and the manufacturers usually provide a relatively simple cooling system (heatsink) with their SSDs.
However, evidence suggests that storage in some scenarios gets so hot that it challenges even the best heatsinks on the market, with a fifth-generation PCIe process and a staggering read / write speed of more than 10 GB / s. It will double. Of course, several cooling systems have been introduced so far, such as ElecGear and RaidSonic, but Chinese company Jasbo has unveiled a new cooling system based on the Qiao Sibo blower fan design, which can maximize the stability and useful life of the new M.2 SSD.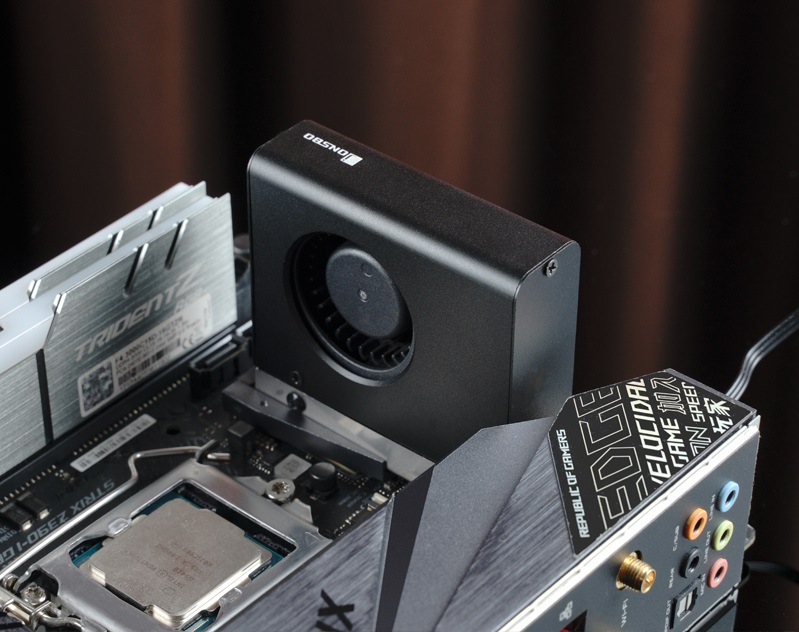 It is said that the cooling solution provided by Jasbo delivers much better performance than the passive (fanless) cooling design. In terms of design, the cooler for PCIe NVMe M.2 SSDs measures 76mm x 24.5mm x 70.5mm and sits on top of the S.2 M.2. In addition, the Qiao Sibo‌ has a heating pad under the contact base that connects the S.2 M.2 to the cooler, and ultimately an integrated aluminum heatsink reduces heat.
The heatsink connects directly to the SSD and removes hot air using a fan that spins at 3,000 rpm. The cooling system emits a maximum airflow of 4.81 CFM with a maximum noise of 27.3 dBA. By comparison, the ElecGear M11 cooler has a smaller fan that spins at 9,300 rpm; However, it can only produce a maximum airflow of 3.16 CFM.
Published renderings show that the entire system inside the chassis is configured in black, which looks almost like a small graphics card, and it is assumed that the fan blows hot air out of the front instead of the back of the chassis.
Unfortunately, the price and release date of Qiao Sibo have not been announced yet. We also have no information about its cooling performance. In general, M.2 coolers are very useful for PCIe 4.0 SSDs; But they can be a prerequisite for the next generation of PCI 5.0 SSDs. These SSDs, most of which probably have Phison E26 controllers, theoretically double the maximum read / write speed. This increase in performance will naturally lead to an increase in power requirements and an increase in heat generation from the DRAM SSD and NAND controllers.
Meanwhile, motherboard and SSD makers are trying to offer better and more advanced passive cooling solutions on current-generation Z690 boards, but these solutions may not be enough and more cooling is needed to sustain the next-generation PCIe Gen 5 NVMe. Manufacturers are expected to unveil their first fifth-generation PCIe-based SSDs at CES 2022; So we will soon see the supply and review of their performance.
Source link