News
Introducing 6 websites for playing natural sounds to relieve stress, increase concentration and sleep
Contrary to many people's beliefs, background playback can have a huge impact on increased focus. Maybe sometimes you are so tired that you can not even sleep because the flood of thoughts keeps you awake, or maybe you just need to rest but you do not have a good sound source.
Regardless of the reason for boredom or lack of concentration, in this article we have prepared a list of several websites that will fill the silence of the home environment with a great ambient sound for any situation. This list is provided by the Mikozu website.
1- Noisli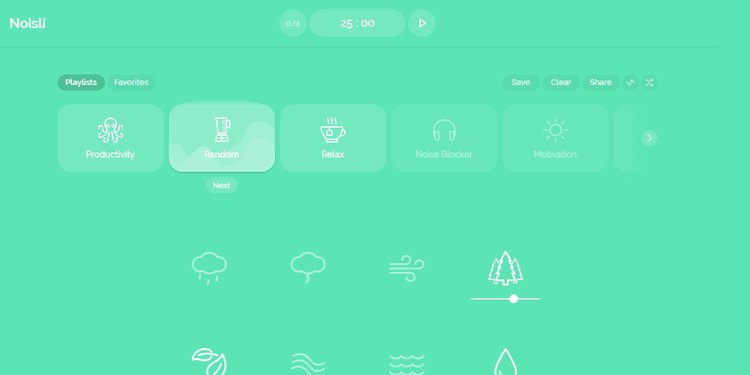 Noisli is a great starting point because of its regular user interface and great variety of settings. There are several playlists at the top of the website that include different combinations of sounds in different categories such as productivity, relaxation and random sounds.
These lists are just a combination of different sounds like rain, wind, waves and fire. You can change the sounds to your liking. This tool helps you to increase or decrease the volume of each component and to add or remove other sounds to your composition.
By creating a free account in Nevisli, you will have access to 16 of these sounds, and if you register for a paid account, you will also have 12 additional items. Of course, by purchasing a premium account, you can also take advantage of other features such as swing adjustment and transfer.
By default, usage of this website is limited to one and a half hours per day, but with the purchase of a premium subscription, this restriction will be removed. In addition, with a paid account, you can access seven additional playlists and a wide range of options for some of the other features of this website, including a timer and a text editor.
2- MyNoise
If you are looking for a website that offers a variety of customization options with a wide range of sounds, this may be one of the best options for you.
This website has more than 200 different sound producers, the most popular of which are available on the first page. These sounds fall into useful categories such as "sleep sounds" or "relaxation sounds" and help you find what you are looking for more easily.
One of the best features of Maynovis is that it becomes clear when you choose one of its sound producers. All audio producers on this website provide the user with a different adjustment bar that allows you to customize the sound according to the user's needs. This adjustment bar can also be moved, allowing you to increase and decrease the volume in several patterns.
Mayweather's biggest strength is its customization capabilities. There are various preset settings for audio producers that you can even set animations to suit your preferences. Some of these features will only be enabled when you help the site, but most of the features are available to all users for free.
3- Purrli

If you are looking for a different option, try Pourrell. The purpose of this website is very simple; For example, suppose you need a cat's voice but you do not have a cat to access it. This website can meet your needs in such situations. Although the portraiture function may seem a bit strange to some users, without a doubt, many users will enjoy this website.
If you are looking to reduce anxiety, stress management, increase productivity or sleep, you can use the different cat sounds that this website offers. The sound of a cat here can be a unique experience for people who miss the sound of this pet and are far away or sensitive to cats.
The Pourrelli interface is very simple and offers six bars for adjusting various options such as proximity or camera without the cat's voice, as well as the number of times the pet produces sound. If you enjoy Porley, there is an option to donate to the website. People who have donated to Purlley will have two additional options for adjusting the cat's voice.
4- Hipstersound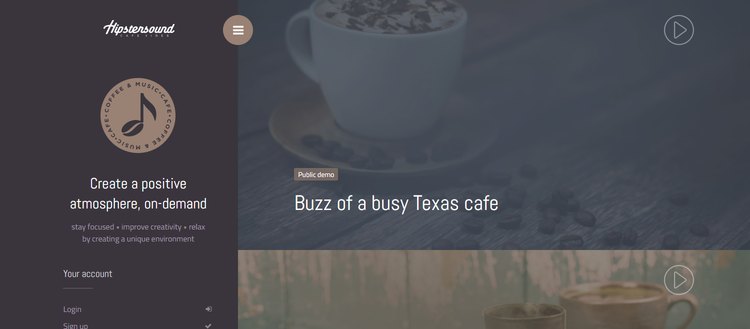 Hypersound is a great option for people who usually go to a cafe near their place of residence to do some work. This website provides a set of different options related to the cafe. For example, you can play sounds from Texas, Pars and Rio de Janeiro cafes with this tool.
Once you have selected your song, you can customize it using the SFX adjustment options on the right. For example, you can add extra voices of people talking, or add a fireplace to the music to evoke the mood of the cafe.
Of course, the free account of this website offers only three songs, and to access the other five options, you have to pay for the services related to it.
5- Brain.fm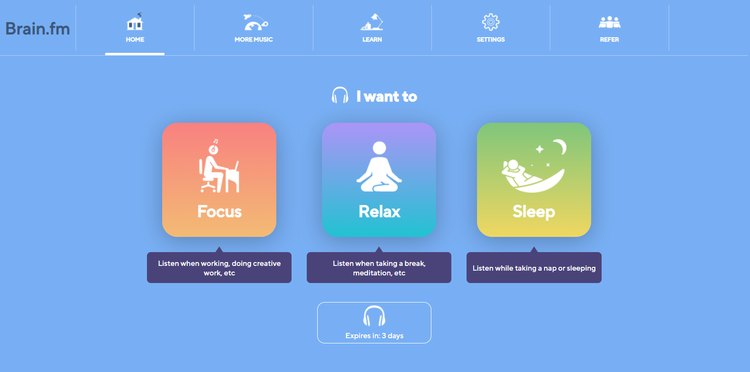 This website offers hundreds of audio makers that you can customize using adjustable bars. In addition, Brain.fm offers many settings that can be used as needed. This platform provides multiple playlists that do everything for you.
You can choose one of the Relax, Focus or Sleep options for focus, relaxation and sleep. In fact, users can play the desired sound in the background, and the playing time of each sound is about two hours.
Related article:
Of course, Brain.fm also offers other options that can be used to get the most out of the services of this website. In total, you can use 36 different options that fall into the three categories mentioned. Each of the sounds presented on this website will bring you a different experience.
Although the features of Brain.fm are very attractive, this website is not free and you have to pay to use it. Of course, the free three-day test of this website is available to users, but after the end of the trial period, you have to pay a subscription fee to use it.
6- Rainy Mood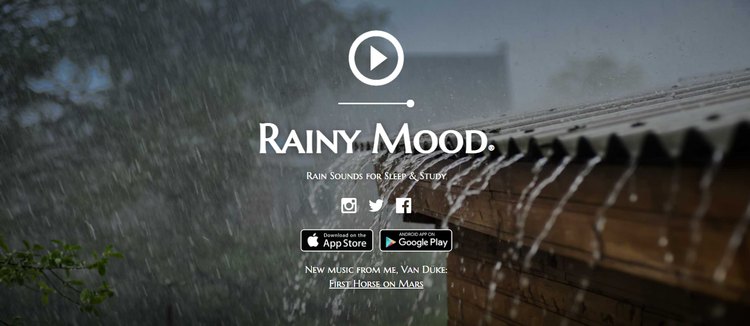 Finally, you can use the Rainy Mood website, whose free account does not offer any options for adjusting the sound. The service also does not offer any setting options or buttons or playlists. When you go to Rainy Mood, you will see just one play button, and when you press it, you will hear the soothing sound of rain.
Sometimes this sound is all you want and Rainy Mood delivers this sound in the best possible way.
Great sounds for different tastes
We hope you find the perfect combination of sounds you need with these websites. If none of these services meet your needs on your own, you can use several options at the same time.
However, if you are looking to reduce stress, increase concentration or sleep, one of these websites can definitely be useful for you. If you know of other online tools in this area, share it in the comments section with Zomit and other users.
Source link