News
Intel's CEO denied rumors: A770 graphics card will be available in retail stores
Pat GelsingerIntel's CEO drew a red line on all rumors about the end of the Arc graphics series. Gelsinger said in a tweet that the graphics card is high-end A770 from Raja Kodori, head of Intel's graphics team, and the blue team is preparing the first series of A770 graphics for retail. Responding to Pat Gelsinger's tweet, Raja Koduri wrote that four 4K monitors or two 8K monitors can be connected to the A770.
The launch of A770 in the market will be an important event for Inel. Blue Team has previously made Arc graphics available for laptops, but among desktop models only the A380 is available, which is a low-end graphics card. The A380 was first launched in the Chinese market. This graphics card has not met with positive reactions and apparently its driver is struggling with problems.
The poor performance of Arch graphics and the high cost of their production started rumors about the closure of Intel's graphics unit. Rumors have even announced that Intel will exit more markets in 2023. Raja Kuduri said last week that Intel has no plans to stop production of the Arc, and now Pat Gelsinger has denied the rumors.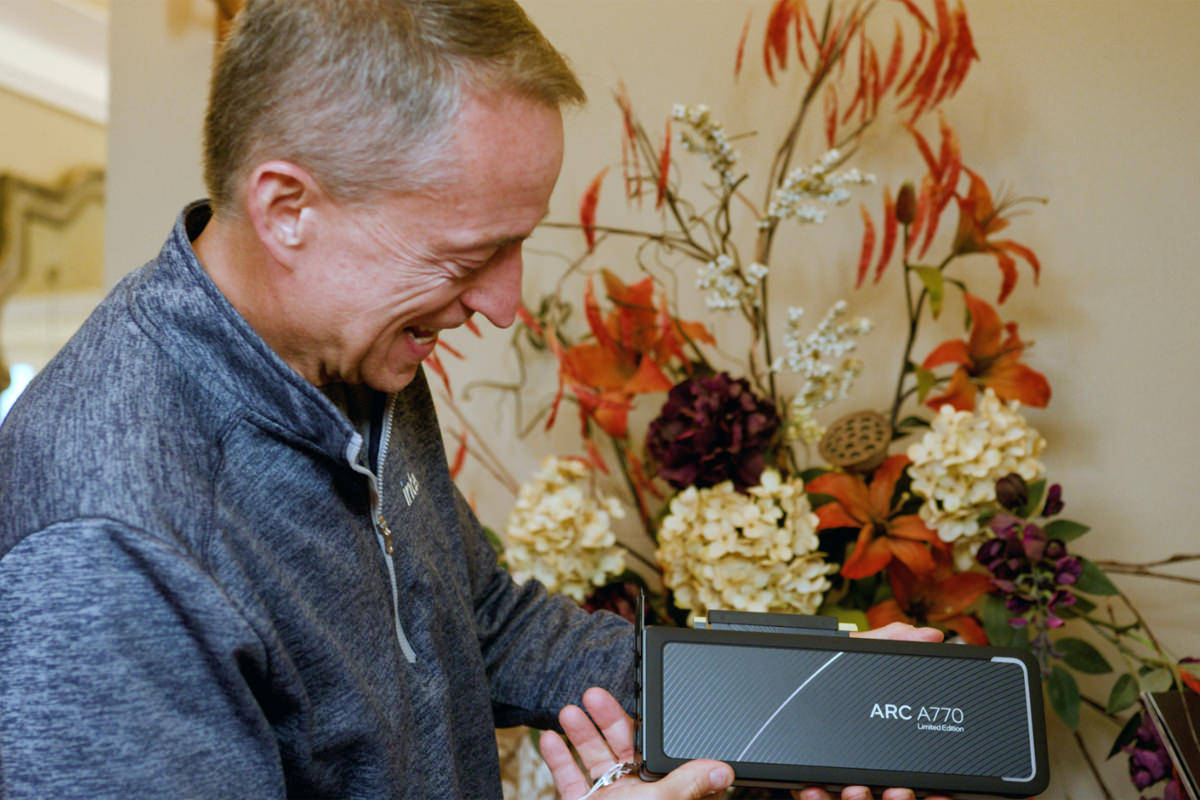 The A770 graphics card, which is considered the flagship model of the Arc series desktop graphics, uses a 6 nm ACM-G10 chip with 21.7 billion transistors and has 32 Xe cores and 4,096 stream processors with a frequency of 2,100 MHz and 8 or 16 GB of memory. GDDR6 is equipped with a bandwidth of 560 GB/s and a power of 225 watts.
It is not yet clear in which markets the high-end A770 graphics card will be released. Perhaps the A770 will initially be available only to residents of China and then find its way to the US market. China is very important for graphics card manufacturers, as it accounts for 40% of the industry's total market.
Related articles:
When Intel announced the production of discrete graphics, the graphics card market was in a critical situation; GPUs were prohibitively expensive and not available in sufficient numbers. Surveys show that the graphics card shortage is over and the market is saturated with second-hand products.
Graphics card prices have dropped significantly in recent months, making it difficult for Intel. Intel knows very well that being a new entrant in the GPU market, it has to offer its products at a reasonable price. The drop in price of Nvidia and AMD graphics makes users pay less attention to Intel graphics.
Nvidia is likely to unveil the first RTX 4000 series graphics card tonight, and next year it will introduce high-priced models.
Source link