News
Intel Unveils 12th Generation Alderlick Mobile as Powerful Laptop Processors
Expectations are finally over, and Intel has introduced a special edition laptop for 12th generation Alderlick processors. If you've been following the technology news for the past few months, you know that Alderlick with its hybrid layout (high-powered cores alongside low-power models), Intel 7 lithography (10-nanometer optimized Intel Suprofin lithography), new core architecture, and new Xe graphics unit. This is Intel's biggest leap in 10 years. The CEO of Intel had promised a glorious return of the company to its heyday with the Alderlick series. After years of researching desktop models, Intel reclaimed the most powerful gaming processor from its longtime rival (AMD) and is now claiming to be the most powerful core in the X86 world. However, due to the smaller number of cores compared to AMD, which offers 16 cores in its flagship model, the Red Team products are still a better option for heavy processing tasks.
After the introduction of Apple's M1 Pro and M1 Max processors, eyes were fixed on AMD and Intel for their response to Apple's recent dust. A few hours ago, AMD unveiled the 6000 generation laptop processors that use the Zen 3 + architecture along with support for DDR5 memory. These processors have experienced an 11% improvement in single-core processing and a 30% improvement in multi-core processing to indicate their very high power. The important thing about these processors is that they are equipped with new RDNA2 graphics cores, which are twice as good as the previous generation Vega variants.
A few minutes ago, Intel also sent its own nut to the ground to compete with laptop processors. Alderlick will be available in three types: H for powerful laptops with a power consumption of 45 watts, P for powerful laptops with a power consumption of 28 watts and U for ultrabooks with a power consumption of 15 watts.
But the interesting thing about 12th generation mobile phones (processors for laptops) is that Intel claims to have very high processing power. According to the semiconductor giant, the Core i9-12900HK, the flagship of the Alderlick series, with a 28% improvement in games and a 40% improvement in the performance of heavy software, is currently the most powerful processor in the world for laptops and can beat the Apple M1 Is.
Specifications of Alderlick H series, P series and U series processors
Alderlick Mobile processors, like their desktop counterparts, use a hybrid layout. Powerful cores with the new Golden Cove architecture (P cores) will handle heavy tasks, while low-power cores with Gracemont architecture (E cores) will handle light and background tasks.
Alderlick processors support DDR5-4800 and LPDDR5-5300 memory, which will have less maximum bandwidth than Apple's support for AMD's LPDDR5-6400 and LPDDR5-5500. Of course, do not forget that these processors also support DDR4, and we will probably see the use of these memories alongside Alderlick on low-cost devices. Intel also supports the new generation of PCIe 5.0 in these processors; Of course, as you probably know, PCIe 4.0 compatible products have just hit the market, and we'll probably have to wait a year or two for compatible memory with this cutting-edge technology.
The new H series of Intel processors, as in the past, means high processing power along with high power consumption. These processors, which will be marketed in three models: Core i9, Core i7 and Core i5, will have a power consumption of 45 watts, which, of course, at the discretion of the laptop manufacturer and the built-in cooling system, can consume up to 115 watts for Shorter time intervals and as a result, more processing power will be provided. In this series, providing high processing power is a design priority, and the products supplied with it may not have a long battery life.
As the new flagship of Intel processors, the Core i9-12900HK is equipped with 6 P-cores with high-tech technology, and 8 low-power E cores (without hypertrodes) accompany it to see a total layout of 14 cores and 20 processors. The new and powerful Iris Xe graphics processing unit with 96 processing units is also present in this processor. The i7 and i5 have the same graphics unit but with fewer processing units and operating frequencies.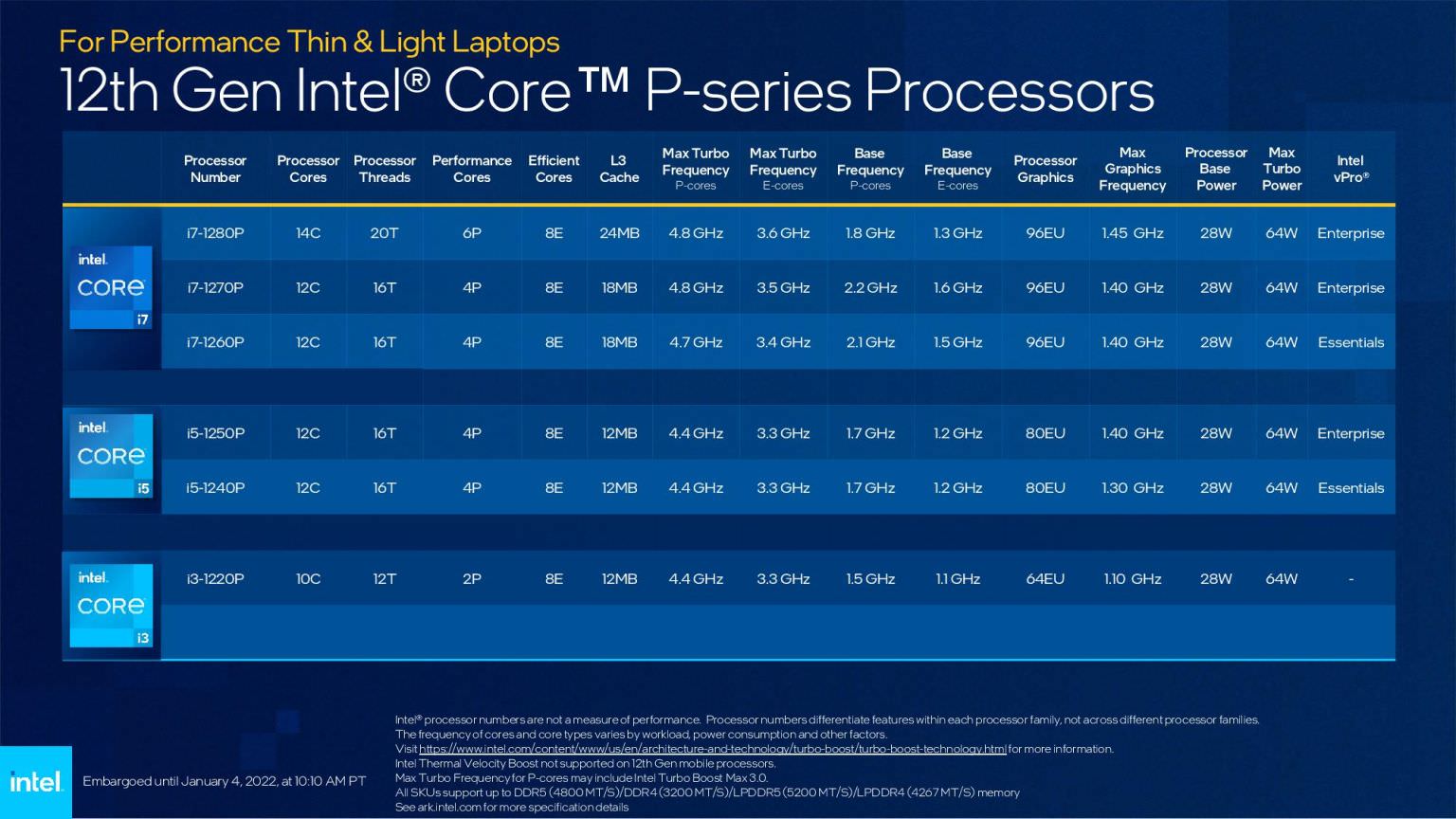 28-watt P-Series processors are a great option for laptops that require high processing power while having good battery life and not too much weight. AMD has already tried to take over this market by offering 35 watt S series processors. The Alderlick P will lack the i9 code and will be available in three series: i7, i5 and i3. They will have a maximum of 6 powerful P cores and 8 E cores in the i7 model, which has the same layout as the Core i9-12900HK but has a lower operating frequency.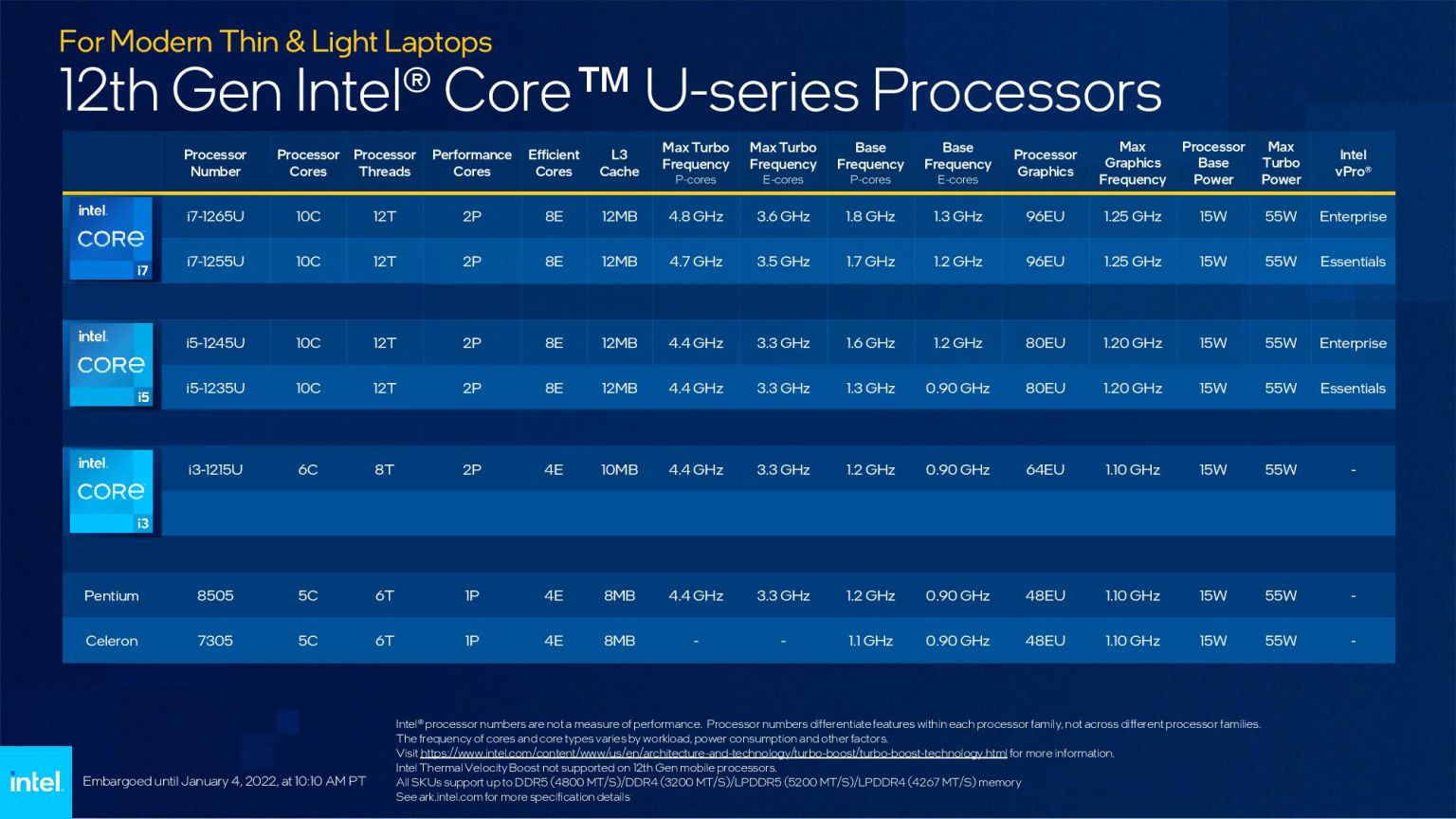 Finally, the Alderlick U will be available in two versions with 9 and 15 watt TDPs and is designed for ultrabooks or slim laptops with high battery life and low weight. These processors use only 2 powerful cores, which are accompanied by 8 low-power cores (4 cores in the i3 model). The Celeron and Pentium series also come with a powerful core and four low-power cores.
Power of Alderlick mobile processors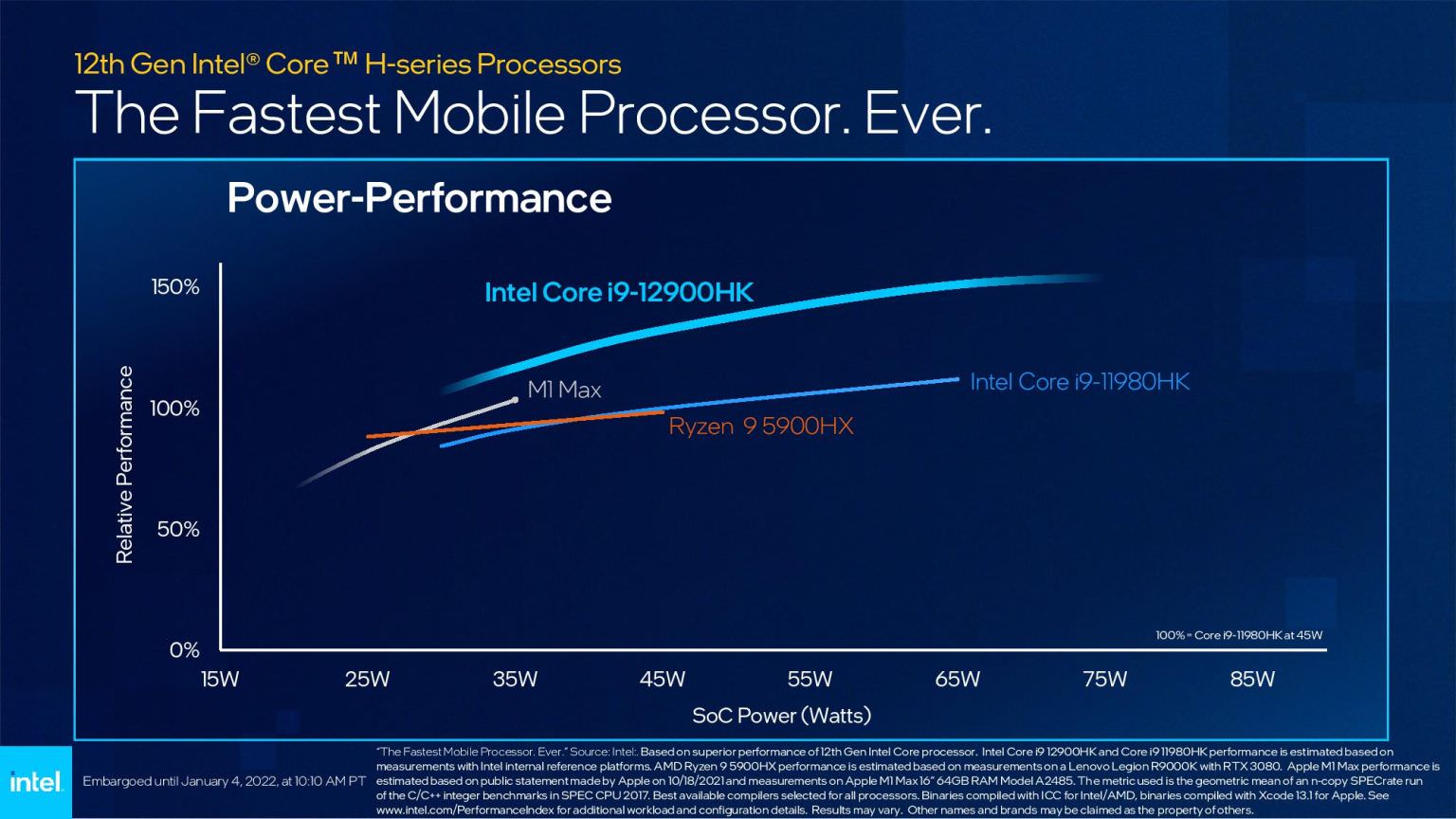 As usual, Intel also released the results of its product benchmarks. An interesting point in this regard is the power consumption chart of the Core i9-12900HK, which indicates higher processing power compared to Apple M1 Max and AMD Advisor 9 5900HX in all TDP range. Intel has used the best memory and compiler for each processor for this comparison. Of course, do not forget that as always, you should look at Intel benchmarks with a little hesitation.
Intel has also released a graph of the performance results of the Core i9-12900HK in gaming performance compared to the Advisor 9 5900HX, which gives an average of 28% better performance. Intel also claims to have defeated its well-known competitors (Apple and AMD) in the implementation of heavy content production software.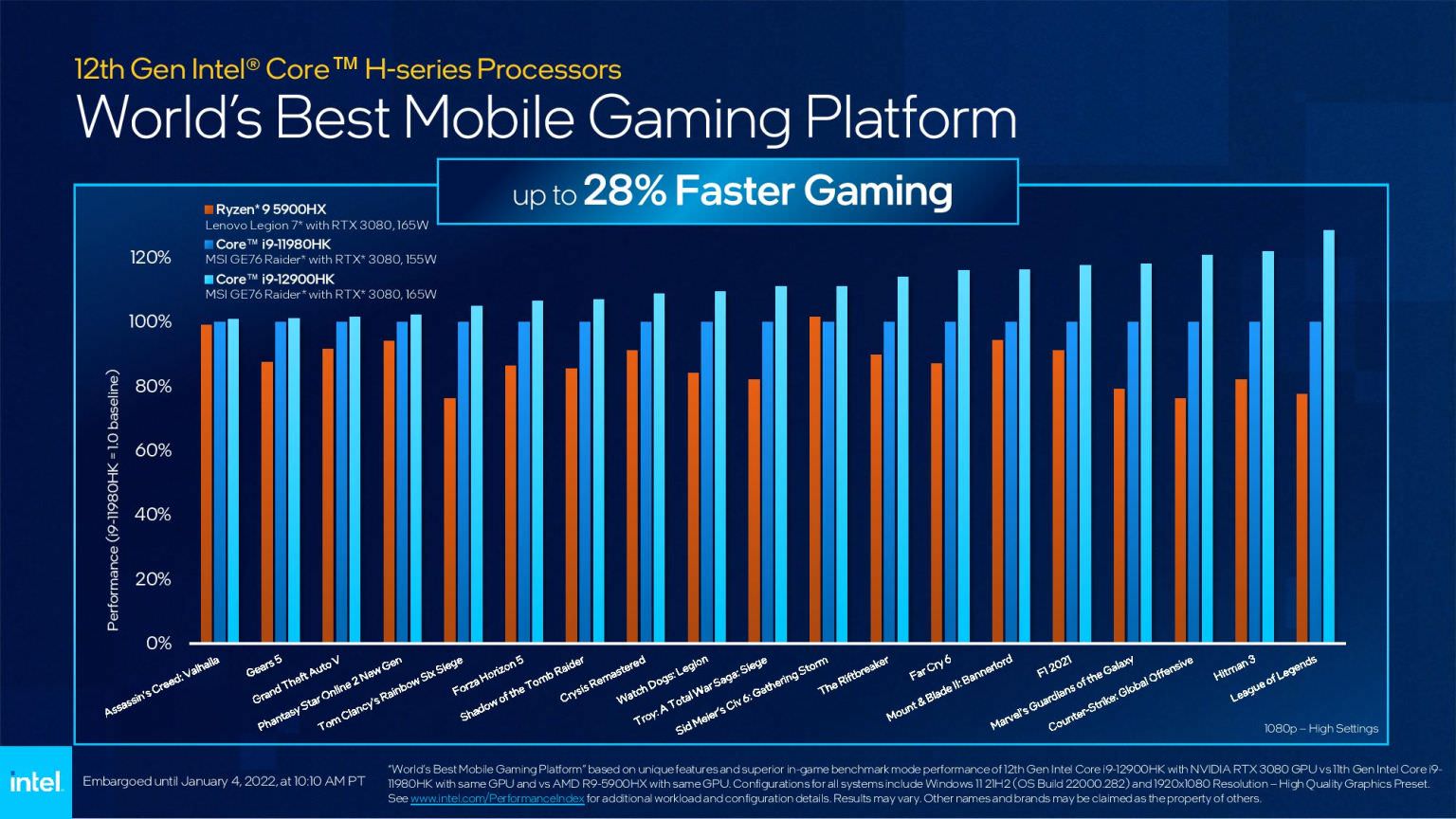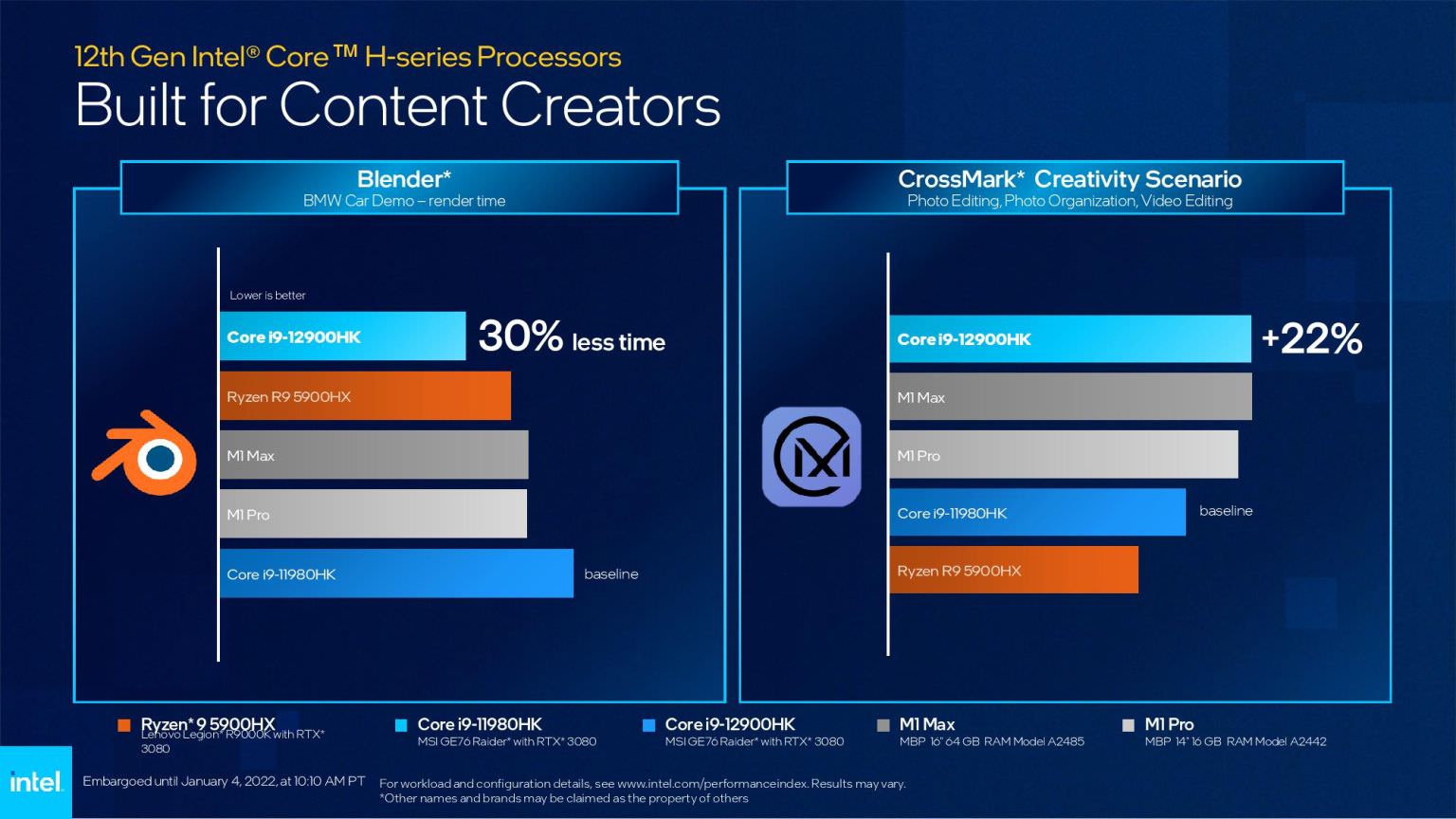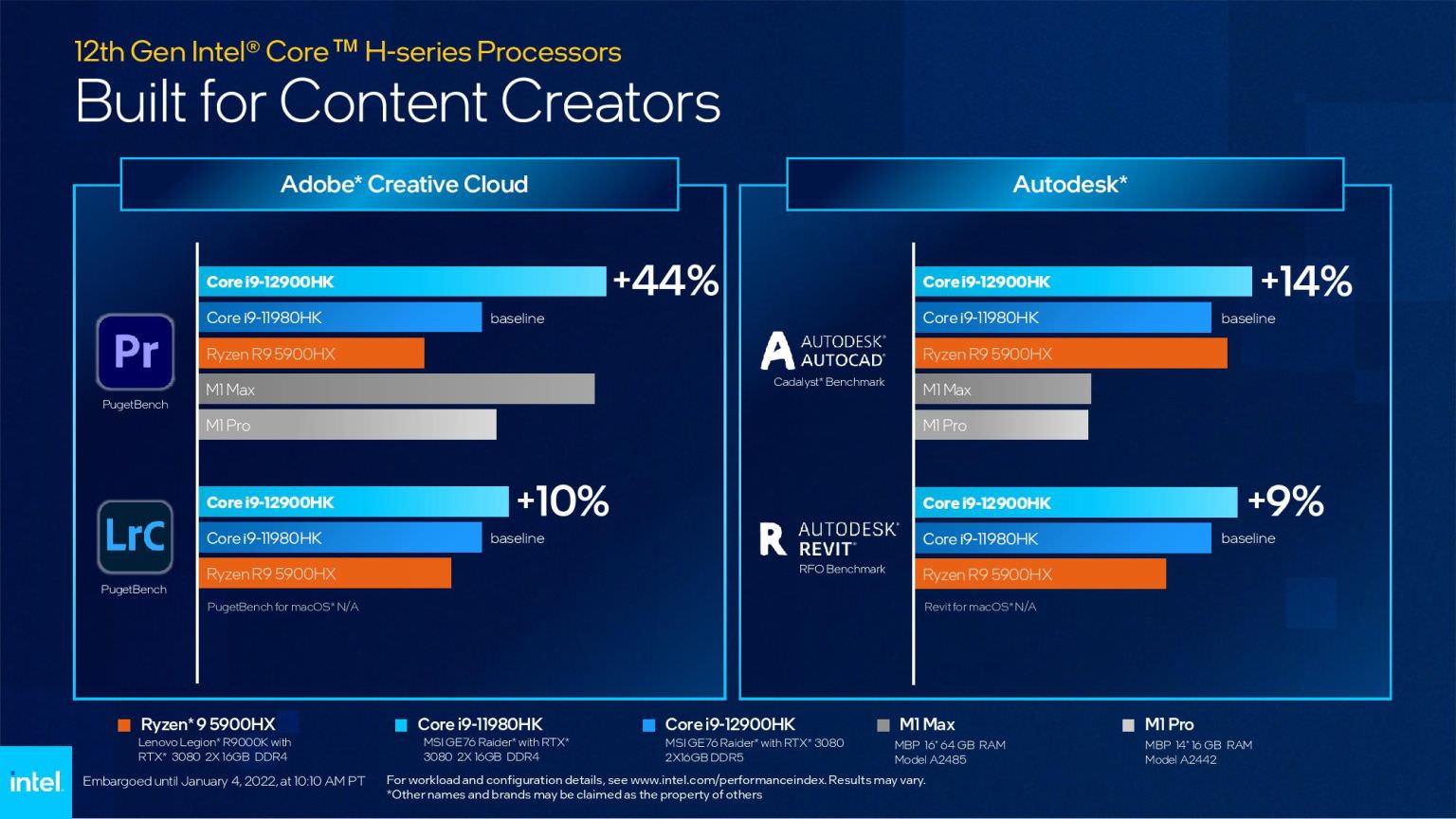 With the introduction of the new generation of Intel and AMD processors along with the power of the M1 Pro and M1 Max, the competition in the world of laptops has reached its highest level. Now we have to wait until Alderlik and Raizen 6000 are introduced to the market to see the result of the competition of the greats in this field.
Source link