News
Intel Core i3-12100 processor test results; Faster than the Ryzen 3 3300X
So far, Intel has only unlocked the K version Twelfth generation processors Alder Lake-S For the desktop platform and other models are expected to be launched in the first quarter of 2022. According to information leaked from unofficial sources, the Alderlik Series desktop processors include more than 30 different models for the socket. LGA1700 They are designed.
However, users looking for newer models and lower-end Intel processors are probably the most anticipated. Intel Core i3-12100 Be the cheapest and therefore the weakest member of the Core family of the series Alder Lake-S is considered.
Intel Core i3-12100 processor It's a quad-core that lacks the hybrid structure of Intel's next-generation processors; As a result, in this processor, only one core type Golden Cove or "performance" is used. According to the XFastest website, the sample, which was obtained by the experts of this site, records a maximum boost speed of 3.4 GHz, which is the single boost frequency of this CPU.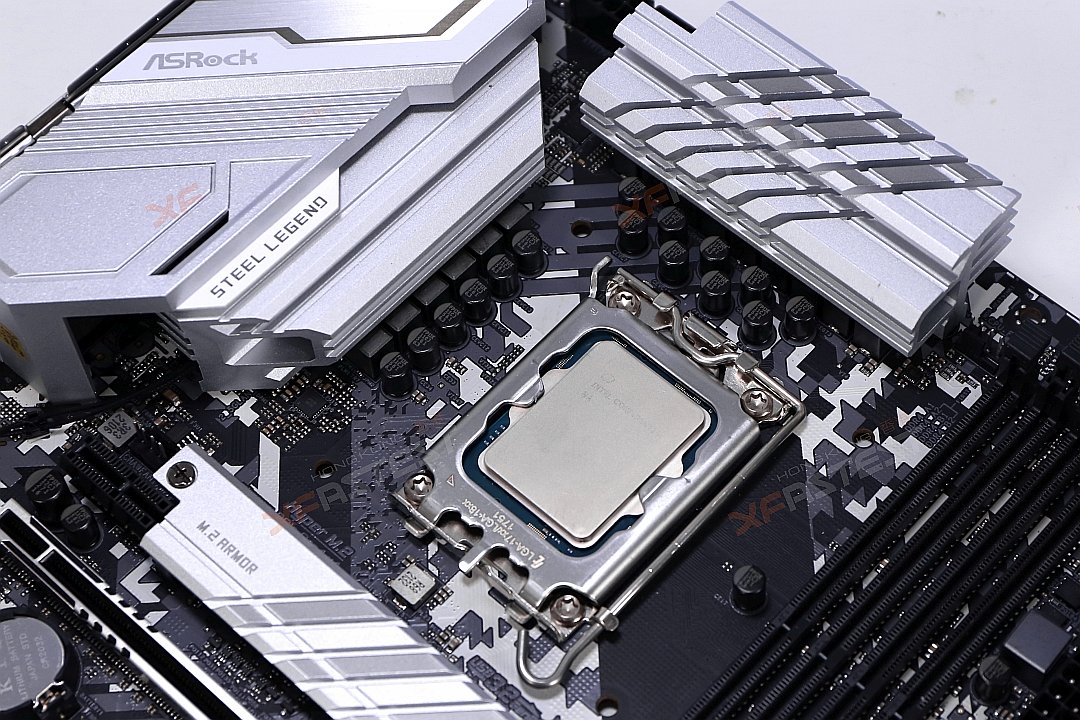 In the meantime, the interesting thing is that this CPU In terms of power limit difference PL1 and PL2 operate differently than previously thought. Intel has changed the PL1 and PL2 level naming to Processor Base Power and Maximum Turbo Power since the introduction of the Alder Lake processors. Now the i3-12100 processor for these two modes has proven to consume 60 and 77 watts of power, respectively.
This CPU On the motherboard ASRock Z690 Steel Legend with 16GB of DDR4-3600 RAM and an RTX 3060 Ti graphics card tested for comparison with AMD Ryzen 3 3100 and Ryzen 3 3300X quad-core chips On the motherboard ASRock X470 Taichi and the same amount of RAM and GPU are used.
Overall, the new Intel processor is more powerful in terms of performance than AMD's Ryzen 3 chip. Shows itself. In addition, the power consumption and heat output of this CPU is also smaller than AMD processor. Next, you can see the chart and scoreboard of these three processors in the PCMark test look: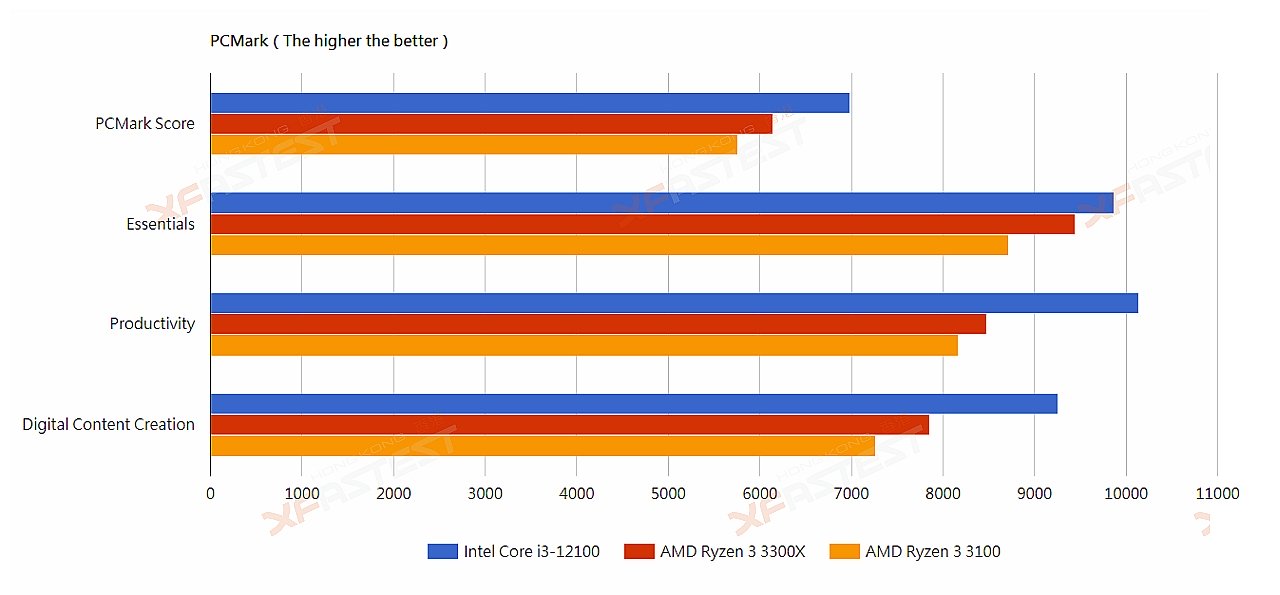 Processor

Intel Core i3-12100

AMD Ryzen 3 3300X

AMD Ryzen 3 3100

Score

PCMark Score

6,988

6,140

5,755

Essentials

9,874

9,442

8,713

Productivity

10,136

8,476

8,171

Digital Content Creation

9,254

7,851

7,266
The following are the results of the Intel processor performance against the AMD Ryzen 3 3300X and AMD Ryzen 3 3100 in the Cinebench R23 benchmark test: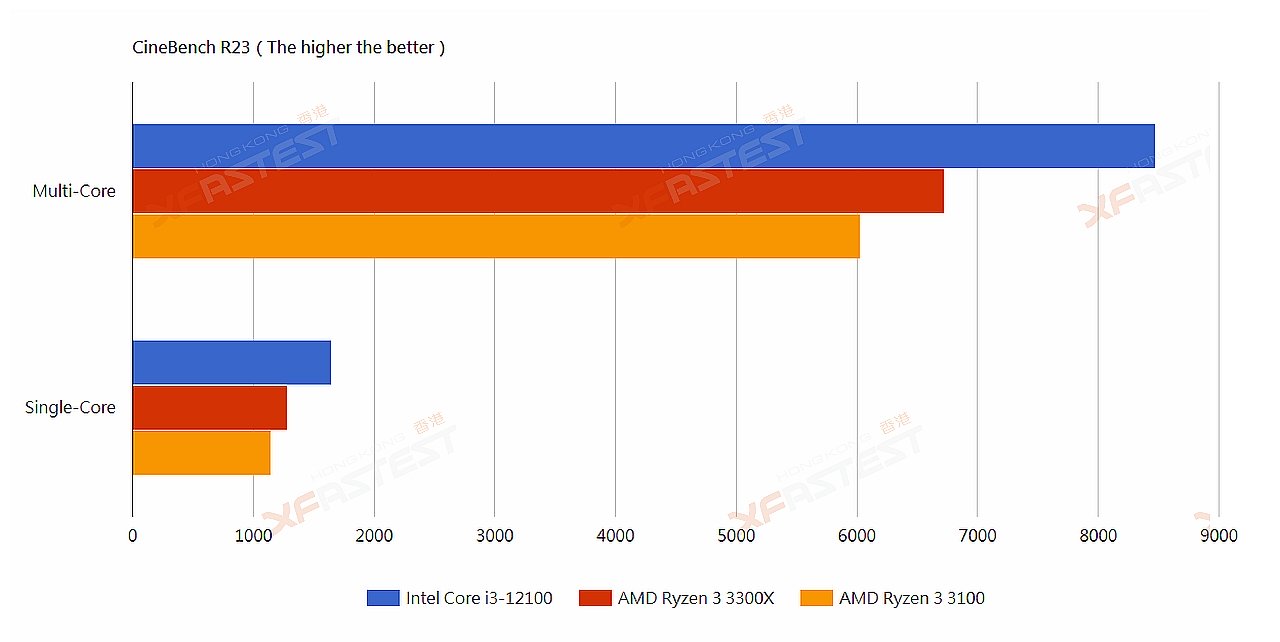 | | | | |
| --- | --- | --- | --- |
| Processor | Intel Core i3-12100 | AMD Ryzen 3 3300X | AMD Ryzen 3 3100 |
| Multi-Core | 8,474 | 6,723 | 6,031 |
| Single-Core | 1,649 | 1,280 | 1,145 |
Finally, you can see the charts and tables of scores of these three CPUs in PugetBench for Premiere Pro and Counter-Strike Global Offensive And heat and power consumption testing AIDA64 See: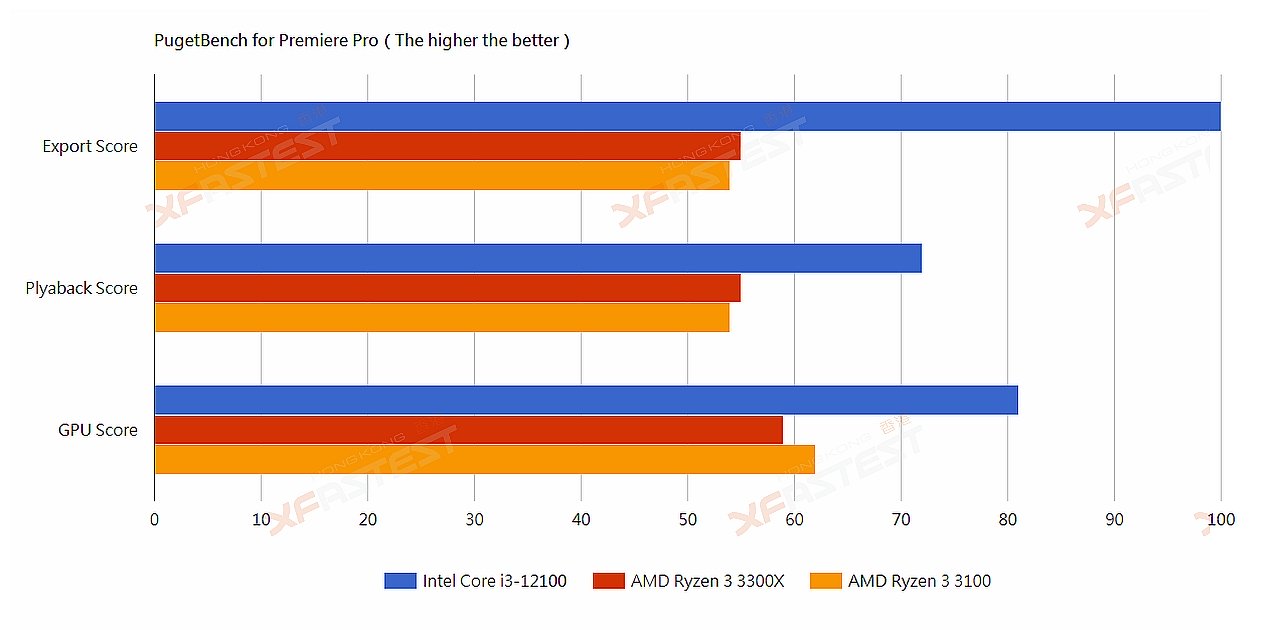 Processor

Intel Core i3-12100

AMD Ryzen 3 3300X

AMD Ryzen 3 3100

Score

Export

100

55

54

Plyaback points

72
55
54

GPU rating

81
59
62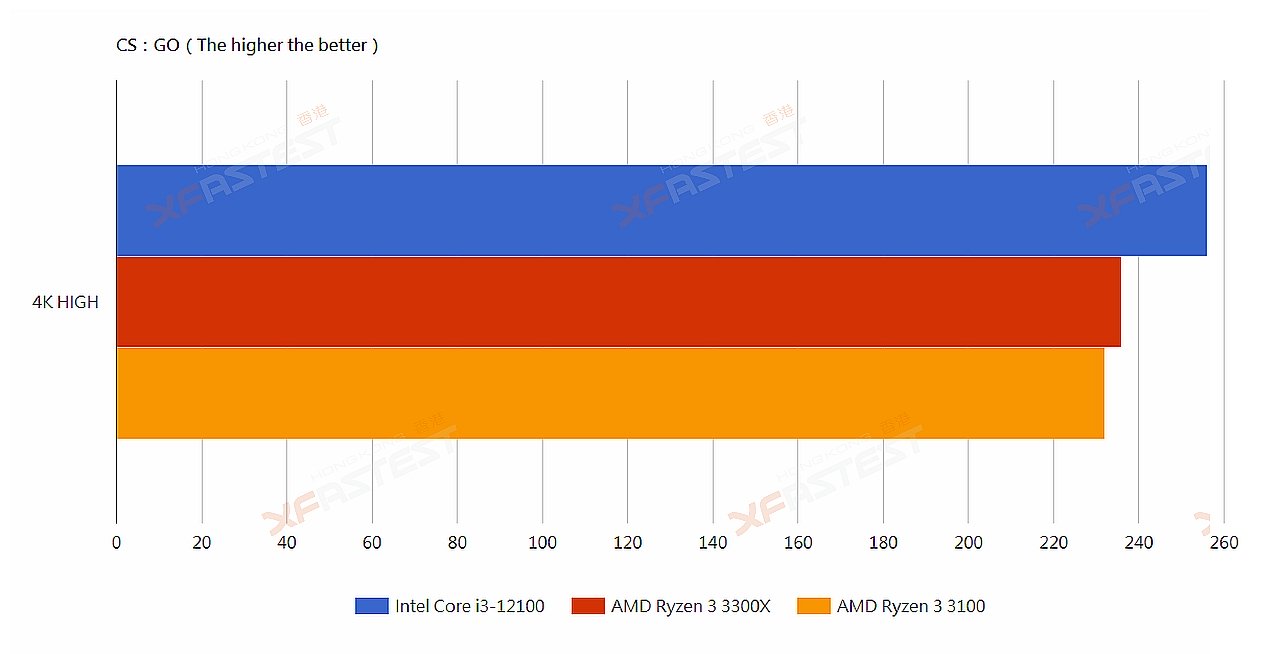 | | | | |
| --- | --- | --- | --- |
| Processor | Intel Core i3-12100 | AMD Ryzen 3 3300X | AMD Ryzen 3 3100 |
| 4K HIGH | 256 | 236 | 232 |
In this post, only a few of the benchmark test results received from this CPU are mentioned; But you can see the full list of these tests on the Xfastest website. Also, it should be noted that the price details of this CPU are not yet known; But the approved price is expected to be less than $ 130.
Finally, here is a complete list of Alder Lake-S twelfth generation processors:
Intel Twelfth Generation Processors; Alder Lake-S
Processor
Structure of cores / strings
Core frequency

E

Core frequency

P

Cache (MB)
Integrated graphics (

iGPU

)

MTP / PBP

Price ($)

i9-12900K

8P + 8E / 24T
2.4 / 3.9
3.2 / 5.2
14 + 30
UHD770
125/241
589

i9-12900KF

8P + 8E / 24T
2.4 / 3.9
3.2 / 5.2
14 + 30
–
125/241
564

i9-12900

8P + 8E / 24T
1.8 / TBC
2.4 / 5.1
14 + 30
UHD770
65 / TBC
TBC

i9-12900F

8P + 8E / 24T
1.8 / TBC
2.4 / 5.2
14 + 30
–
65 / TBC
TBC

i9-12900T

8P + 8E / 24T
TBC
TBC / 4.9
14 + 30
UHD770
35 / TBC
TBC

i7-12700K

8P + 4E / 20T
2.7 / 3.8
3.6 / 5.0
12 + 25
UHD770
125/190
409

i7-12700KF

8P + 4E / 20T
2.7 / 3.8
3.6 / 5.0
12 + 25
–
125/190
384

i7-12700

8P + 4E / 20T
1.6 / TBC
3.6 / 5.0
12 + 25
UHD770
65 / TBC
TBC

i7-12700F

8P + 4E / 20T
1.6 / TBC
2.1 / 4.9
12 + 25
–
65 / TBC
TBC

i7-12700T

8P + 4E / 20T
TBC
TBC / 4.7
12 + 25
UHD770
35 / TB
TBC

i5-12600K

6P + 4E / 16T
2.8 / 3.6
3.7 / 4.9
9.5 + 20
UHD770
125/150
289

i5-12600KF

6P + 4E / 16T
2.8 / 3.6
3.7 / 4.9
9.5 + 20
–
125/150
264

i5-12600

6P + 0E / 12T
–
3.3 / 4.8
7.5 + 18
UHD770
65 / TBC
TBC

i5-12600T

6P + 0E / 12T
–
TBC
7.5 + 18
UHD770
35 / TBC
TBC

i5-12500

6P + 0E / 12T
–
3.0 / 4.6
7.5 + 18
UHD730
65 / TBC
TBC

i5-12500T

6P + 0E / 12T
–
TBC / 4.4
7.5 + 18
UHD730
35 / TBC
TBC

i5-12400

6P + 0E / 12T
–
2.5 / 4.4
7.5 + 18
UHD730
65 / TBC
TBC

i5-12400F

6P + 0E / 12T
–
2.5 / 4.4
7.5 + 18
–
65 / TBC
TBC

i5-12400T

6P + 0E / 12T
–
TBC / 4.2
7.5 + 18
UHD730
35 / TBC
TBC

i3-12300

4P + 0E / 8T
–
TBC / 4.4
5 + TBC
UHD730
65 / TBC
TBC

i3-12300T

4P + 0E / 8T
–
TBC / 4.2
5 + TBC
UHD730
35 / TBC
TBC

i3-12100

4P + 0E / 8T
–
3.3 / 4.3
5 + 12
UHD730
60/77
TBC

i3-12100T

4P + 0E / 8T
–
TBC / 4.1
5 + TBC
UHD730
35 / TBC
TBC

Pentium G7400

–
–
–
–
–
–
–
Source link