News
In new benchmarks, AMD showed the generational improvement of the RX 7900 XTX graphics
AMD did not publish any documented benchmarks of this graphics card when it unveiled the Radeon RX 7900 XTX. AMD's benchmarks focused on unusual resolutions and were based on eSports games, which often don't put too much pressure on the graphics. Also, AMD made its benchmarks available with FSR turned on.
written by Digital Trends, the red team has finally released more benchmarks of its flagship graphics so that we can get to know its performance in different scenarios. Unfortunately, none of the new benchmarks include direct comparisons with Nvidia graphics.
AMD performance benchmarks RX 7900 XTX and RX 7900 XT are shown in four popular games Resident Evil Village, Call of Duty Modern Warfare 2, Cyberpunk 2077 and Watch Dogs: Legion. According to official AMD benchmarks, graphics RX 7900 XTX can appear as a competitor for RTX 4090 in some games; But the RX 7900 XT model has a relatively big difference with the best in the market.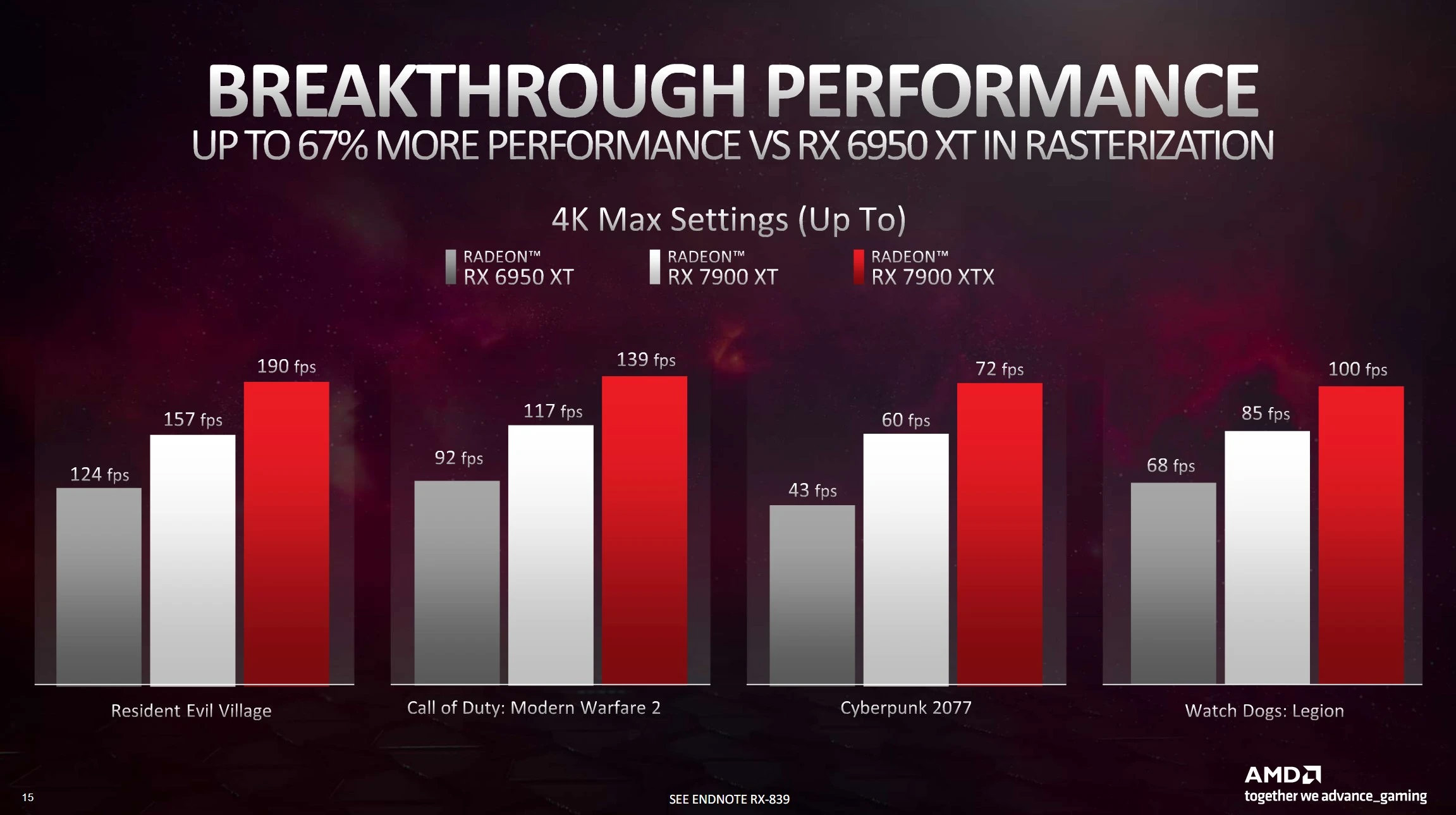 Comparing the official RX 7900 XTX benchmarks with the RTX 4090 benchmarks, we notice that the red team's flagship is about 10-15% weaker than the green team's flagship. In the Cyberpunk 2077 game, the RTX 4090 graphics achieves a frame rate of 78fps; But AMD says the RX 7900 XTX's maximum frame rate is 72fps, about 8% lower. The 8% difference between the two graphics may be important at first glance; But don't forget that the RX 7900 XTX is nearly $600 cheaper than the RTX 4090.
According to the official benchmark, graphics The RX 7900 XTX performs about 70% better than the RX 6950 XT (the flagship of the previous generation) in Cyberpunk 2077, which is a significant improvement. Meanwhile, the RX 7900 XT's graphics, which are $100 cheaper than the XTX, perform about 17% worse; But it still looks much better than the flagship of the previous generation.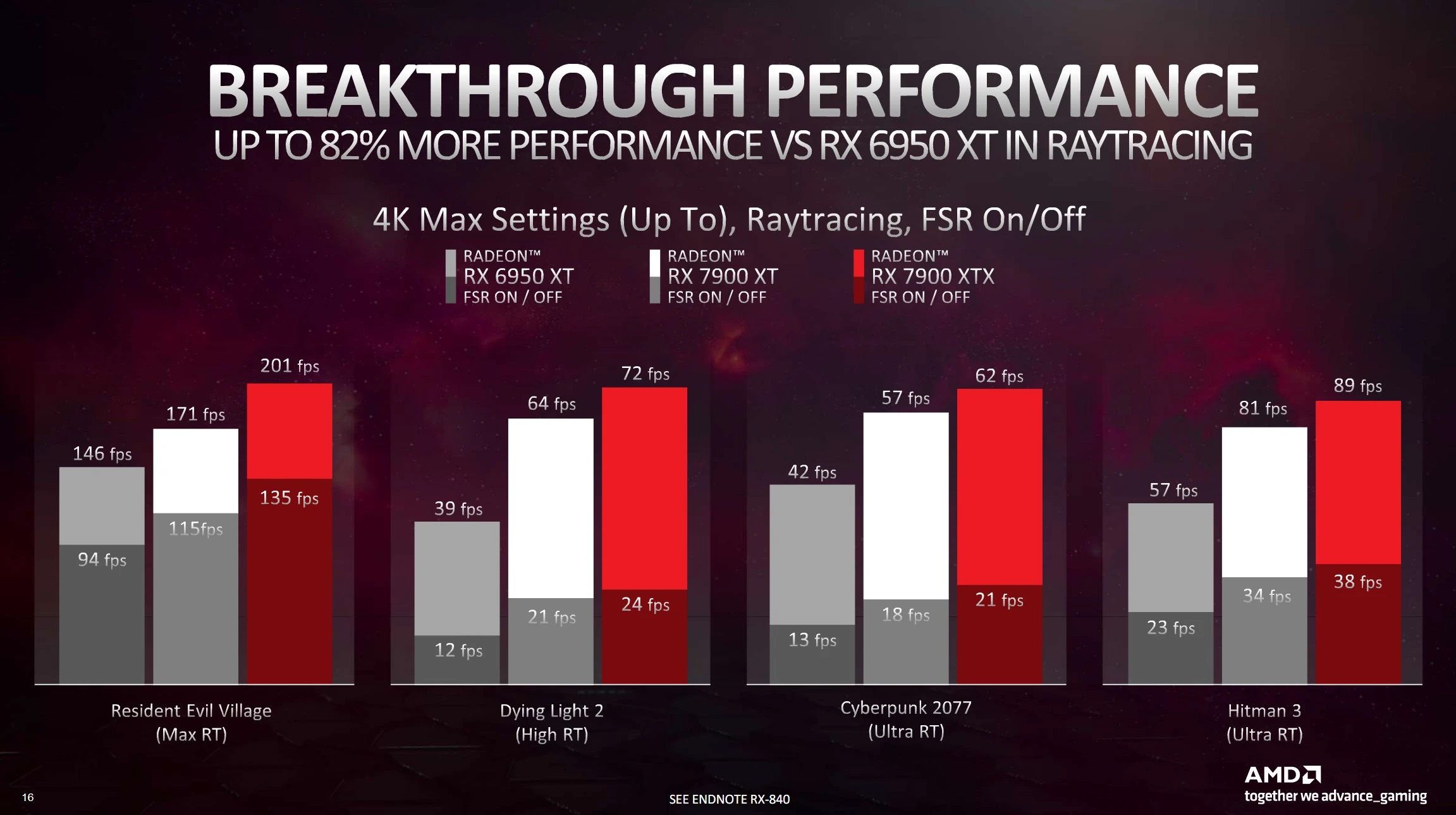 As you might expect, Nvidia's flagship graphics are better than AMD's most powerful graphics in ray tracing. AMD's previous generation graphics did not perform well in ray tracing processes. AMD has been able to improve the performance in this sector in the new generation; But still, the difference between Radeon series graphics and GeForce series graphics is huge.
Related articles:
The RX 7900 XTX graphics achieved an average frame rate of 21fps in Cyberpunk 2077 with Ultra RT settings and no FSR enabled. The RTX 4090 offers a frame rate of 43fps at the same settings. According to AMD's data, the RX 7900 XTX graphics card can compete with the RTX 3090 Ti in terms of ray tracing. To comment on the performance of AMD's new graphics, it is better to wait for their official release and official review. AMD Radeon RX 7900 XTX graphics with a price of $999 and AMD Radeon RX 7900 XT graphics with a price of $899 will be released on December 13, 2022.
Source link