News
How to transfer files between Linux, Android and iOS using Snapdrop
File sharing between different platforms has never been easier. Although there are services like AirDrop, Nearby Share and Quick Share, they only work in their own ecosystem.
If you want to transfer files from Linux to Android / iOS device or vice versa, you need a cross-platform (multi-platform) file sharing service. Snapdrop is currently the most effective file sharing service in this area.
In the following, we will talk about the details of Snapdrop and how to use it to transfer files between Linux, Android and iOS devices.
What is Snapdrop?
Before you start transferring files directly using Snapdrop, you should know a little more about this service.
Snapdrop is essentially a web-based service similar to Apple's AirDrop that uses a P2P (peer-to-peer) connection to facilitate file transfers between devices. So you can use Snapdrop with almost any device, regardless of the operating system it runs. The best advantage of Snapdrop is that you do not need to register to use it.
If we want to point out the aspects of privacy and security, Snapdrop uses WebRTC, which enforces encryption; Therefore, all files are encrypted during the transfer. In addition, the service claims that because it does not use the database, user files are never saved.
Because it is an open source service, its source code is available on GitHub. If you are concerned about the security implications of Snapdrop or want to know more about its performance, you can review its code.
File transfer between Linux, Android and iOS using Snapdrop
All Snapdrop needs is a WebRTC-based browser. Since almost all web browsers like Chrome, Brio, Edge, Firefox, etc. use WebRTC today, you can choose one of these browsers.
In this tutorial, we will use Google Chrome browser to show the file transfer process between Linux, Android and iOS devices. You can safely use your browser.
Attention: The two browsers you want to transfer files on do not have to be the same.
Click the device to which you want to send the files.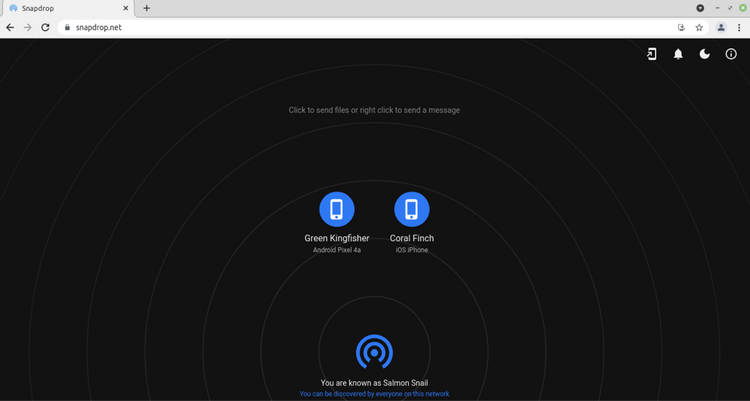 Snapdrop opens File Explorer on your computer. Here you can select your files by going to the folder where they are located.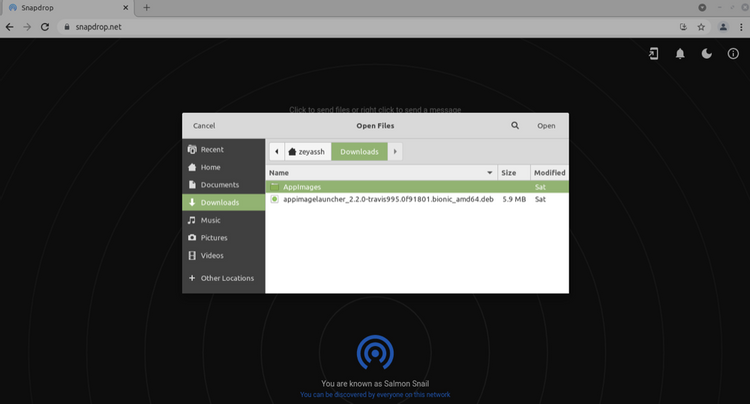 Select the files you want to share and press the button OK Or Open Tap.
On the other hand, to speed up the process, you can open the file manager and the browser together and drag and drop the files directly onto the receiving device.
Next, on your receiving device (Android / iOS), when the download window is displayed, click the button Save Tap to save the downloaded files. To reject the request click on the option Ignore Tap.
Check the box if you want to get rid of the hassle of manually saving files Ask to save each file before downloading Remove to save all files automatically. This will allow Snapdrop to automatically download and save the downloaded files to you.
All your downloaded files are stored in your file system and you can access them using the Files app on your iPhone or your favorite file manager on Android.
Transfer files from Android / Iowa to Linux
Just like transferring files from Linux to Android / IOS, transferring them from Android / IOS to Linux is easy. To do this you need to make sure that both devices are on the same network. Next, open your favorite web browser on your Android / IOS device and Linux computer and go to the Snapdrop website.
When you are on Snapdrop on both of these devices, they should be visible to each other. Follow the steps below to send files to your Linux computer via Snapdrop, depending on your smartphone.
Android
Click on the Linux machine name in Snapdrop.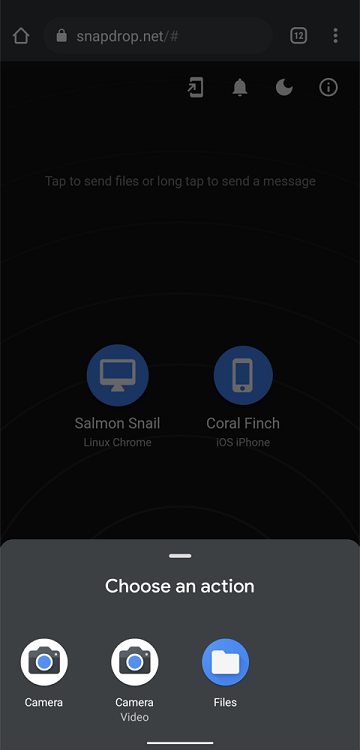 Select your default Files. Select the files you want to share, then tap Select Or OK Tap.
Iphone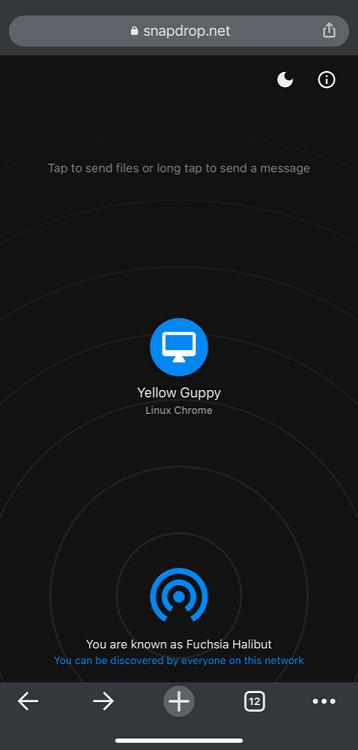 Tap the Linux machine name in Snapdrop.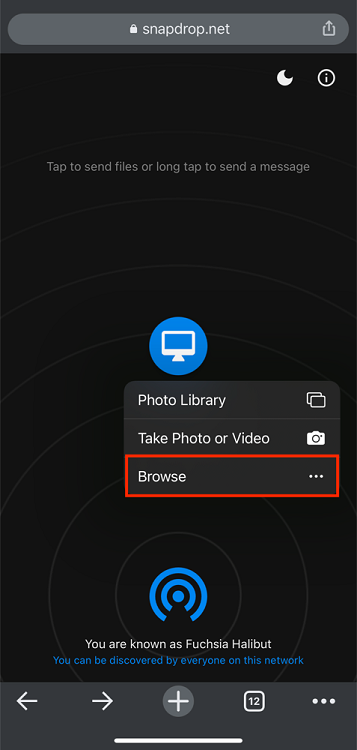 Browse Select to open the Files application.
Related article:
Now go to the folder from which you want to share the files and select the files you want to share. Then on Open Tap. Or to share photos, Photo Library Select from the menu and select the photos you want to share.
Go to your Linux device now. You will see a pop-up window asking if you want to save the downloaded files. Roy Save Click to download them to your device. Also to cancel the transfer on Ignore Tap.
As mentioned before, you can also check the option here Ask to save every file before downloading Remove the downloaded files automatically on your computer.
Other Snapdrop features
Although Snapdrop is simple in appearance and function; But there are a few additional options to increase usability and improve the user experience.
The following is a list of these options and settings that you can change:
This feature allows you to send a message to another device in Snapdrop. This feature can be useful when multiple users on your network have access to Snapdrop; Especially if you want to identify the person before sharing the files with them.
To send a message to another Snapdrop user on Linux, right-click on that person's name, enter your message in the message window, and SEND Press.
To send a message from an Android or iPhone device, tap and hold the device to which you want to send your message. Send a Message see that. Enter your text in this window and press the button SEND Tap.
Snapdrop lets you enable in-app notifications, so you can receive notifications whenever someone sends you a message or shares a file.
If you prefer dark user interfaces, you can tap the moon icon in the upper-right corner of the screen to switch between light and dark.
Save Snapdrop as an application
Snapdrop also lets you save your website like an app on your smartphone home screen so you can easily access it with just one tap.
To do this on your Android device, open the website, tap the phone icon in the upper right corner of the screen, and tap Install click. If you're using an iPhone, go to the website, touch the share button and select Add to Home Screen Choose.
We hope you find this tutorial useful. You can share your experiences and questions about transferring files between Linux, Android and iOS with Snapdrop with us and Zomit users.
Source link