News
High speed internet adsl2 + telecom based
ADSL2 + Internet It has always been one of the options for Iranian internet users who have been able to create better conditions Provide for them.
To have an ADSL2 + connection on site, subscribers connect to the world of cyberspace by purchasing a modem with a telephone line check for adsl2 +, without the need to connect to bulky and complex devices.
Benefits of Internet ADSL2 +
Affordable adsl2 + internet tariff compared to other services
Do not occupy the telephone line when using the Internet
High speed data exchange and stable internet connection
Twice the bandwidth compared to ADSL internet
Internet access around the clock, without the need for dialing and without the cost of telephone pulse
Which operator is the best service ADSL2 +

Offers?
The number of operators offering adsl2 + Internet has increased so much that users are confused when buying this service and some users after receiving a lot of search have received this service at a high price and low quality.
But we are standing in this position to introduce Mnatelcom company to you, the users of this field, by providing real services. Get ADSL2 + high speed internet With High speed and volume, as well as cheaper tariffs than other operators, with nationwide coverage and 24-hour user support, have set the company apart from other ISPs.
In this regard, you can click on Internet tariffs + ADSL2 Find out the fastest and most cost-effective internet among providers.
Basic tariffs
Festivals
Special occasions (16th birthday based on Mubarak Telecom)
Basic tariffs from 512KB / S to 16MB / S are offered in one-month to one-year packages and now ADSL2 + Autumn Festival Only until the end of December with exciting discounts on the site of Mobnatelcom is established.
Buy Autumn Festival ADSL2+ Based on telecoms
You can in Autumn Festival Based on Telecom Get six-month services with a speed of 16mb / s and international traffic of 5000 GB for only four hundred and fifty thousand tomans. Is calculated.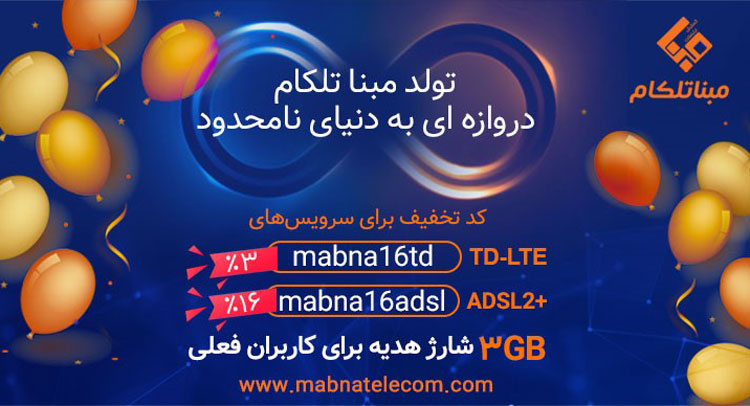 The birth of telecom-based gateway to the infinite world
On the occasion of Mobnatelcom's 16th birthday, ADSL2 + services will be offered with a 16% discount and TD-LTE service with a 3% discount. Will receive.
You too can be one of the consumers of this exceptional opportunity with amazing tariffs.
The basis of Internet telecom that does not end!
Source link