News
GIGABYTE will attend CES 2022 with more than 30 products
Related articles:
GIGABYTE is one of the top PC companies at CES 2022 this year, and according to Digitaltrends and leaked information, more than 30 GIGABYTE products are likely to be unveiled at this international show, due to the wide range of products and the variety of GIGABYTE products. It was predictable for tech news followers.
Last year, new technologies were introduced, such as Intel desktop 12th generation processors and Nvidia Ti series GPUs, which could be a new challenge for GIGABYTE to compete with other OEMs, adding to the appeal and importance of their products; Whether in the upper echelons for overclockers and professional users, or in the economic categories where users are attracted to cheaper goods at more reasonable prices.
According to recent reports, GIGABYTE plans to launch five new gaming laptops and 29 new motherboards in various dimensions from ATX until the Micro ATX At CES 2022 Introduce all of them from 12th generation Intel processors called Alder Lake They support.
GIGABYTE laptops at CES 2022
Videocardz was the first source to publish information about five GIGABYTE gaming laptops, such as those equipped with Intel's 12th generation processor and Nvidia's RTX 30 Ti series GPUs, which included images of the Gigabyte Aorus 17-E and Gigabyte Aorus 17; But no image has been leaked of the two 17Ps with the mechanical keyboard and the 17X flagship with the Max-P GPU.
According to rumors, it is possible that the Aorus 17 2022 series will come with DDR4 and DDR5 RAMs with different specifications in two modes with Core i7 12700H processor, DDR4 RAM and 3080Ti GPU, and more expensive model with Core i9 12900H processor, DDR5 RAM and 305Ti GPU (305Ti GPU). Up to 130 watts of total graphics) will be introduced at CES 2022.
Series laptops Aorus It uses flagship quality displays and uses high-end technologies such as IPS Mini-LED panel, 4K resolution, 120Hz refresh rate and brightness beyond 1000 nits; But secret laptops Aero GIGABYTE has cheaper displays and is introduced to Samsung's AMOLED panel with 4K resolution and 500 nits brightness in 15 to 16-inch dimensions (similar size to 15 inches, but with narrower margins). Like the Aorus series, the Aero will use flagship hardware such as the Core i9 12900H and 3080Ti and 3070Ti GPUs (both of which are limited to 105 watts of total GPU).
GIGABYTE motherboards at CES 2022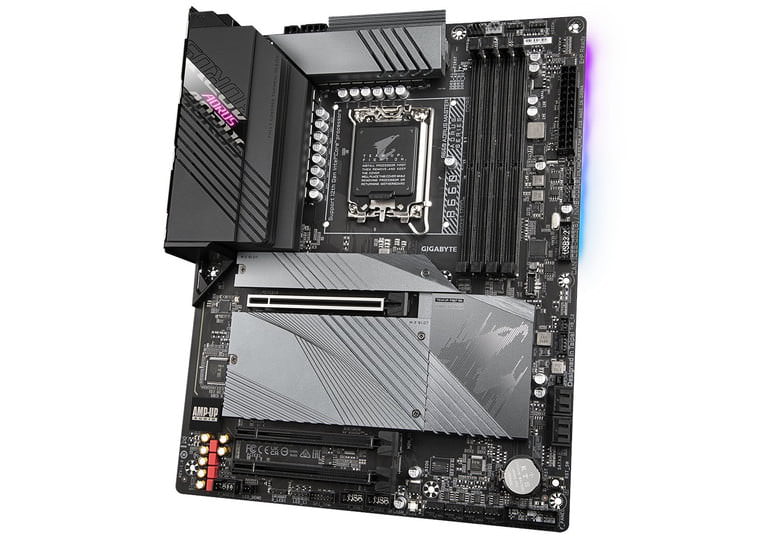 According to a user tweet named REHWK GIGABYTE plans to introduce a wide range of around 29 new motherboards with Intel LGA 1700 sockets of 12th generation processors, all of which, in addition to DDR5 RAM modules, also support DDR4 RAM, just like previous generation motherboards. Introduce WiFi without external antenna "; But the interesting and perhaps strange thing is that all 29 models are introduced only with Intel B660 mid-range chipsets and from standard dimensions of ATX to Micro ATX; While a motherboard with Mini ATX dimensions and larger than ATX is not introduced.
The introduction of the new generation of Intel processors and Nvidia Ti series graphics processors such as 3080Ti and 3070Ti and DDR5 RAM has created a new wave of products such as motherboards and laptops for many users who can not afford components such as graphics cards or even monitors with price and specifications. Waiting for them creates a better buying opportunity.
Enthusiasts hope to have a high performance difference and a low price difference compared to previous products; But it remains to be seen whether these products will fill storefronts at the official price announced by companies, or whether hardware supply and distribution problems will continue to deprive many consumers of new products, as in previous years.
Source link