News
Future iPhones and iPads may be equipped with induction charging via display
Apple has long been moving toward fully wireless devices, and perhaps the reason for this claim is compelling. Introducing the iPhone 12 family, the tech giant unveiled the MagSafe charger, which uses the magnets used on the back of new iPhones to connect wirelessly to the phone and charge it. Since then, there has been evidence that Apple has a broad vision for creating a wireless charging ecosystem. Now, there has been a media patent showing Apple's roadmap to switch to induction charging through the screens of future iPhones and iPads.
Apple's patent in the U.S. Patent and Trademark Office, entitled "Wireless Charging via Display," describes a system that could enable future iPhones to charge peripherals through their display glass. The patent details the mechanisms and methods by which multiple products can be charged wirelessly using an adjacent device. In other words, the invention shows how devices such as the Apple Watch, iPhone, iPad and MacBook can interact with each other to benefit from a single ecosystem for wireless charging.
Based on the images used in the patent, wireless charging may take up only part of the display for the charging process of other products, while other parts may remain usable. Naturally, usable accessories must also support wireless charging in order to be charged through this feature and technology.
In general, if Apple incorporates this patent into its iPhones and iPads, they may be able to charge other smartphones, watches or pens. With a mastery of Apple's previous patents, the company can consider different types of implementations for wirelessly transferring charge from one device to another. For example, even the MacBook door can contain a set of upward induction coils that allow devices to be charged by being placed on top of it. The coils can also be mounted on the floor supports and MacBook display.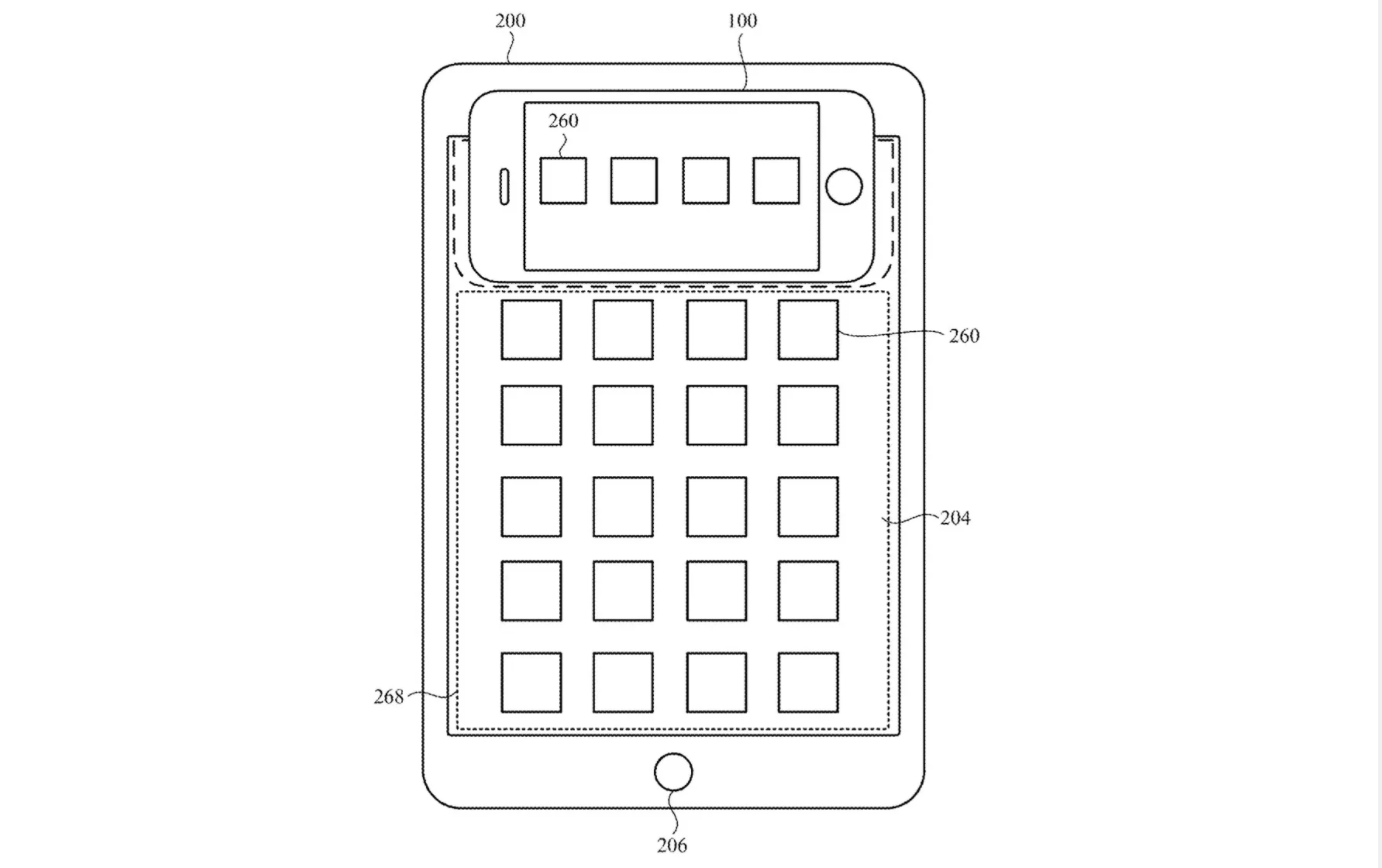 The bottom line is that the wireless charging system will be two-way, and the devices will be able to receive and transmit power via an induction coil, allowing users to decide which device to charge. The software may also automatically prioritize device charging by specifying the charge percentage.
Apple's proposed strategy seems to include induction charging coils with precise positioning on each portable device. For example, Apple explains in this invention how the coils can be placed along the front and back of the iPad, allowing the iPad to charge itself through another device equipped with side coils when transferring charge. In simpler language, the iPad can charge and charge a device wirelessly and simultaneously.
Apple also has a set of software integrations for the device-to-device wireless charging system. When a smaller device such as the Apple Watch is placed on the screen of a larger device such as the iPad, the iPad display can show its alignment conditions and charge percentage. Another innovative software integration suggests that when charging an iPhone, if there is an obstacle on the iPad screen, the iPad interface can only be set to display content in the unobstructed part of the screen.
Induction charging using Magsif is currently limited to the iPhone 12 and 13 families; But if Apple integrates the proposed technology, it will create a wireless charging ecosystem on all of its portable devices. The induction charging system from one device to another seems practical and helps Apple develop a wide range of charging methods for its products; But it is unclear how Apple can overcome the thermal problems or other unavoidable limitations.
***
Apple patents countless inventions every week. Patents represent the topics of interest to the research unit and the development of companies; But it does not guarantee that it will be offered in a future product or service. Of course, this is also true of many iPhone and iPad patents.
Source link