News
Fintech Association's request to the judiciary: End the central bank mafia monopoly
In a letter to the head of the judiciary, the Association of New Financial Technologies (Finetek) referred to his order to deal with mafia gangs and called for dealing with the monopolistic and corrupt practices of the Central Bank. In this letter, the FinTech Association "with the aim of removing obstacles in the way of the country's entrepreneurs" made the following points about the Central Bank:
Creating a monopoly on the country's payment network: The Central Bank has paid licenses to only 12 companies operating in the network, and despite the approval of the Cabinet, has not taken action to lift the monopoly in this area and has sought to deceive the institutions by launching a "payment" license; While the infrastructure facilities of these two institutions are very different and the current monopoly conditions are only in the interest of 12 PSP companies.
Covering the corruption of non-shop transactions such as card-to-cardThe card-to-card fee is monopolized by the country's banking mafia. With the power it has gained, this mafia has a direct role in electing the deputies and managers of the Central Bank. The Central Bank has also removed card-to-card statistics from its website in order to reduce the sensitivity of regulators. In addition, the cost of card to card has increased annually to impose 60,000 billion rials more cost on people.
Launching multiple inefficient systems for costing purposesLast year alone, 105 projects were defined under the pretext of transparency and business prosperity in the central bank, which resulted in nothing but astronomical spending. A clear example is the launch of the bridge system, the benefits of which go directly and exclusively into the pockets of the banking mafia.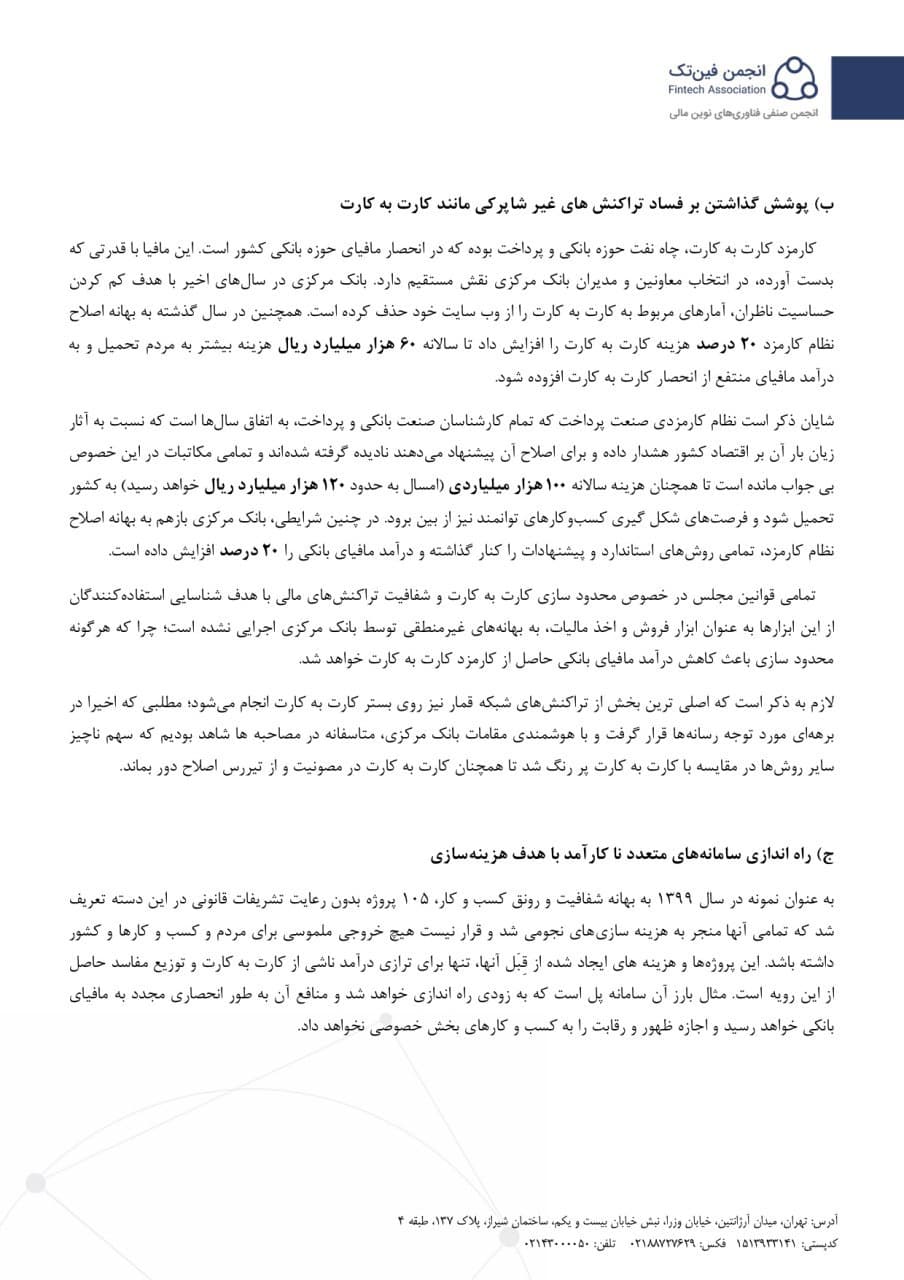 Obstruct real private businesses: The central bank is trying to further promote the use of undesirable methods of the banking mafia, and specifically by requiring this and turning it into a superpower in cyberspace, it is leading businesses to use card-to-card and other non-commercial methods; While this requirement is against the laws of the parliament and improving the business environment of the country.
The Fintech Association has noted that not all parliamentary laws to restrict card-to-card and transparency of financial transactions have been enforced by the central bank, as this reduces the banking mafia's revenue from card-to-card fees.
Related article:
The Fintech Association has announced its readiness to provide full documentation and explanations of the central bank's monopoly actions, which "has taken the breath away from virtual businesses." He also expressed hope that the head of the judiciary, while dealing with these measures, would dry up the roots of discrimination, monopoly and corruption so that the people and the real businesses of the private sector can operate in a fair environment.
Source link