News
Enter the digital currency market with X-Novin
Why X-Novin?
X-Novin offers great features for both newcomers to the digital currency market and for professional traders. To buy digital currency from our new X, all you have to do is create an account and enter the world of digital currencies by completing the authentication process in less than 24 hours.
Our consultants at X-Novin are ready to answer and serve you 24 hours a day so that you can solve your problem or find the answer to your question in the shortest possible time. You can also get rewards by introducing us to your friends from X-Novin.
Digital Currency Market Entry Training; Familiarity with concepts
The first step in entering the digital currency buying and selling market is to become familiar with its concepts. After gaining enough knowledge about digital currencies and choosing one or more of them, you need to know some of the concepts that will help you make better trades. Here are some of the most important terms you should know in the first stage of training to enter the digital currency market; We have introduced:
1- Bitcoin and Altcoin
Bitcoin buying is one of the most common transactions in the digital currency market. After the success of Bitcoin, a number of new digital currencies were created called Altcoins, the most important of which were Atrium and Light Coin.
2- China block
Blockchain is a place to store information and connect it in chronological order. Blockchain can be considered as a database or a trading office where a lot of information can be stored.
3- Mining
Mining is actually the process of extracting digital currencies that can generate more coins and is done by special devices.
4- Exchange
An exchange is actually a trading platform where buyers and sellers communicate and can buy and sell digital currencies.
5- Wallet
Wallets are used to hold digital currencies and transfer money.
Digital Currency Market Entry Training; Maintain transaction security
One of the biggest challenges facing traders; Here's how to put one together for use with your digital currency.
1- Select a safe exchange
Exchanges can use various tricks to increase the security of your transactions. Authentication allows all sellers and buyers to be identified and the risk of fraud and money laundering is greatly reduced. One of the other things that money changers should pay attention to in order to secure their accounts; Enabling two-step verification to log in to the account.
2- Using digital currency wallets
Different types of digital currency wallets use tools to provide security after purchasing Tetra or other digital currencies. For example, in all of them you have a private key that you have to use to withdraw from the wallet or convert its balance.
3- Reviewing the history and development team of digital currency
The development team must constantly update the digital currency platform and fix its bugs. They must also use sophisticated encryption techniques to make it harder for hackers to penetrate the digital currency platform. Different development teams use different algorithms such as Proof of Work, Proof of Stake and POW to secure digital currencies.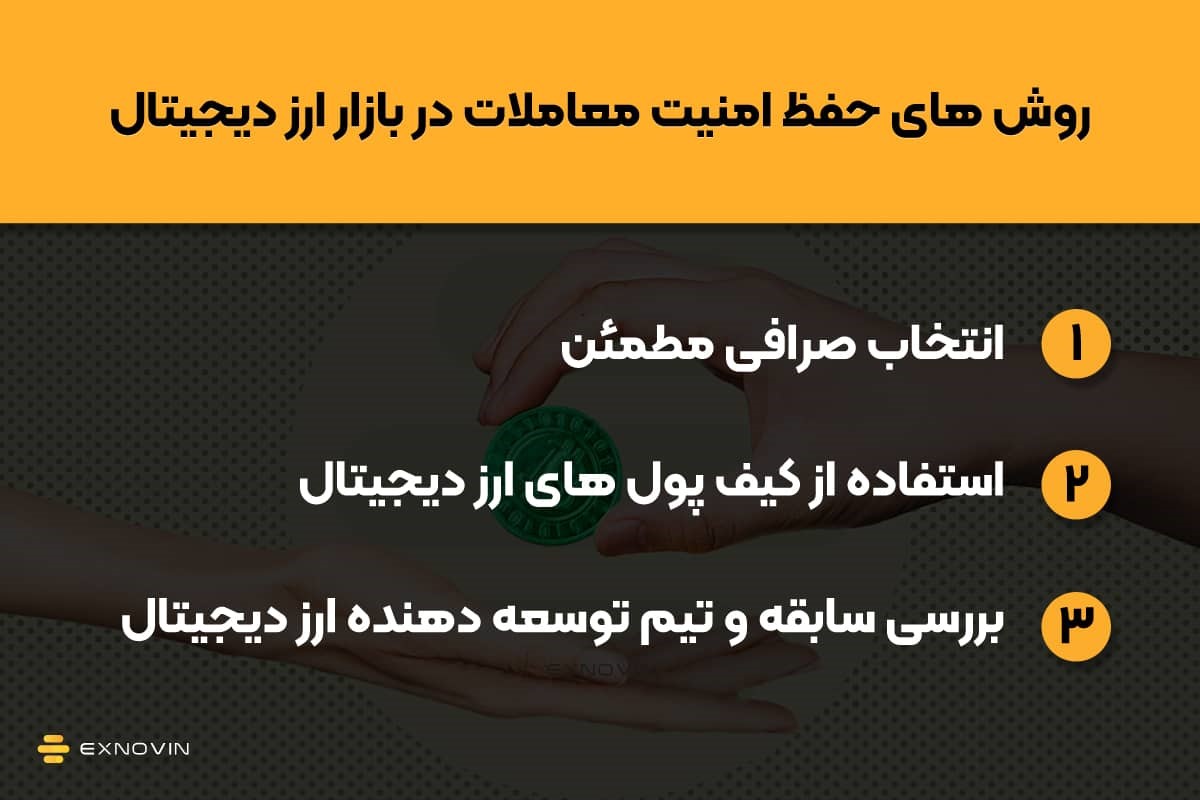 Digital Currency Market Entry Training; Transaction and sales
In the third stage of training to enter the digital currency market, we want to introduce you to how to buy and sell digital currency. There are two ways to do this; You can buy digital currency directly or through exchanges.
The important thing to know is that buying and selling digital currency directly can greatly jeopardize your assets. Because these currencies are virtual in nature and buying and selling them directly and in person can not be sufficiently secure.
You can buy digital currency And sell it through foreign or Iranian exchange offices. In most cases, foreign exchange offices have restricted the possibility of trading with Iran's IP; For this reason, you need to change your IP to use them.
In the training to enter the digital currency market, it is emphasized that you must use the services of reputable Iranian exchange offices. In this case, you can easily do all your transactions using Rials. In addition, the registration process in these exchanges is very easy and you will not need to go through complicated steps.
Steps to buy digital currency from an exchange
Use a secure internet network and enter the website of a reputable exchange.
Create your account and go through the authentication steps.
Top up your account.
Go to the sellers' offers section, choose the best deal for you and make the purchase.
You can also appear as a seller and set a price for a part of your property and sell it to others.
The most important points for trading in the digital currency market
Do some research before the deal.
Do not invest your money in a digital currency.
Have a clear strategy.
Avoid making big deals as much as possible.
Have a long-term plan and vision.
Source link