News
Elon Musk's First Email to Twitter Employees: Ending Remote Work and Preparing for Tough Times
According to Vergethe first email Elon Musk As the leader and CEO of Twitter, it has been sent to the employees of this social network. In his email, Musk told employees to prepare for "difficult times" ahead. As expected, Elon Musk has said that from now on, no employee at Twitter will be allowed to work remotely.
Elon Musk has told Twitter employees that the economic problems in the United States are making it difficult for this text-based social network. Most research firms have predicted that advertising industry spending will experience a significant decline in 2023. Twitter currently earns most of its revenue (90 percent) through advertising, and the decrease in advertising revenue will have a direct impact on this social network.
Elon Musk said in his email that there was "no way to improve these challenges" and employees should be clearly aware of the problems ahead. Apparently, Elon Musk has told Twitter employees that they must report to work at least 40 hours per week. Musk said he plans to review telecommuting requests on a case-by-case basis.
The CEO of Tesla and SpaceX has repeatedly expressed his opposition to remote working. A few months ago, Elon Musk announced in an initial conversation with Twitter employees that some people would be allowed to continue working remotely depending on the circumstances.
Related articles:
Since the acquisition of Twitter by Elon Musk, a number of companies, including Allianz and Audi, have decided to temporarily stop displaying advertisements on this social network. The main concern of the companies is that Twitter will loosen its strictness against offensive posts.
It is said that Elon Musk has announced in a conversation with the representatives of advertising companies that he is aware of their concerns and so far no changes have been made in the content management policies. Musk has previously accused social activists of pressuring advertising companies to stop operating on Twitter. Musk said without providing clear evidence that these social activists are destroying freedom of speech in America.
In his first email to Twitter employees, Elon Musk wrote: "The road ahead is difficult and it will take hard work to succeed." In another message, Musk added: "In the next few days, the top priority is to find and suspend all bots, trolls and spam accounts that have blue ticks."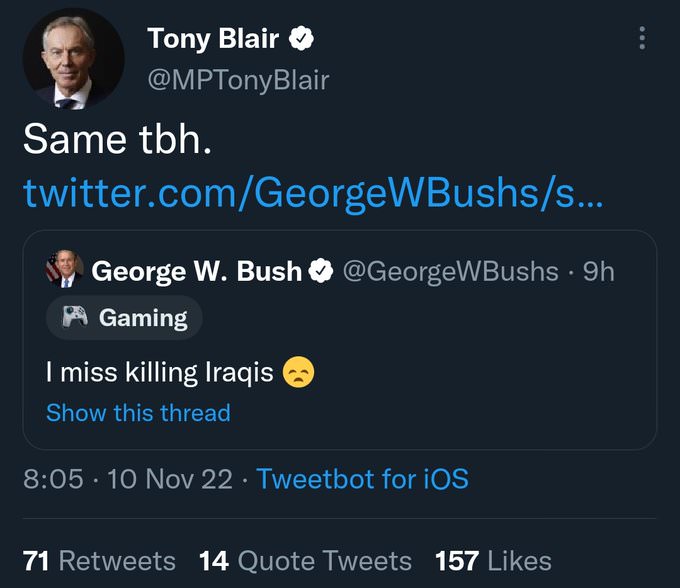 With the launch of the new version of Twitter Blue, a significant number of fake accounts attributed to famous people have received a blue tick. In this example, the fake account of George Bush, the former president of the United States, wrote about "longing to kill Iraqis".
Since yesterday, Twitter has made available the new Twitter Blue service, which costs eight dollars per month. This service allows all users to receive a blue tick.
Initial investigations indicate that a significant number of users have impersonated famous people and started spreading false news after receiving the blue tick. Elon Musk has told Twitter employees that he wants the Blue service to eventually account for half of Twitter's revenue.
Source link