News
Dell unveils 4K, 32-inch UltraSharp monitor
At CES 2022, Dell unveiled its new UltraSharp 32 4K monitor for video conferencing using a desktop computer. The company has not yet announced the price of its new monitor; But it has promised to announce its price as the online sale approaches on March 29, 14022.
32-inch monitor Dell UltraSharp is the first device to use the IPS Black panel. This means that the color contrast and depth of black in this panel is significantly different from other IPS on the market. Dell has also used its Ultrasharp webcam to turn its product into a full-fledged conference monitor. Ultrasharp 32 4K panel is 60 Hz and has a latency of 5 milliseconds; Therefore, it is not a good option for gaming.
Related article:
According to Dell, the panel has a maximum brightness of 400 nits, which is a good number considering the use of the device, which is generally used indoors. In terms of color coverage, according to published specifications, the Ultrasharp 32 4K monitor can cover the DCI-PC color gamut of up to 98% and sRGB up to 100%.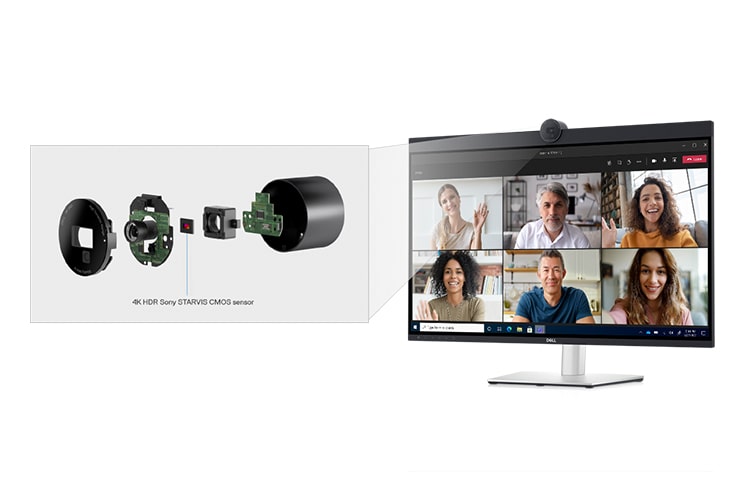 The monitor's webcam also uses Sony's STARVIS sensor, which features features such as autofocus and auto-frame adjustment. Frame adjustment is done using face recognition technology so that the user is always in the center of the image.
Dell will integrate its monitor with a wide range of communication ports; These include a USB-C port with support for 90 watts of Power Delivery, a USB-C port with support for Display port 1.4, a number of USB-A with a speed of 10 Gbps, a USB-C with 15 watts output and a maximum transfer speed of 10 Gbps , RJ45 network port and 3.5mm headphone jack.
Source link