News
Could MediaTek be a better company to make Google's Tensor chips?
Qualcomm has always dominated the high-end smartphone space, but that is slowly changing. This week, MediaTek unveiled the Dimensidty 9200 system-on-chip for Android flagships, which looks to be a very powerful chip. Google also produces its tensor chip in cooperation with Samsung, but considering the current situation, is it better to choose Mediatek for Google?
During its recent summit, MediaTek unveiled new chips, including Dimensity 9200; A flagship system-on-chip for Android phones that will compete with Qualcomm's Snapdragon 8 Gen 2. Currently, devices equipped with these processors are not available to see how the two compare, and on the other hand, Qualcomm's flagship chip has not yet been officially announced. In any case, MediaTek seems to have chosen a good time to compete in the high-end chip market. Samsung also tried to make its Exynos chips a suitable replacement for Snapdragon, but every year we saw that more and more customers were willing to buy the Snapdragon version of the Galaxy phones, and that's why some people are against Google's cooperation with Samsung to develop the Tensor chip. .
The first generation Tensor was a powerful base chip, but it didn't have much to say compared to the alternatives. Network problems, poor energy consumption efficiency and heat generation problems made the buyers of the Pixel 6 series not have a very good experience. Google seems to have fixed many of these issues in the Tensor G2, but it's clear that there's still a gap between this chip and other flagship processors, and it's a gap that the internet search giant has no problem with. The company recently announced that it has no issues with the overall performance of the Pixel series phones.
Despite all of the above, Google is making a real impact on the high-end Android phone market. In its recent conference, MediaTek shared a slide that shows that the company has taken part of the market share of Android flagships from Qualcomm. As you can see below, MediaTek's biggest growth in the global high-end Android market is in devices under $600, but the company is slowly making an impact on more expensive devices as well. Of course, the interesting thing is that Google Tensor has a similar effect on the flagship space despite the handful of devices on the market.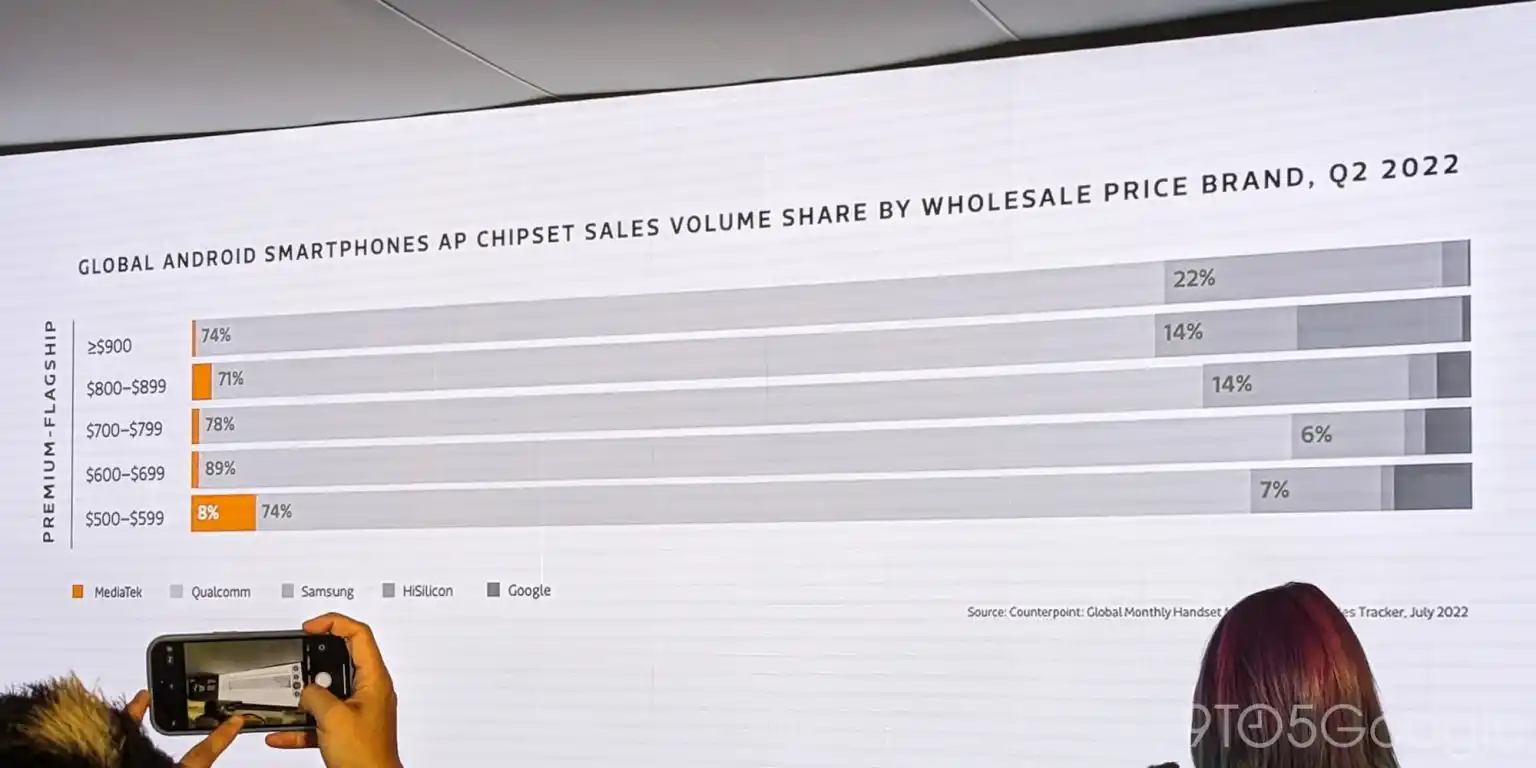 written by 9to5GoogleThe big problem with MediaTek's ambitions is that the company can't really break into the US market easily. The addition of 5G support in the Dimensity 1050 earned it a place among Motorola's high-end products last year, but overall the company's chips in the US are mostly found in low-end or mid-range smartphones like the OnePlus Nord or the Samsung Galaxy A13.
When it comes to flagship phones in the US, MediaTek has had a rough go of it. Although the Dimensity 9000 and now the Dimensity 9200 are up against Qualcomm's best, no brand in the Western market is using them, and the stats clearly show that.
Become a well-known brand
Related article:
Yenchi Lee, vice president of MediaTek's chipmaking unit, looked at the biggest hurdles MediaTek has faced, noting how new his company really is to the market, as the Dimensity 9000 was its first processor in the premium phone segment. Currently, this brand is still trying to establish itself as a real option for high-end smartphone manufacturers. seems Leethere are no technical hurdles and only time will prove that Mediatek is the right choice.
MediaTek is growing fast, but that growth is not coming from a presence in the flagship smartphone market, but partly from more affordable phones, as well as the smart home devices and network infrastructure we buy. MediaTek is really aiming to become a household name. The company believes that most people have at least one device in their home that uses the company's chips, but they don't know its name. Becoming one of the big companies in the field of high-end phones is an effective step towards achieving this goal.
Tensor made by Mediatek; A perfect match?
Tensor is a chip that Google wants everyone to think it makes on its own, but a large part of its underpinnings comes from Samsung's Exynos line. That's not to say that Google is just renaming an Exynos design, and in fact the Tensor uses custom design and elements that make it unique, but ultimately it all comes down to Samsung's fundamentals.
However, it makes sense that Google could outsource a lot of this work to another company, and MediaTek seems like a very logical choice, especially with the Dimensity 9200, which has shown a lot of power and easily competes with Qualcomm's flagship processors.
Is Mediatek ready to cooperate with Google in making Tensor?
Response Lee For the above question, yes. MediaTek has not received any requests to cooperate with well-known Android brands, but it is ready to work on a Tensor-compliant chip with any brand that is interested in cooperation. The company also announced yesterday that it has provided the system-on-chip for PlayStation VR 2; In fact, Sony has developed a custom chip for the second generation of its virtual reality headset based on Mediatek designs.
As for Tensor, it seems that MediaTek is ready to become Google's business partner by removing Samsung. Lee He says that if Google is looking for such a thing, MediaTek is willing to cooperate with this company on making Tensor. The capacities of this chipmaker to work on such a project will have a great impact on both sides. Looking at Tensor for example, Google phones can certainly benefit from MediaTek's sheer power boost over the latest Samsung phones. Furthermore, MediaTek's use of TSMC's services will certainly have a big impact on Tensor's energy efficiency, which is exactly one of the major problems Google has struggled with in its two generations of custom chips. To understand this effect, we can refer to Qualcomm and its migration from Samsung's manufacturing process to TSMC.
In fact, Google will not switch from Samsung to MediaTek simply because of the increase in the power of its chips. The Internet search giant recently announced that while Tensor is not a market leader in performance metrics, the company is focusing on integration, which will benefit end customers in other ways.
Source link